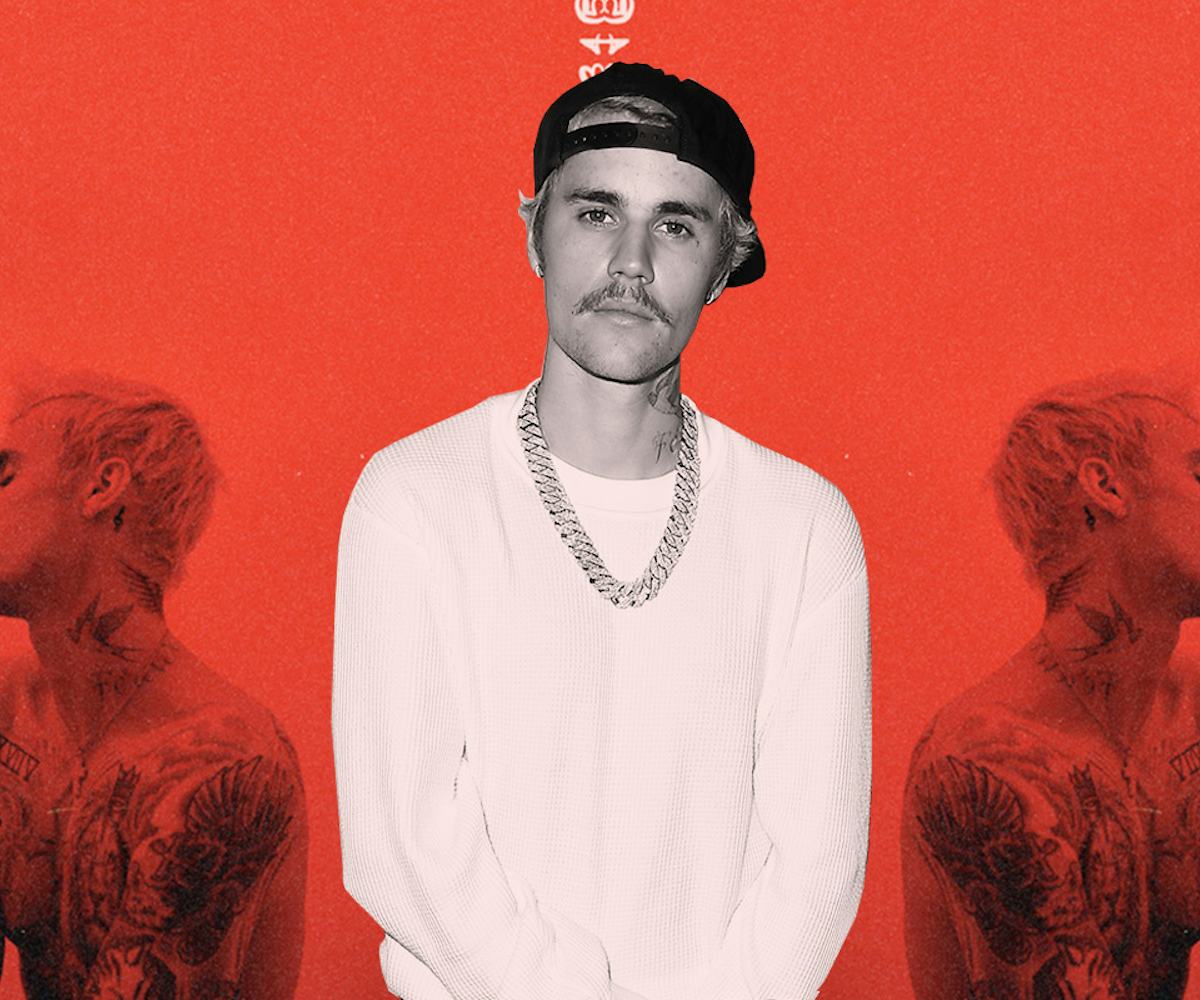 Steve Granitz/Getty Images
Justin Bieber's 'Changes' Is Not The R&B Revival We Hoped For
The hollow lyricism and soupy production on the pop star's fifth album shows just how detached and uninterested Justin Bieber has become in his own music.
When Justin Bieber started teasing his fifth album, Changes, in 2019, the 25-year-old singer shared that instead of the EDM, tropical house flecked power-pop of 2015's Purpose, his new album would be a return to his "roots". In fact, his exact words were "R&Bieber." In January, he buckled down on that promise, correcting a fan account on Twitter that called his upcoming record "pop." "Not pop," he wrote, "R&Bieber."
Changes isn't R&Bieber's first outing; his 2013 record Journals (an album that was never actually released as an album) saw the Biebs sidestep from his established output of bubblegum-pop into a more mature, confessional sphere. But a lot has happened since then. Purpose acted like a reset, with songs like "Where Are U Now," "What Do You Mean?" and "Sorry" shaping pop's sonic landscape for years. But during that time Bieber was struggling. If you've been keeping up with the singer's YouTube docu-series, Justin Bieber: Seasons, you'll be aware of Bieber's battles with addiction and mental health. These issues saw him cancel numerous shows, and the series attempts to explain why the quality of singer's performances had started to decline. You'll know how his relationship and marriage with Hailey grounded him during a period of difficulty, and how that inspired his new album.
But what that documentary also shows, outside of its highly curated narrative, is an artist who seems to have grown disinterested in his career. Whether this is because of the issues he was experiencing or because he now genuinely doesn't care about the work that he's putting out, it's hard to tell; Maybe it's a combination of both.
Perhaps that's why Changes, Justin Bieber's first full LP in five years, feels so unremarkable. Instead of looking forward to the direction that pop – in all its guises – has taken in recent years, the album looks back to the early '00s. But it doesn't do so reverentially, nor does it borrow from a sonic palette to make it new again. Instead, across its bloated 17 tracks, Changes emulates, and it does so with uninspired and confused results.
Most of the album is about Bieber's new wife, model Hailey Rhode Bieber (née Baldwin). However, instead of mythologizing their relationship in the way that Beyoncé did with Lemonade, or how Chance The Rapper attempted to with The Big Day, Changes lacks the emotional maturity.
At a recent fan event in London, Bieber discussed his marriage repeatedly, making sure to explain to his youthful fanbase the work that goes into matrimony. That's absent on the album. As he sings on "Habitual," love isn't passionate and marriage doesn't ebb and flow. Rather, it's uneventful and routine. This sentiment is surely meant to be romantic, the pair so compatible that their life becomes one soft-focused montage of contentment, but it comes off as anodyne. Married life, Bieber seems to be saying, isn't where you go for surprises; it's where it ends.
The other important aspect of marriage, according to Changes, is sex. If the album was to be your introduction to the Biebers, you might believe that sex is the defining aspect of their relationship. But while there are many, many references and allusions to sex on Changes, none of it is actually sexy. On the Lil Dicky-assisted "Running Over," one of the album's more sonically adventurous moments, Bieber is cooked and packaged up for his wife's "consumption," as if he were a McDonald's burger Hailey was picking up at a drive-thru. Dicky's verse is also an offender, with the comedian-rapper whispering the word "breasts" and "ass" like an elementary school joke. Worse still, on "Come Around Me", Bieber equates his penis to a gear stick in a car, asking: "Who taught you how to drive stick?/ You a fool with it, love the way you fool with it/ And the way you motion, motion in my lap." Foreplay has never sounded so horrifying.
Bieber seems intent on thwarting any sensuality on Changes. "Take It Out On Me" has an almost palpable eroticism, cleverly interpolating Ginuwine and Timbaland's 1999 track "So Anxious," but Bieber's strips it all out. Souped-up production from Kid Culture and his long-time collaborator Poo Bear shreds the supple silkiness of the sample, as Bieber lyrically wishes his wife misfortune so that her frustrations can play out in the bedroom. "I'll be your punching bag, hit me with all of your might," he sings, "And get it all out 'til you feel light/ And take it out on me." Sure, sex can be cathartic, but hoping your wife has a bad day so you'll get roughed up in bed feels awfully self-absorbed.
Bieber's treatment of sex on Changes is like pornography: instant, bountiful and in your face, but ultimately unrealistic and devoid of any eroticism. The production and songwriting also feels unfulfilling. Successful R&B artists grip the genre and feel for every sway, bump and tussle, while still seeking out lust and conflict; Bieber suppresses any drama and opts for simplicity. The production, handled almost entirely by Poo Bear, is slick and competent, but after an hour the light-beats-with-phatt-bass-meets-airy-synth combination melds into one, making each song indecipherable from the one before it. This wouldn't matter if, melodically and vocally, the album had any spice, but Changes isn't one that sonically challenges.
That's not to say there aren't glimpses of the sort of pop star Bieber once wished to be. "Get Me", which features Kehlani, has an echoey, ghostly texture, the space in the production allowing both singers to showcase the different qualities of their voices. Likewise, "E.T.A." could have been taken from Journals, which bizarrely managed the R&Bieber thing a lot more competently than Changes. "E.T.A." fizzes with intention and yearning, a pulse-quickening, stripped-back song filled with the understanding that the wait is just as important as the main event. Sadly, these tracks come too late to save the overall product, though they do suggest that somewhere inside all the horniness and sexual simplicity, Bieber still has meaningful — or at least interesting — things to say.
Having to follow-up on the success of 2015's Purpose, Changes was always going to be facing higher expectations. But hearing how bored he sounds, and thus how boring Changes becomes, has made the record land even worse, and even more disappointingly. In this instance, R&Bieber isn't a space for experimentation or authenticity, but a place where he can coast while continuing a public narrative of growth and maturity. R&Bieber rings hollow, his misguided and misunderstood rejection of pop not the foray into adulthood and untapped creative potential he clearly thought it would be — perhaps a myopic result of the privilege he's gotten used to as a white male artist making art in America. Mostly though, it exemplifies just how detached and uninterested Justin Bieber seems to have become. Hopefully married life is as fulfilling as he claims it to be, because the future of music could well be Bieberless.