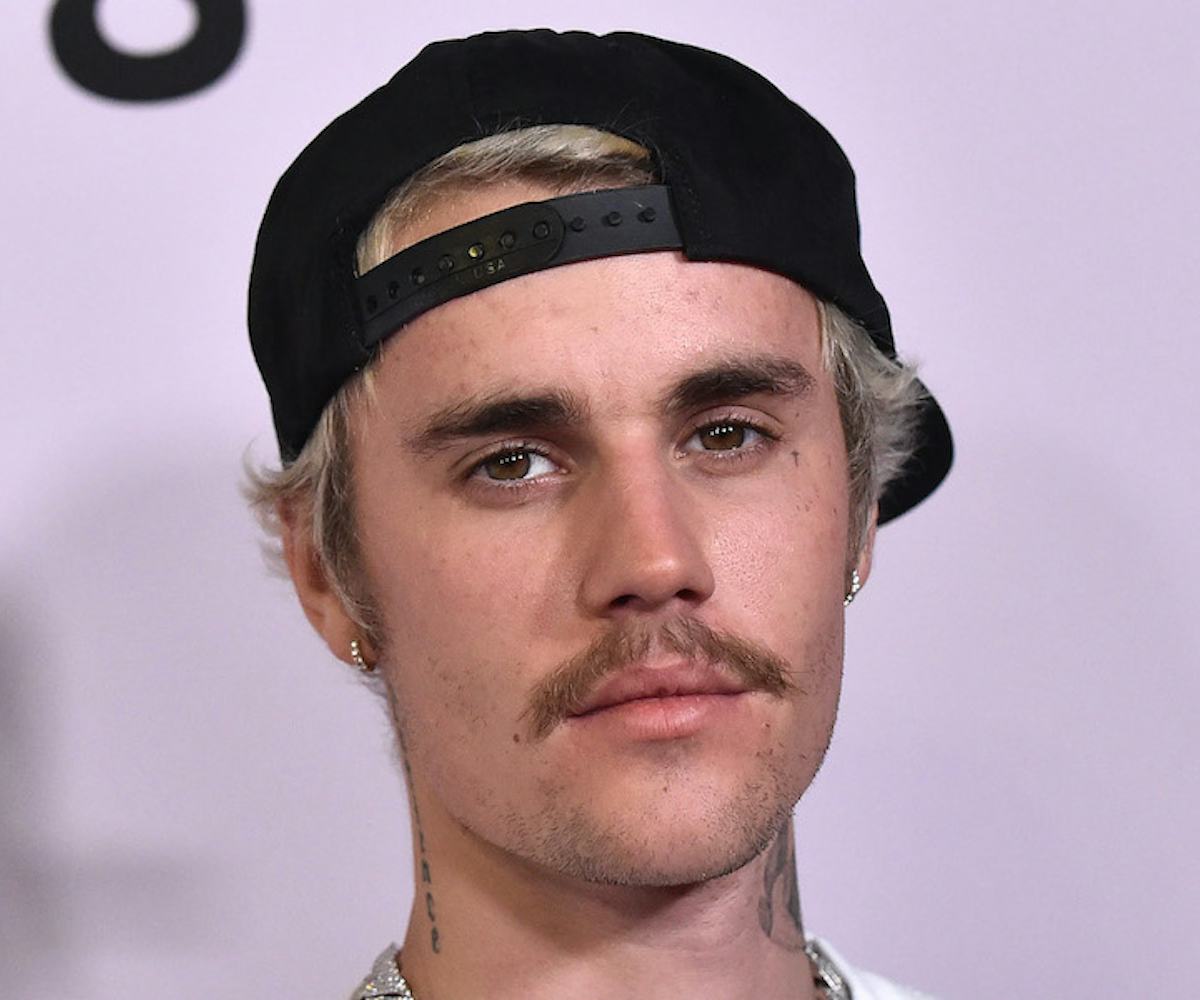 Photo by LISA O'CONNOR/AFP via Getty Images
A Totally Speculative Dive Into Justin Bieber's 'Changes' Tracklist
The potential meaning behind every song
It makes perfect sense that Justin Bieber's forthcoming album is titled Changes. The singer has gone through so many of them over the course of the last few years, after all. Since releasing Purpose in 2015, he's stepped back from his increasingly chaotic lifestyle and committed himself to a more virtuous path, one of God, love, and marriage. Bieber is different now, but his commitment to being a dominant global pop star is stronger than ever.
Changes, which drops on Valentine's Day, is a goliath of an album. Sitting just shy of 18 tracks, it's a feature-heavy record including R&B and rap heavy-hitters like Post Malone, Travis Scott, Kehlani, and more. Purpose may have been a brief interlude into EDM for Bieber, but Changes is shaping itself up to a return to Bieber's early days of Believe-level R&B. This time around, instead of trap hits about crushes, it's about having sex with his wife, Hailey Bieber.
His relationship with God and Hailey serve has major inspirations for Changes, and it's sure to be a cathartic release for Bieber, who historically wears his emotions on his sleeve. Rolling Stone reported that the singer cried profusely throughout his album playback in Los Angeles, and then excused himself "to get pretty freaky" with his wife as soon as it was over. Between Purpose and Changes, it seems as though Bieber found a part of himself that he thought he had lost. "There's power in weakness," he said at the listening event.
Until Changes is released in full on February 14, here's a totally speculative interpretation of the track list below.
"All Around Me"
There are so many things that surround Justin Bieber. Could it be immense wealth? Perhaps a devoted team at his beck and call? My guess is that it's the most Bieber-core thing of all: a ballad about God's love.
"Habitual"
This is probably a stretch, but something about the title "Habitual" makes me think of mistakes, and how one repents for them. Bieber has had his fair share of slip-ups and he's always been vocal about improving himself as a person. All I'm saying is that a moving track on living and learning would be deeply on-brand!
"Come Around Me"
I'm imagining Bieber standing with open arms and an open heart, beckoning God's grace to surround and cleanse him over a trap beat.
"Intentions (ft. Quavo)"
In Bieber's world, intentions are always good, but "Intentions" could surprise us by turning out to be a raunchy song about loving post-marital sex. Quavo will add some bars, Bieber will provide the hook, and boom, a hit is born.
"Yummy"
For better or worse, we already know what "Yummy" is about. Next!
"Available"
A soulful track about being available to talk, or you know, not talk? Just kidding...unless?
"Forever (ft. Post Malone & Clever)"
Under no circumstances are we to forget that Bieber is a Pisces, which means that there are few things he loves more than crying and the prospect of true love that lasts a lifetime.
"Running Over (ft. Lil Dicky)"
Anytime Lil Dicky is on a track I'm like, "Wait, what?" No matter what the song ends up being, it will be overshadowed by an unhinged and low-key confusing Lil Dicky verse.
"Take It Out On Me"
Bieber is a proud glutton for punishment. Don't forget "Sorry," a certified banger about messing up and then apologizing profusely. Here's to hoping "Take It Out On Me" follows a similar path toward being a dancehall-y bop that will play in supermarkets across the nation.
"Second Emotion (ft. Travis Scott)"
Assuming the first emotion is something decidedly pure, like love or grace, the second emotion could be its opposite. After all, every record needs a song about heartbreak and going through the motions. "Second Emotion" is Bieber and Travis Scott's third collaboration (following Rodeo's "Maria I'm Drunk" and Purpose's "No Sense") so sultry vocals over a trap beat can be expected.
"Get Me (ft. Kehlani)"
One of the many beautiful perks of falling in love is finding someone who "gets" you. Bieber flexes his signature falsettos to coo over his beloved in this song, and Kehlani hops on to double down on how special it is to connect with another person.
"ETA"
Once again we are hit with themes of waiting and arrivals, which could easily be about personal growth, God, or Hailey.
"Changes"
It might as well be the law that the eponymous track on a Bieber album must to be a sweeping song about a higher purpose. If he did it with "Purpose," he can do it again, putting his vocals to work to sing out the glory of growth, God, and everything in between.
"Confirmation"
Sure, the title has religious undertones, but there's also a sense of reassurance and hope. It's a toss-up, really!
"That's What Love Is"
The general vibe I'm getting from these song titles is that, according to Justin, there can never be enough songs about loving Hailey.
"At Least For Now"
There's something notably more solemn, yet contented about the title "At Least For Now." As the technical album closer, it's the perfect place for a reflective track about appreciation, love, and all the other wholesome things for which good Christians stand.
"Yummy (Summer Walker Remix)"
In case you didn't fully realize how much Bieber loves having sex with his wife, now there's a remix with Summer Walker to hammer it in.