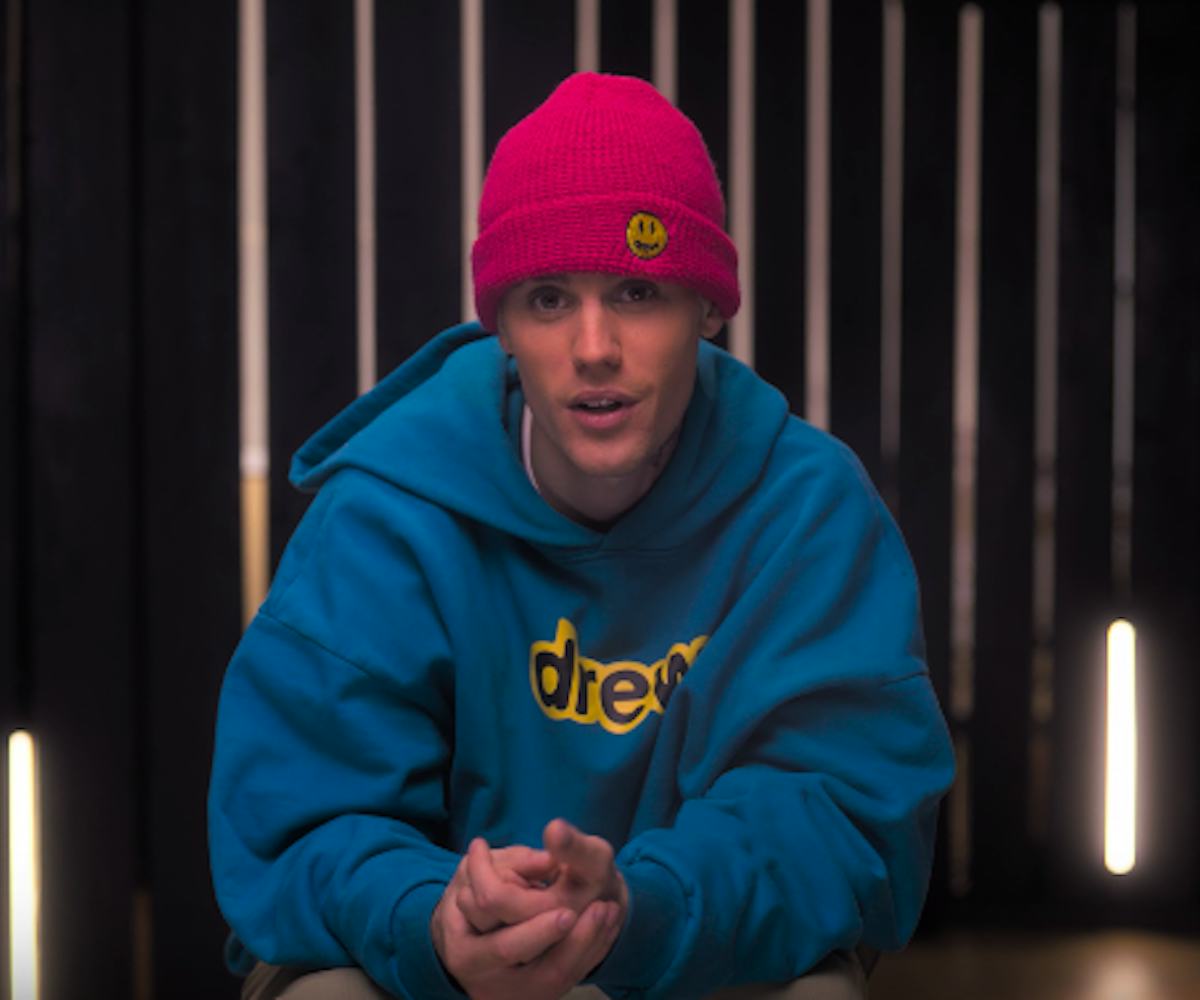 Photo via YouTube screengrab
5 Things We Learned From The First Episode Of Justin Bieber's New Docuseries
From when we might expect the album to the fact that Hailey Bieber still wears Heelys
With the recent debut of his latest single "Yummy," his first in almost three years, it's safe to say that Justin Bieber is officially back. And as part of the promo campaign for his upcoming fifth album, the singer has decided to grant fans a peek behind the scenes with Justin Bieber: Seasons, a docuseries which dropped in full on YouTube Premium on Monday.
After enduring a particularly trying time in his life, Seasons finds the young singer in seemingly high spirits. The first episode opens with Bieber excitedly telling the cameraman that they're heading to his hometown of Stratford, Ontario, which he hasn't shown anyone since his previous documentary, 2011's Never Say Never. Elsewhere, he talks about being in a good headspace now that he's married to the love of his life, Hailey Bieber, and has finally figured out that he needs to make music not just for himself, but for other people.
Here are five things we learned about the Purpose singer over the course of the first episode.
1. Justin's new album might be coming out as soon as next month.
The very first thing you'll notice in Bieber's new docuseries is that scenes are broken up and segmented by "[x] months until album release." While the singer has yet to disclose a specific date for when his hotly anticipated fifth project will drop, with a little math, we can do some deduction. As the very first title card reveals, May 2019 is considered "9 months until album release," which would put his slated release date sometime in February 2020 — which, you might know, is right around the corner. If this docuseries is to be believed, that means we can expect Bieber's new project to drop in full sometime in the next four weeks. Are you ready?
2. Justin was once suspended for jumping a fence.
As Justin drives through his Stratford hometown, he points to an unseen building, exclaiming, "Oh, that's where I went to school!" He then quickly adds that he "jumped a fence there one time," which, according to the singer, ultimately got him suspended. He doesn't go too much into further detail about the incident, but knowing that he was still getting into trouble when he was still a "regular person" at least proves that some of Bieber's wild-child antics aren't solely the result of the pressures of superstardom. He's apparently always been a bit of a troublemaker. And that's okay!
3. Justin used to be ashamed of where he grew up.
When Justin pulls up to the apartment building where he spent the first ten years of his life, he jumps out of his car and says, "I'm pulling up in a Range Rover? I would have never thought that. Not in a million years." It's a line that resonates even more when the singer begins to take us on a tour of his old building, expressing complete shock at the nice art pieces that now hang on the walls. As he explains, "This [used to be] so shitty down here." As he goes on, he opens up to Hailey (and to us) about the embarrassment he used to feel about his living situation. "I was ashamed that I lived in such low poverty standards," he admits — even going as far as to lie to friends, telling them, "Yeah, there's a bowling alley downstairs but it's booked up right now."
4. Justin's performance during Ariana Grande's Coachella performance pushed him to come back.
At the 2019 Coachella Festival in Indio, Justin joined his good friend (and fellow Scooter Braun acolyte) Ariana Grande during her Sunday headlining set. As he told the audience, it was his first time on stage "in like two years." But something about singing "Sorry" to a crowd of excited festival attendees imbued him with the inspiration he needed to hop back in the studio. "It kind of seemed like a turning point to him to where he was like, 'I think I'm ready to do this again. I think I need to do this again,'" says Ryan Good, a close friend and the co-founder of Bieber's clothing line Drew House. According to Alison Kaye, his manager, Bieber immediately walked off stage and told her, "I want you to schedule me. I want to go to the studio. I want to dance. I want to go to the gym. I want vocal warmups." So we can thank Ariana for giving Justin the confidence he needed to get back to work!
5. Hailey Bieber likes to casually glide around in Heelys.
Coincidentally, my personal favorite moment in this episode has absolutely nothing to do with Justin Bieber at all. Rather, it's a small revelation about Hailey, a blip that comes and goes so quickly you might miss it if you aren't looking closely enough. (Literally, the scene takes up all of two seconds.) It is the moment when Hailey Bieber glides through Justin's recording studio on a peer of Heelys — those clunky tennis shoes with a single wheel at the bottom that children used to beg their parents to buy them in elementary school. Yes, in 2020, A-List celebrity and top model Hailey Bieber (née Baldwin) not only owns a pair of Heelys but actively wears them to transport her 23-year-old self from Point A to Point B. Celebrities, they're just like us!
To learn more about the road to Bieber's upcoming album, watch the first episode of Justin Bieber: Seasons for free below. The remaining episodes can be viewed with a YouTube Premium subscription.