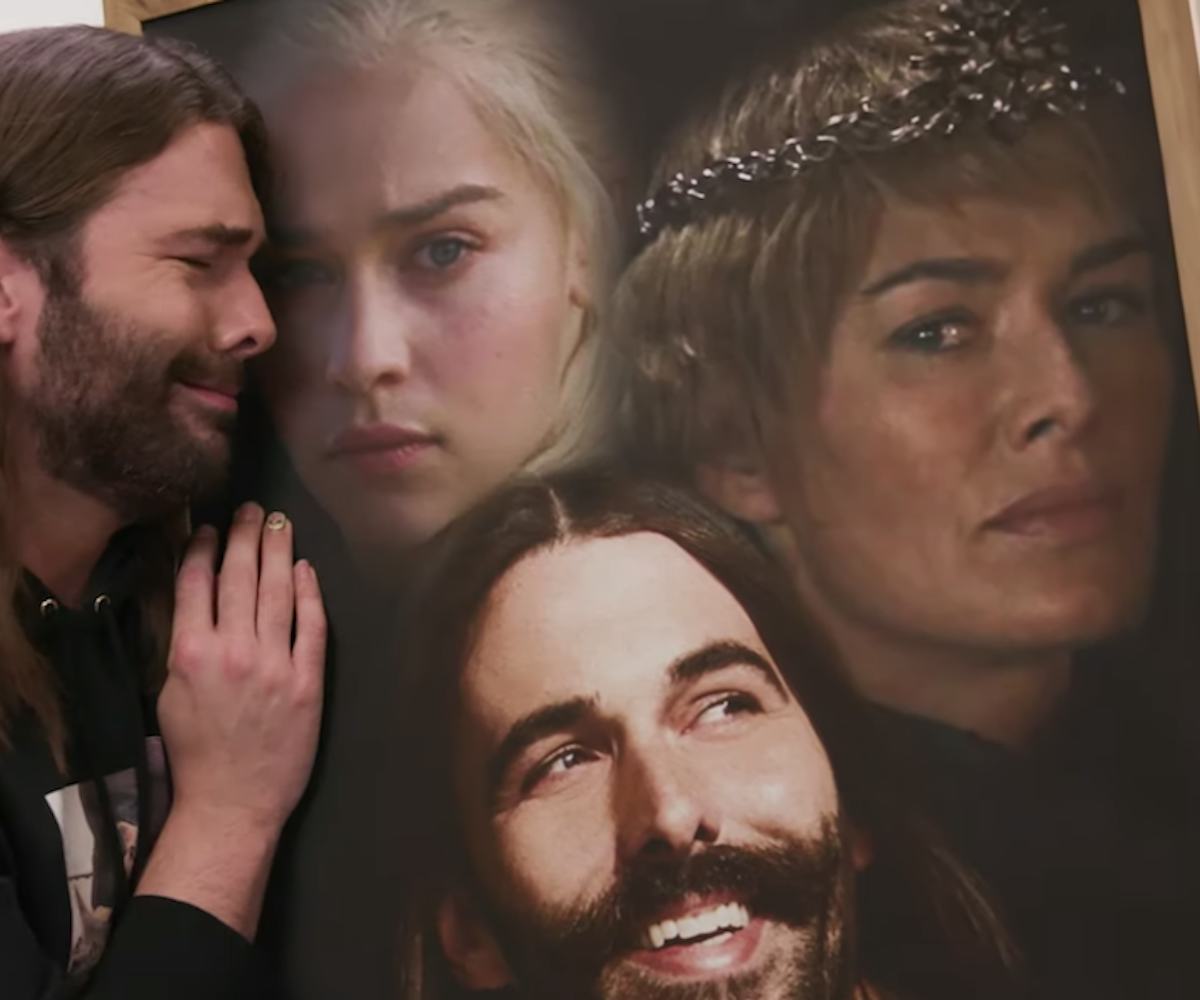 Screenshot via YouTube
Jonathan Van Ness Plots Cersei's Emmy Win In A New 'Gay Of Thrones' Video
He got on the phone with Lena Headey ahead of the awards show
Queer Eye star Jonathan Van Ness returned to his home on Funny or Die with an extra special installment to his recently ended Gay of Thrones series. Though Game of Thrones may be likewise over, the Emmys are fast approaching, so JVN called up Lena Headey to talk all about her nomination.
The actress, who plays Cersei Lannister, is nominated for Outstanding Supporting Actress in a Drama Series alongside three of her fellow Game of Thrones castmates. Sophie Turner (Sansa Stark), Maisie Williams (Arya Stark), and Gwendoline Christie (Ser Brienne of Tarth) are also up for the award, and Headey expresses how grateful she is to be right up there with them in the video. "But, my gorgeous, evil, no-volume Carol Brady will stop at nothing to secure this podium," JVN replies, listing off ways that Cersei, er, Headey could knock out the competition. After gasping at the suggestion that she'd murder to win, Headey replies, "If that worked, I'd have done it every year."
JVN is up for an Emmy nom himself, and not just for Queer Eye. Gay of Thrones is nominated for Outstanding Short Form Variety Series for the third time, and Headey thinks he deserves to take home the award. "We all think it's your year, honey! Mind you, we thought last year was your year too," she tells him.
Watch the full video below.