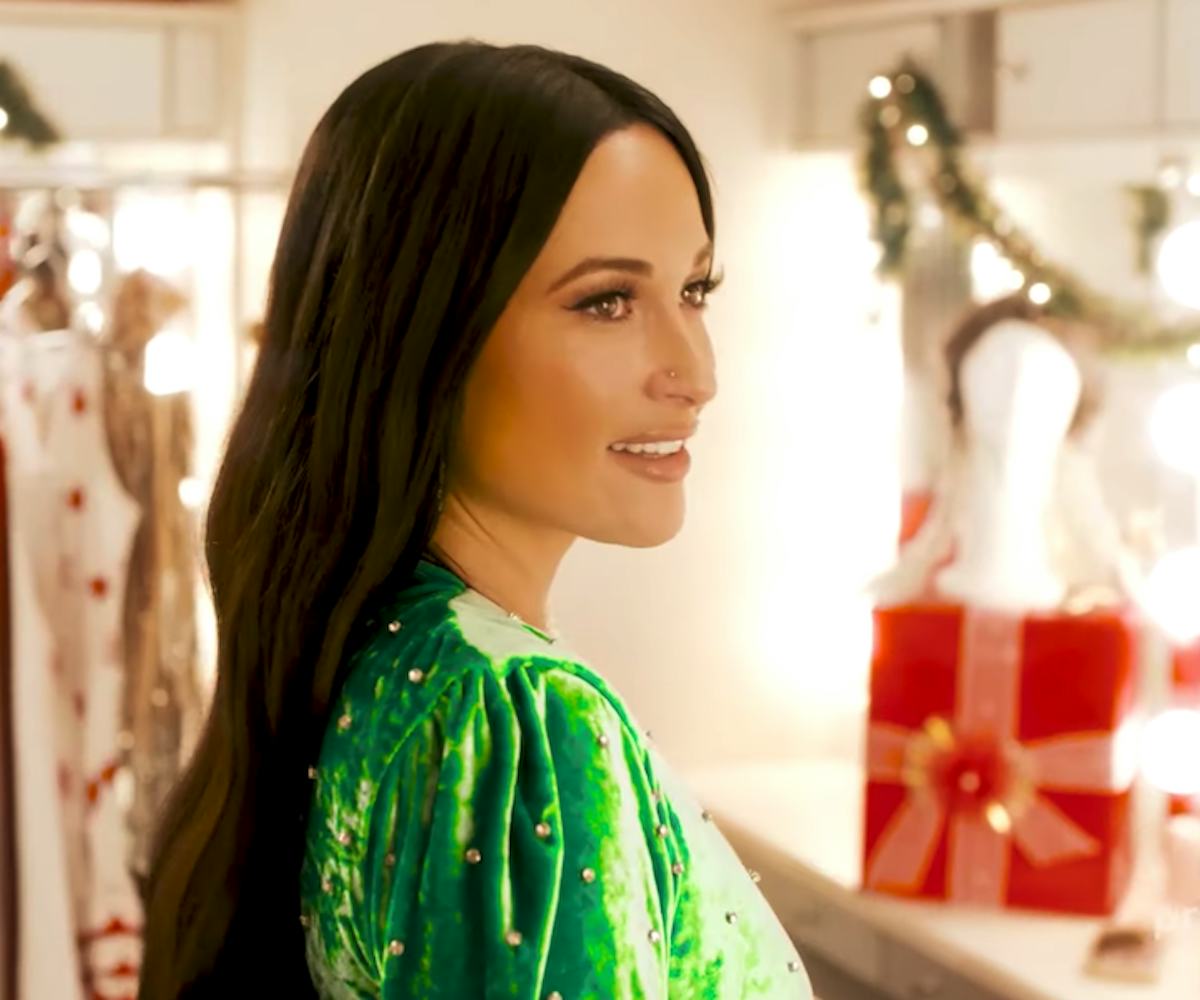 Screenshot via YouTube
Kacey Musgraves Shares Trailer For Her "Wes Anderson-Inspired" Christmas Special
With special guests Camila Cabello, Lana Del Rey, and... Kendall Jenner?
UPDATE 11/14/2019 12:25pm: Kacey Musgraves has unveiled a new trailer for The Kacey Musgraves Christmas Show. Watch it below.
*********************************************************************************************
There's now going to be a lot more yee-haw holiday cheer to go around this season: On Monday, Kacey Musgraves announced her forthcoming Amazon Prime special, The Kacey Musgraves Christmas Show, which promises appearances from The Radio City Rockettes, a number of popular musicians, Musgraves' Nana, and, curiously, model Kendall Jenner.
"I can say without a doubt that this project is unlike anything I've ever done before," Musgraves stated in a press release. "What started as the small seed of an idea one night over a year ago has turned into something I'm so proud of. Some truly brilliant comedic and musical guests are featured in the show — as well as my own Grandma. My vision was to bring my old Christmas album to life visually and create a modern and fashionable, fresh take on a classic format. It's a nostalgic, Wes Anderson-inspired reimagining of the holidays. It's heartfelt, funny, and most of all, real. I can't wait to finally share."
If you're new to the Musgraves fandom and don't have a working knowledge of her catalogue, you're going to want to revisit her 2016 Christmas album A Very Kacey Christmas as soon as possible. Leon Bridges will be making an appearance on the show to perform their duet from the record, "Present Without A Bow." All of the other songs to be featured in the special are entirely new performances not heard on the album. Lana Del Rey will join Musgraves on "I'll Be Home For Christmas," Camila Cabello will drop by for "Rockin' Around The Christmas Tree," and Zooey Deschanel will duet with Musgraves on "Mele Kalikimaka," undoubtedly bringing out her ukulele. Troye Sivan will also be on hand to debut a new song, titled "Glittery." Additional guest performers include Fred Armisen and James Corden.
In the trailer, we watch as Musgraves gets ready backstage with the Rockettes, taking polaroids and leaving out candy canes for all her favorite guests — except for narrator Dan Levy (Schitt's Creek), who only receives a lump of coal from the country-pop star. We don't get a taste of any of the performances, though; you'll have to wait until November 29 when the show hits Amazon Prime to hear everything at once.
Watch the trailer for The Kacey Musgraves Christmas Show below.