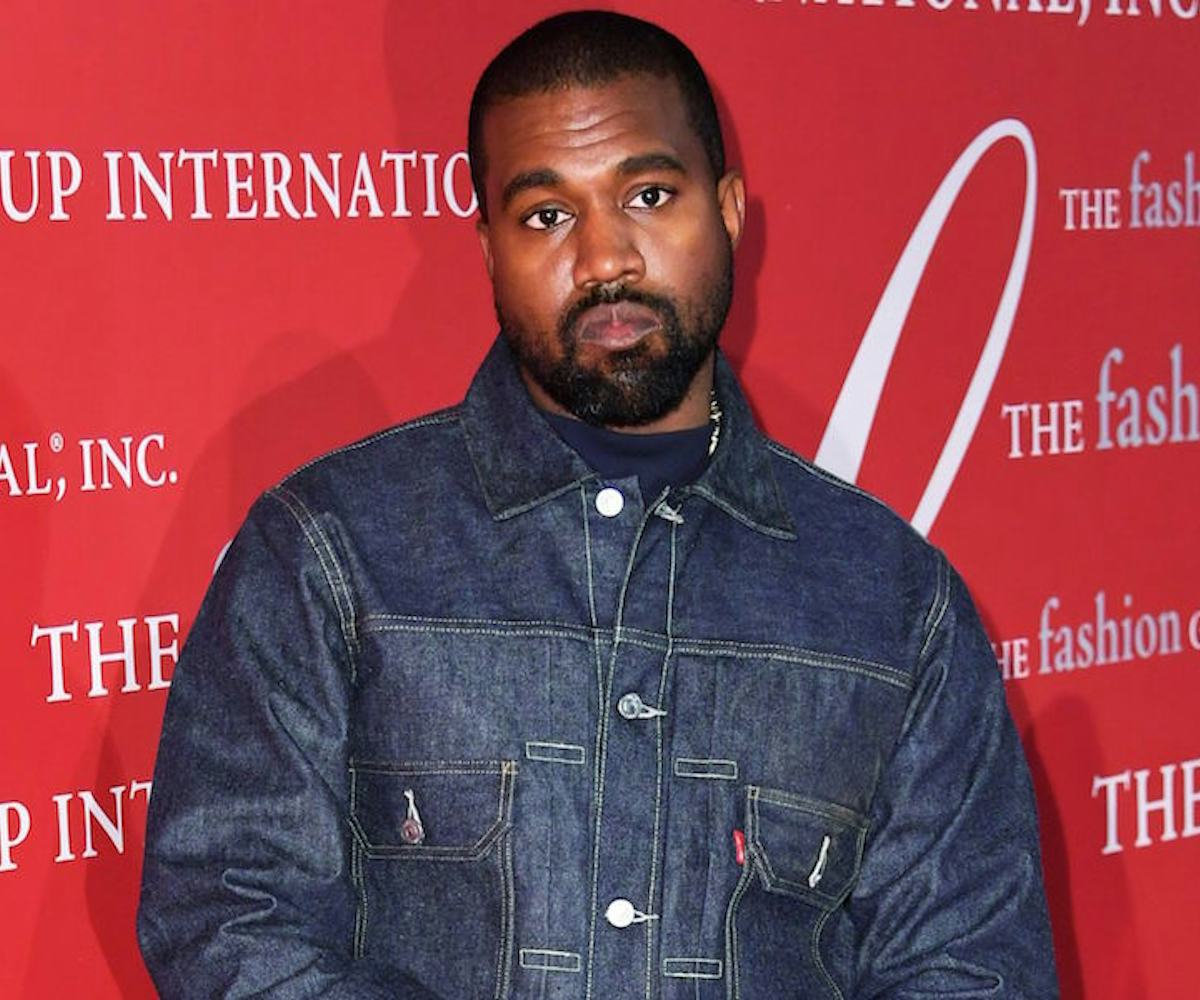 Photo by Stephen Lovekin/Shutterstock
Everything Kanye West Was Doing Instead Of Releasing 'JESUS IS KING'
Lying, telling employees to not have premarital sex, and more!
UPDATE 10/25/19 2:00pm: JESUS IS KING is now available to stream. Listen to the album here.
***********************************************************************************
It should come as no surprise that Kanye West's latest album JESUS IS KINGstill isn't here, despite the reported release date having arrived. What is a surprise, though, is everything that he's doing instead of releasing said album. As the accompanying IMAX film debuts in theaters across the country on Friday, West has been filling his time with weird interviews, dropping merchandise for an album that doesn't exist, and much more.
First off, he boldly lied about the album releasing at midnight during a surprise appearance on Jimmy Kimmel on Thursday. When Kimmel asked when the album would come out, West replied, "It's going to be dropping [at] 12 a.m." — aka the exact hour of West's surprise appearance. "So, right now it is available," Kimmel responded, which elicited an eye-roll and another lie from West, "Oh, it's out now." Reader, it was not "out now." It is still not. Which is probably why Kimmel laughed so hard when West said that it was; that, or because West remained standing such an uncomfortable distance away from him onstage as he began monologuing about the "dope edge" he could bring to the church.
West did offer a clarification to fans later on Twitter. "Thank you for being loyal & patient," he wrote, adding, "We are specifically fixing mixes on 'Everything We Need' 'Follow God' & 'Water.' We are not going to sleep until this album is out!" If the last part is true, and he's not going to sleep, I hope Kris Jenner is chronicling this all for a truly bonkers episode of Keeping Up With The Kardashians.
Perhaps in hopes of distracting fans from the missing album, West has filled the rest of his time by saying... a lot of words. Particularly, words that are making me look like the real-life version of the eyeball emoji. During his recent interview with Zane Lowe on Beats 1, West admitted to asking collaborators to abstain from premarital sex while working on JESUS IS KING. He stated:
There was times where I was asking people to fast during the album. This is gonna be radical what I'm about to say we can look at it in the edit. There were times I was asking people to not have premarital sex while they were working on the album. I know that's one where the Shade Room will be like 'what you mean not have premarital sex!?' but seriously there's times I went to people that were working on other projects and said could you just work and focus on this? I mean it's known when people pray together, families that pray together stay together. When people pray together and fast together, the power is increased.
He's also fighting with his 6-year-old daughter North over her wanting to wear makeup and crop tops — a total non-issue if you ask me — when he could just, well, not and keep his mind on the album. According Kim Kardashian West in a recent interview with E! News, "North is trying to get in on the makeup but she's being blocked heavily because her dad has stopped all makeup for her until she is a teenager... It's a big discussion, a big fight in the household right now but it is what's best." Which is more of a distraction from work, premarital sex or executing sexist rules on your eldest daughter? You decide!
If you must get new West music into your ears, you do have one immediate option, though I don't recommend it. Rather than leaking demos, West has leaked sheet music to influencer Claudia Oshry, aka Girl With No Job, to premiere with her sister, Jackie Oshry, on their daily YouTube show The Morning Toast. Allegedly this is a real song from the album, but we'll let you watch and decide for yourself. The first lyrics are, "(Closed on Sunday) You're my Chick-fil-A/ Hold the selfies/ Put the 'gram away/ Get your family/ Y'all hold hands and pray," so there's that. But, after "Poopy-di scoop/ Scoop-diddy-whoop," no lyric from West would surprise us.
And finally, the pièce de résistance of this entire ordeal: he's got merch! Despite there being no album now, and no definite release date or time known, West is selling extremely minimalist t-shirts, sweatshirts, and more via his online store, all of which come with a promised digital download of JESUS IS KING whenever it drops. The item descriptions don't even have a date listed to signify when that could be. All items in the collection are simply the text that appears at the center of the JESUS IS KING vinyl, blown up and placed across apparel items. So if you'd like to commemorate the album that has yet to come into existence (and may never), shop away.