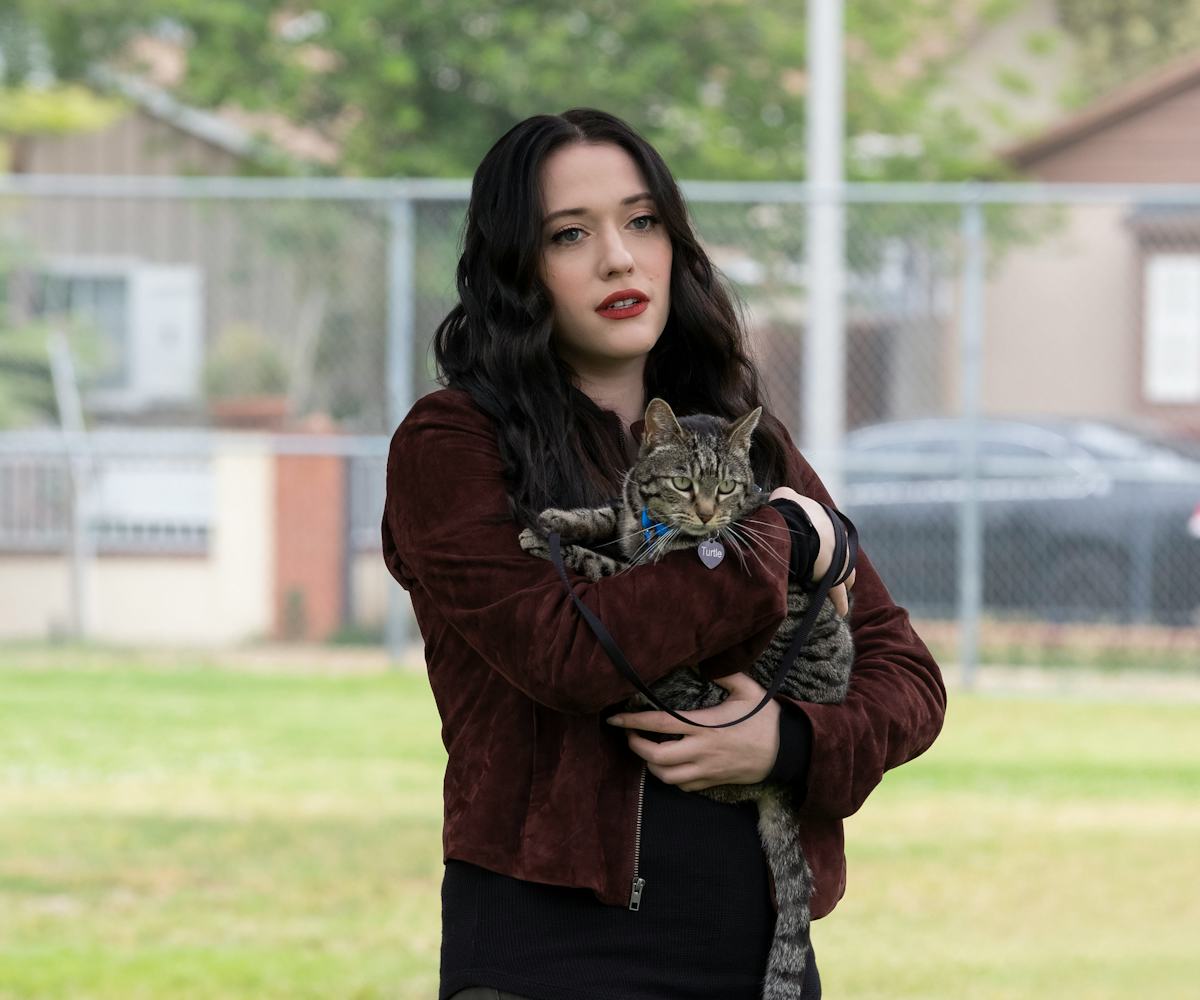 Photograph by Erin Simkin/courtesy of Hulu.
'Dollface' Star Kat Dennings On Why Being A Cat Lady Is "The Best"
The executive producer of Hulu's new comedy opens up about subverting tropes and female friendships
While the premise of Hulu's new comedy Dollface will be familiar to anyone who's neglected their friendships on account of a whirlwind romance, it's a trajectory that's rarely seen played out on TV. When 20-something Jules' longtime boyfriend suddenly dumps her, she finds herself alone, having abandoned her friends years prior in pursuit of said relationship. But instead of focusing on Jules' search for the next guy as many similar plots would, Dollface follows her as she attempts to rebuild the friendships she let wither away.
"This is a pretty true-to-life thing that I've gone through when I was younger, and I know a lot of people in my life have also gone through this. Everybody's kind of guilty of disappearing into your relationship; it kind of happens and, before you know it, the years [have] just gone by," says Kat Dennings, who plays Jules and serves as Dollface's executive producer. "I liked the idea of making a show about that because I haven't really seen that very much." Calling it a "rom-com for friendship, a kind of will-they-or-won't-they with friends," the 33-year-old actress — most recently known for playing Max, a witty, sassy waitress in 2 Broke Girls — says she saw Jules as a fun opportunity to revisit her younger self.
Over the course of 10 episodes, Jules attempts to restore her trust in besties Madison (former Disney star Brenda Song) and Stella (Pretty Little Liars and You's Shay Mitchell) and find herself again post-breakup. She not only gets caught up in real-life hijinx — mistaking a boat on its way to Alaska for a trendy floating bar and attending her company's retreat hosted by a spiritual leader (delightfully played by guest star and executive producer Margot Robbie) — but also in fantastical scenarios featuring a literal cat lady (voiced by Beth Grant), who hilariously doles out advice.
Ahead, we caught with Dennings to learn what drew her to the script, what it was like to work with Song and Mitchell, and why being a cat lady is something everyone should embrace.
Why were you attracted to Dollface and Jules?
I really loved the elements of magical realism. I think as a fan of film and TV, I'm drawn to that kind of a vibe. I like a little fantasy element, I like something kind of mysterious — I think that's really interesting. I also haven't seen that that much comedy. I wouldn't call Dollface like a LOL-like, hard-hitting comedy, but it's an interesting tone that I haven't seen very much, and I think it really lends itself well to the magical realism thing. You don't really know what's real and what isn't. I think it's fun for an audience to be not sure.
When I was in my early 20s, I was a lot like Jules. She's kind of impressionable and naive. Not that those are negative things — they're actually great — but it caused me a lot of peril in my young ladyhood. It was kind of appealing to me to revisit that time, but with like the older, wiser attitude that I have now.
Do you relate to Jules? Would you describe yourself as a homebody?
Yes! All the girls say that we are really similar to our characters. I mean, I am the person who just does not want to go out. Even if it's something fun, I'm always like, Oh god, I don't know. I just want to stay home and like play with my cat.
Speaking of cats, the show kind of embraces and subverts the cat lady trope. How do you think Jules feels about the cat lady being in her life?
I describe the cat lady as the fairy cat mother of the show. We can't really tell whether she's like a figment of Jules' imagination or a real character. I think the cat lady comes along to kind of scare Jules in the beginning by saying like, "Oh, if you're not careful, you're going to end up a crazy old cat lady." We've been told as women that's like a bad thing, which is not the case. I think through the show we kind of see it flipped on its head a bit in the finale... I think being independent and doing what you want to do is actually like the best thing.
What was it like building these relationships with Shay Mitchell and Brenda Song?
Oh man, they are so fantastic. I'm so lucky to get along so well with my castmates. I've been pretty lucky in that department [before], but we really do all love each other. Esther Povitsky, who plays Izzy, also is incredible. She and Shay have a very cute relationship, and Brenda and I... I mean, I can talk to Brenda all day. We really are best friends. Even though we're new friends, we feel like we've known each other forever. It happened very quickly; it's like summer camp experience, suddenly making a season of television with people. You just spend like all day, all night together, and you're doing weird things together. It's a really great bonding experience.
What's your favorite thing to do on a girl's night out?
The thing about my girls' nights is that we usually want to stay in. I don't know if that's because my friends and I are a little older now, but it just feels way more fun to just be together and like have a cheese plate and talk all night. That said, Brenda and I did go to a Lizzo concert a couple weeks ago, which was as good as it gets.
What is one piece of advice that you would give Jules now that you're older?
Stop lying. Jules has like a really, I think, relatable instinct to just quickly lie to get herself out of every corner. I don't think she's like an insane person or anything, but she instinctively just doesn't want anyone to be upset with her. She's terrified of someone being upset with her and saying the wrong thing. If we're lucky enough to do another season, I'd like to see her being able to kind of stand in her own feelings and just be able to say what she means without fear.
Jules is very different from Max in 2 Broke Girls, but they're both women who don't have their lives completely together. Why are you attracted to these types of characters?
When you sign up for a show, you could potentially be playing that person for, like I did with 2 Broke Girls, six or seven years of your life. There's got to be something in there, where you're able to get into the head of the person you're playing. Otherwise, it's just harder than it has to be. I don't know if I could play, like, a British pirate [laughs]... For both Jules and Max, I found I could slip into the cadence and the feeling of them pretty easily. Maybe that means I'm kind of lazy, but I could see myself playing Jules for a really long time.
What do you hope viewers take away from watching Dollface?
I hope that it inspires people to pick up the phone and maybe call a friend they haven't talked to in a while. I think that'd be a nice outcome. I hope it also inspires people to get back in touch with someone maybe they've lost along the way. That'd be great.
Dollface is out on Hulu now.