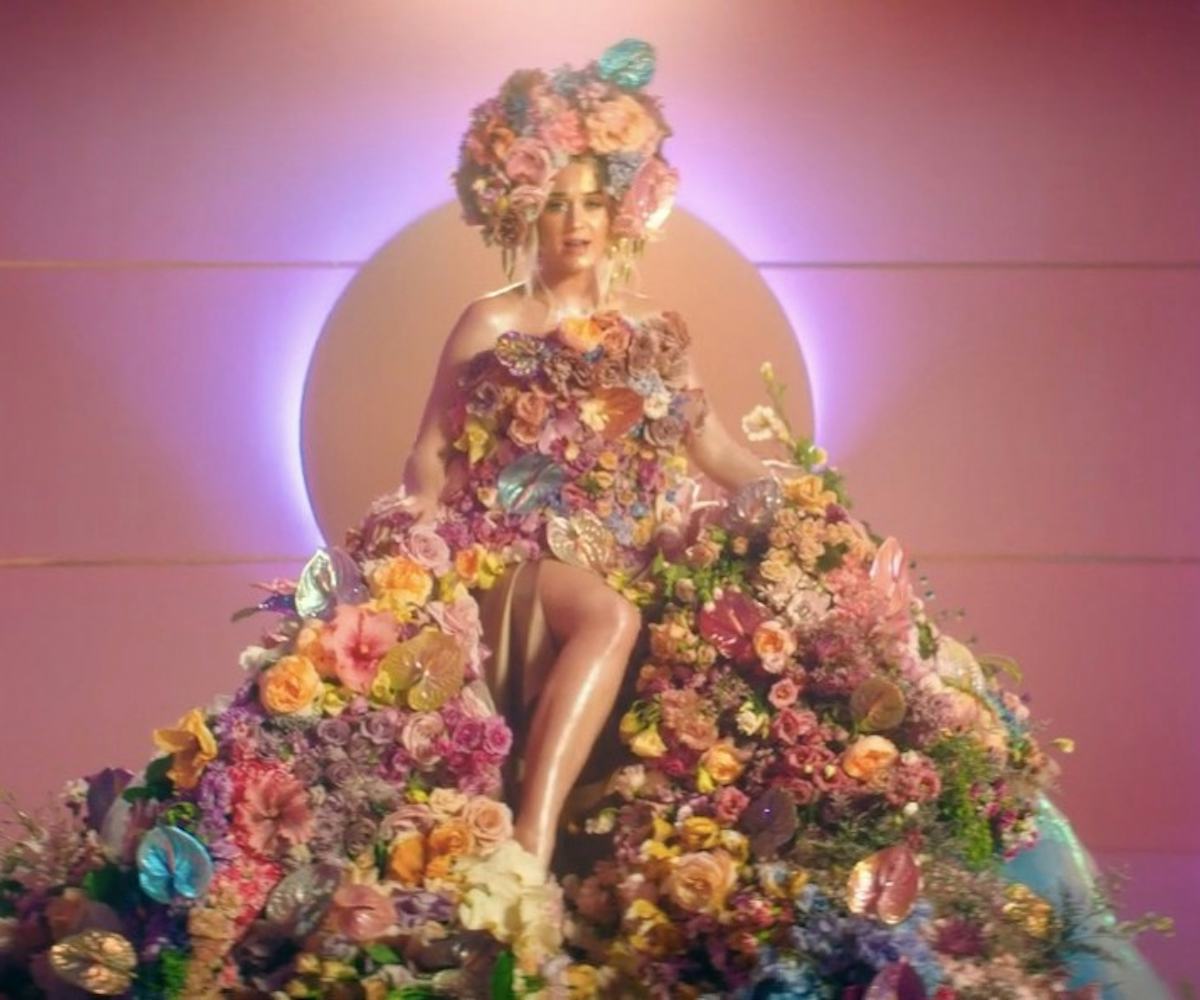 YouTube
Katy Perry Announces Pregnancy In Ethereal "Never Worn White" Video
The pop singer also shared some of her pregnancy cravings
Los Angeles will be bursting with celebrity babies this summer as Katy Perry has just revealed that she is pregnant. The pop singer unveiled her baby bump on Thursday in the ethereal music video for her new song "Never Worn White." A sweet and moving ballad about wanting to get married to her fiancé, actor Orlando Bloom, the J.A.C.K.-directed video alternates between tableaus of Perry singing in a lush gown of flowers and an angelic white dress. At the end, there's Perry, dressed in a sheer white dress and peering down at her baby bump. Shortly after the video's release, Perry took to Instagram Live to tease the announcement saying: "If you haven't seen ["Never Worn White"] go check it out...and watch it all the way until the end...and there's a little reveal that's getting bigger."
While munching on some dried mango on Live, Perry denied that "Never Worn White" is the lead single to an upcoming album, calling the track just a "reveal," but also confirmed a new project on the horizon.
"There's a lot that will be happening this summer," she said. "Not only will I be giving birth, literally, but also figuratively to something you guys have been waiting for. Let's just call it a double whammy, a twofer."
Talking about her pregnancy, she said it was "the longest secret I had to keep." She also revealed some of her pregnancy cravings which includes a burrito she's apparently been eating "for weeks on end," and hot sauce. "I literally never cared for spice, and now i have to carry tabasco sauce in my purse like that woman," she said. "I am that woman. I am Karen with her tabasco sauce. Some people have essential oils, and I have tabasco sauce."
"Never Worn White" is Perry's first release of 2020, and it follows a string of singles she put out in 2019, including "Never Really Over," her return after two years away. On the relationship front, Perry and Bloom, who got engaged on Valentine's Day in 2019 after four years of dating, recently announced in December that they'd be delaying their wedding — and now we know why. Bloom is already a father to Flynn, his son from his previous marriage with model Miranda Kerr. Watch Perry's "Never Worn White" below.