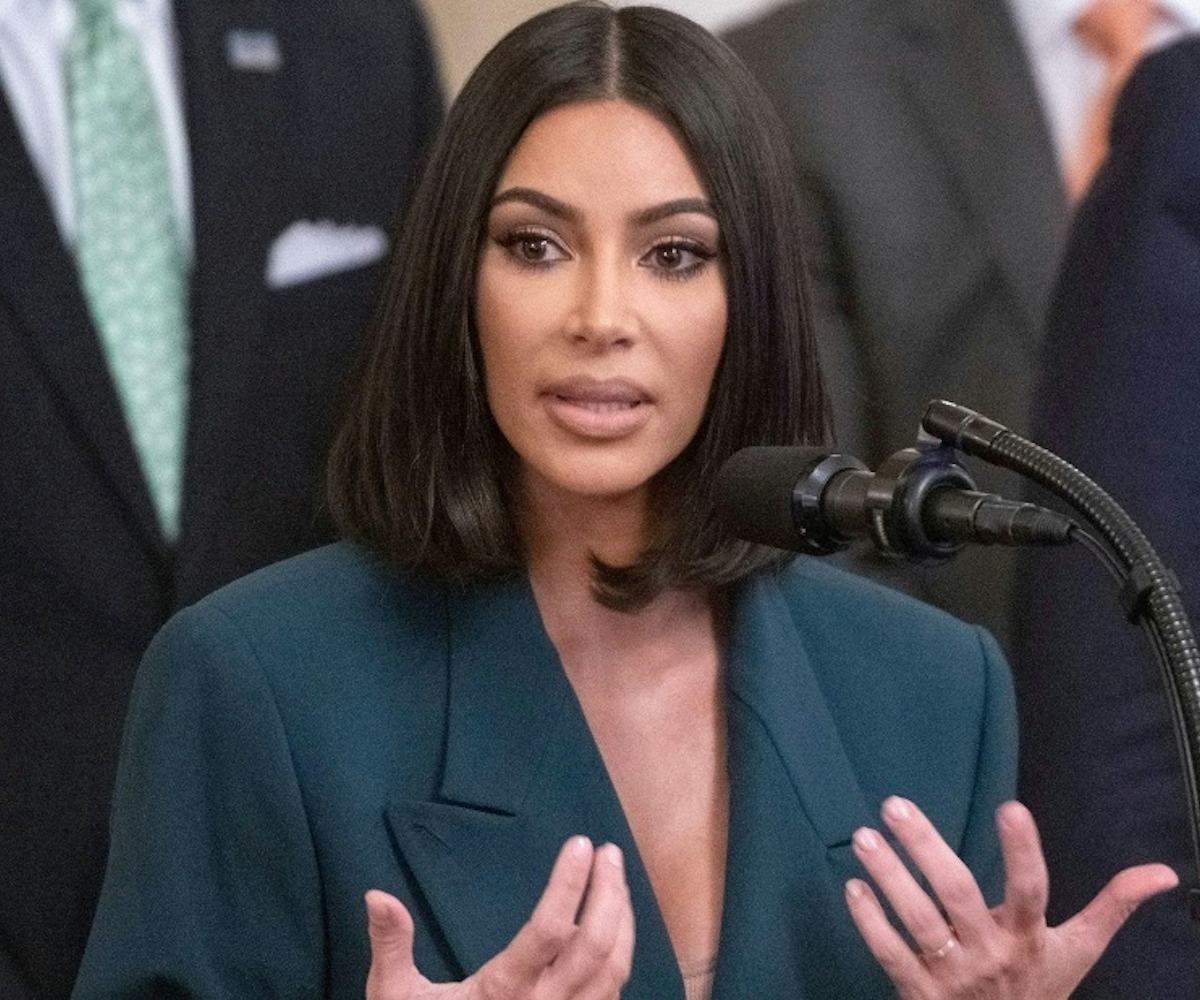 Photo by Shutterstock.
Who Really Benefits From Kim Kardashian's Prison Documentary?
Allies shouldn't be looking for profit or praise
Kim Kardashian was just spotted at the District of Columbia Correctional Treatment Facility visiting inmate Momolu Stewart and shooting for her upcoming documentary on criminal justice reform. This news has added to the uneasiness that many people feel about what Kardashian's advocacy means while it's embedded within the pop culture machine that is her multimedia empire.
Kardashian's recent work in the realm of criminal justice reform includes things like her focus on a law career, her collaboration with Donald Trump to get non-violent offender Alice Marie Johnson's sentence commuted, her upcoming documentary on Oxygen network, and her visits with inmates to advocate for prison reform. While her actions have been greeted with praise, they have also been met with skepticism and even hostility, particularly by members of the Black community, and their reservations are more than understandable.
Kardashian is the figurehead of a family of non-Black women whose proximity and obsession with Blackness has been rightly critiqued for years. The Kardashian-Jenner sisters have all helped usher in a new wave of Black culture vultures; Kim alone has been accused of everything from cultural appropriation (she still unapologetically rocks cornrows whenever she feels like it) to flat-out racial ignorance (like the time she defended YouTuber Jeffree Star despite his past racist behavior). Her responses to these takedowns have often betrayed an inability or unwillingness to respect the sacredness of certain parts of the Black experience. That she is so often on the wrong side of these Black culture debates—despite having built her media empire strategically adjacent to that culture—makes it hard to embrace her fresh interest in advocating against the justice system that disproportionately impacts that culture.
I've remained relatively neutral about it all, because, in the fight against anti-Blackness, I think we have bigger problems than the Kardashians. But, I've privately held the position that, if she wants to fight for the community from which she so frequently benefits, then fine—it's the least she can do. However, the benefits of her fight should go to that community—as an ally, Kardashian shouldn't expect or demand to receive praise or profit from her actions. That's not what being an ally is. And, that's exactly why her documentary, Kim Kardashian West: The Justice Project, sends up so many red flags.
Announced in May as part of Oxygen's new slate of true-crime content, Kardashian is executive producing the two-hour documentary with Bunim Murray Productions. Variety noted thatThe Justice Project will "capture Kardashian's efforts to secure freedom for Americans who she believes have been wronged by the justice system." The show will offer viewers "an exclusive, never before seen look inside her mission to tackle one of America's most controversial subjects."
But what does it mean when you have one of the most controversial people creating content that addresses that "controversial subject"? The documentary is essentially focusing on Kim Kardashian; it's about her journey leaving the insular world of high fashion, paparazzi, and reality drama to face the grim reality of a racist criminal justice system. But it should be about the people suffering from systemic injustice instead. The last thing we—or the people supposedly at the heart of this documentary—need is another feel-good story about a rich person seeing the light. Especially when they're using that opportunity to further promote themselves.