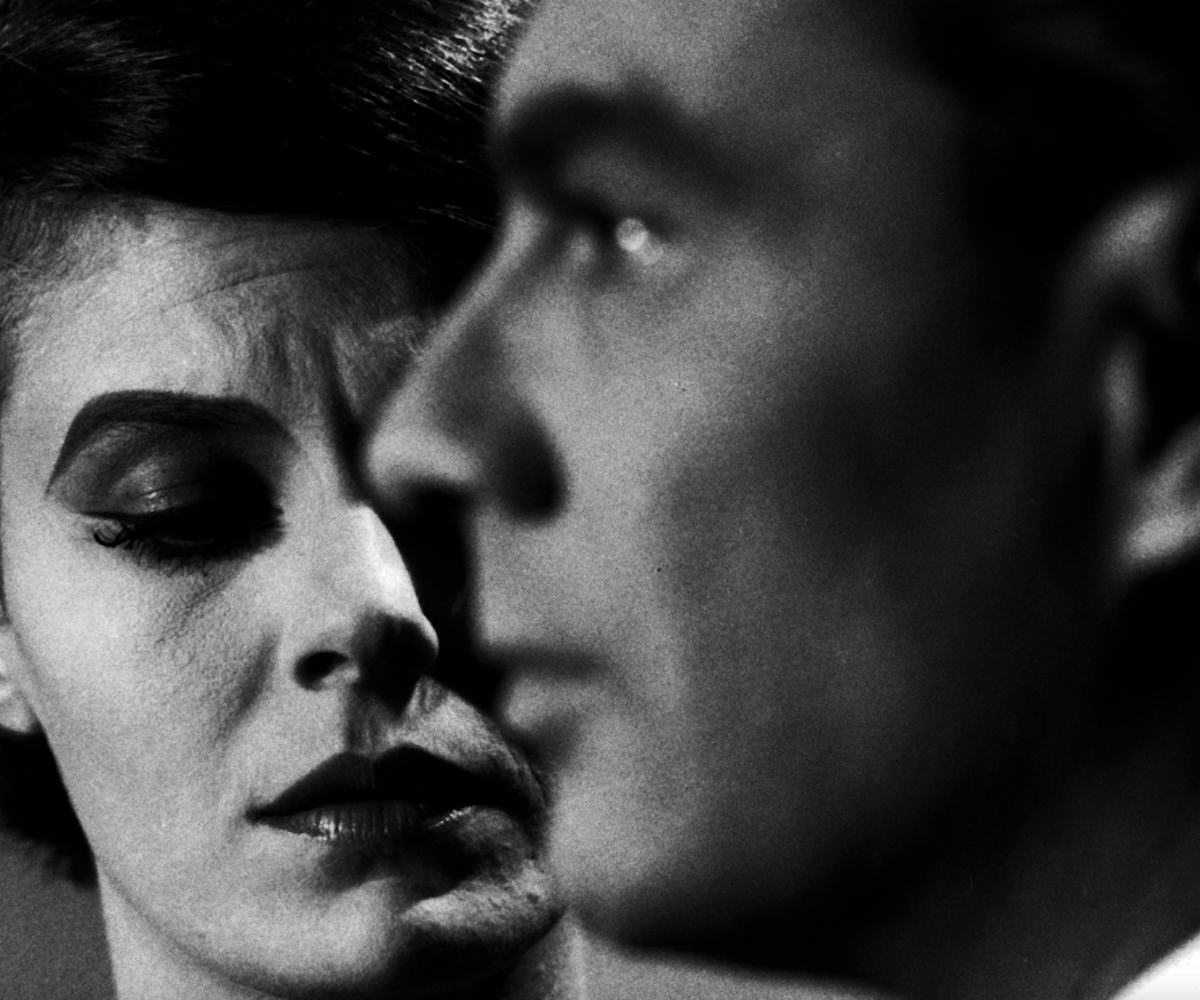 How To Channel The Fashion Vibe Of An Existentialist Nightmare
'Last Year at Marienbad' might not be a great first date movie, but it's also maybe the greatest first date movie—and there's lots of Chanel
If you want to see the quintessential French art film, look no further than Last Year at Marienbad. Alain Resnais' 1961 masterwork is a hypnotic maze of a film, featuring a man and woman who may or may not have met the year before. The baroque setting, rendered in elegant black-and-white, has influenced many a fashion editorial, and the unnamed protagonist, played by French cinema queen Delphine Seyrig, boasts a dreamy couture wardrobe designed by none other than Coco Chanel. The film plays in a new restoration at New York's Film Forum from May 17th through 23rd, and is also available to stream on Kanopy. Even if you don't quite understand what's going on in this intentionally elusive narrative, the power of Seyrig's costumes is undeniable.
Watching the film is a twisty, transporting experience. Even viewers who don't typically pay attention to onscreen fashion will quickly realize that Last Year at Marienbad uses costuming as a constant clue that's just out of reach. The time frame and the relationship between the central characters are both unclear. Some of the scenes might be fantasies or memories. But costumes might be the key: as the film shifts around, so too do Seyrig's dresses. Dresses appear and reappear, and couture flourishes create drama. If one were so inclined, a grand unified theory of the film's narrative structure could be built around the sumptuous Chanel outfits.
Seyrig, with her glossy hair and impeccable makeup, is a sculptural, regal presence. She frequently gestures with her hand to her shoulder, and recognizing her posture across outfits gives a sense of the uncanny.
The ornate hotel setting is both alluring and creepy. It's clearly a place with a formal dress code, and Seyrig's dresses exist in perfect harmony with her environs. A black cape dress melts into a dark, abandoned space.
She has a similarly cut dress in white. Walking through the hotel's grounds, the cape billows around her, in an image straight out of a gothic romance.
Capes are inherently dramatic, with their sweeping volume. In one scene she wears a long, sparkling cape with feathers at the neck. The outfit could very well be a fantasy flourish.
As with the earlier dress, the black feathered cape, too, has a white analogue. In a bedroom (hers? His? Who knows?), she wears a robe with a similarly embellished neckline. The feathers nearly overwhelm her figure, and the exaggerated silhouette elevates an outfit into a fantastical art piece.
Crisscrossing straps on the back of a black cocktail dress mirror the sharp angles of the hotel's iconic landscaping.
Shiny dresses become totems, and the cinematography perfectly captures the glint of a gilded fabric.
Watching the film, one really sees how Chanel earned her reputation for elegance. Materials like lace and fur are luxe without being overstated, and the designs capture the polished glamour of the era. (Also note the shoes being worn across outfits!)
In one memorable sequence, Seyrig sits surrounded by shoes. It might be Last Year at Marienbad's most essential fashion image. Are the shoes all hers? When does she wear them? Where did she get them? Each pair, like every garment in the film, is a beautifully rendered piece of a larger puzzle.
Want more stories like this? Sign up for our newsletter.