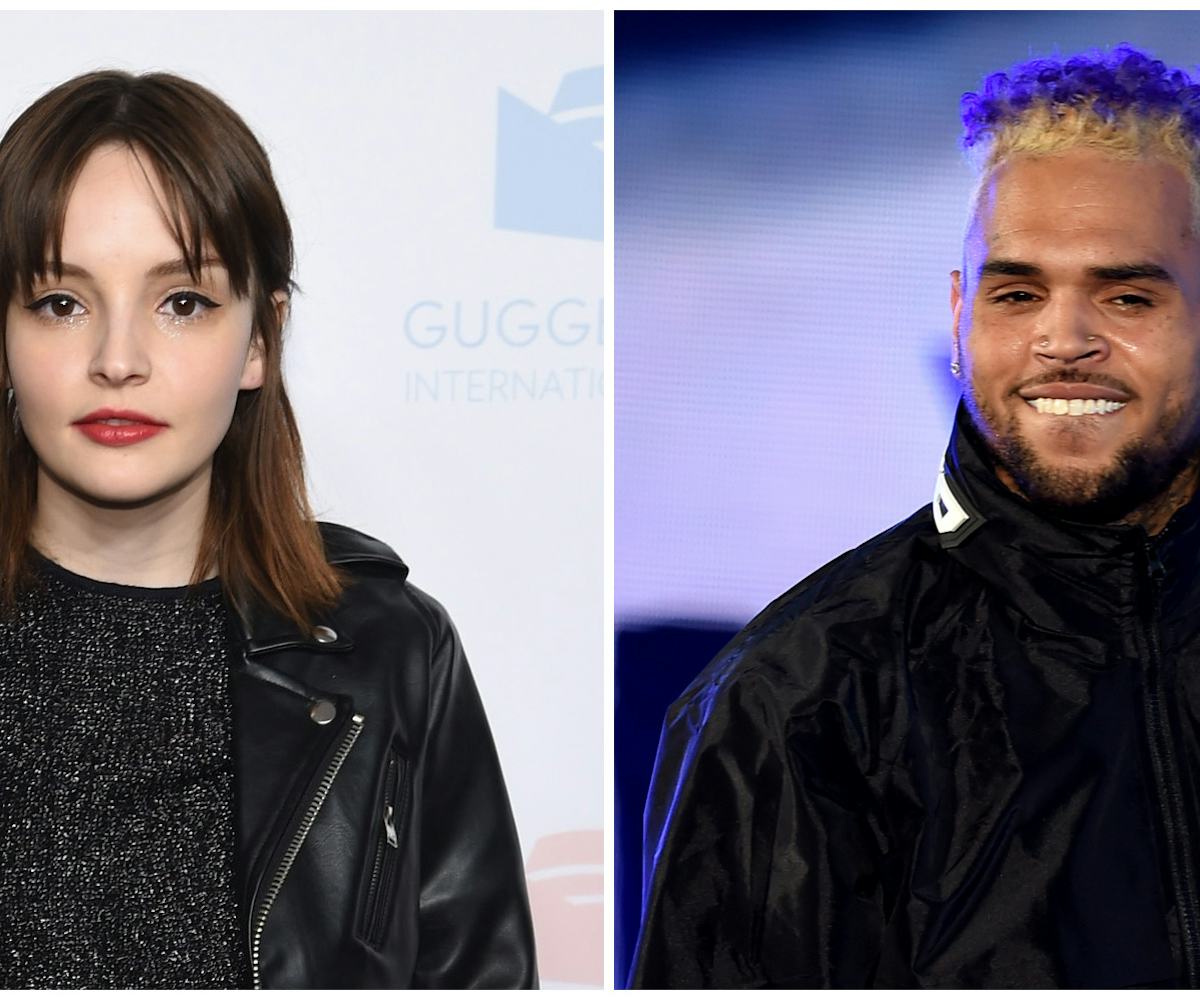 Photos by Dimitrios Kambouris/Getty Images for Christian Dior Couture, Kevin Winter/Getty Images for Radio.com
Chvrches' Lauren Mayberry Receives Threats After Calling Chris Brown An Abuser
Even though she's... not lying
Disclaimer: This article addresses threats of sexual assault and violence. If you or someone you know is dealing with something similar, RAINN is a great resource.
On Friday, the band Chvrches and its lead singer Lauren Mayberry called out their former collaborator Marshmello for collaborating with known abusers Chris Brown and Tyga, which has led to the band, but especially Mayberry, receiving disgusting threats of violence from Brown and his fans.
Chvrches' statement said that they are "really upset, confused, and disappointed by Marshmello's choice" to collaborate with Brown and Tyga. The statement continued: "Working with people who are predators and abusers enables, excuses, and ultimately tacitly endorses that behavior. That is not something we can or will stand behind." Mayberry also shared the message on her personal Instagram account.
After Mayberry shared it, she became inundated with disgusting DMs from fans of Brown and Tyga. Many called her racist for calling out Brown and Tyga, and many included physical threats against Mayberry—including hoping that Brown and Tyga would "rape" and "beat the shit" out of her.
In a response to one of the DMs, Mayberry wrote, "Someone saying they will 'bash your skull in' for denouncing domestic abuse is somewhat ironic..." The irony deepened when Brown commented on Mayberry's post by writing: "These are the type of people I wish walked in front of a speeding bus full of mental patients."
In 2009, Brown was charged with assault after he beat former girlfriend Rihanna. Tyga has been heavily criticized for his relationship with Kylie Jenner, which allegedly started when she was 17 and he was 25, which would be considered statutory rape in California.
Mayberry has been open about having been in an abusive relationship, and so there's no doubt that this issue hits close to home for her. But there's no need to have experienced abuse firsthand to find Brown's continued relevance a searing indictment of the way the music industry does not care about creating safe spaces for women.