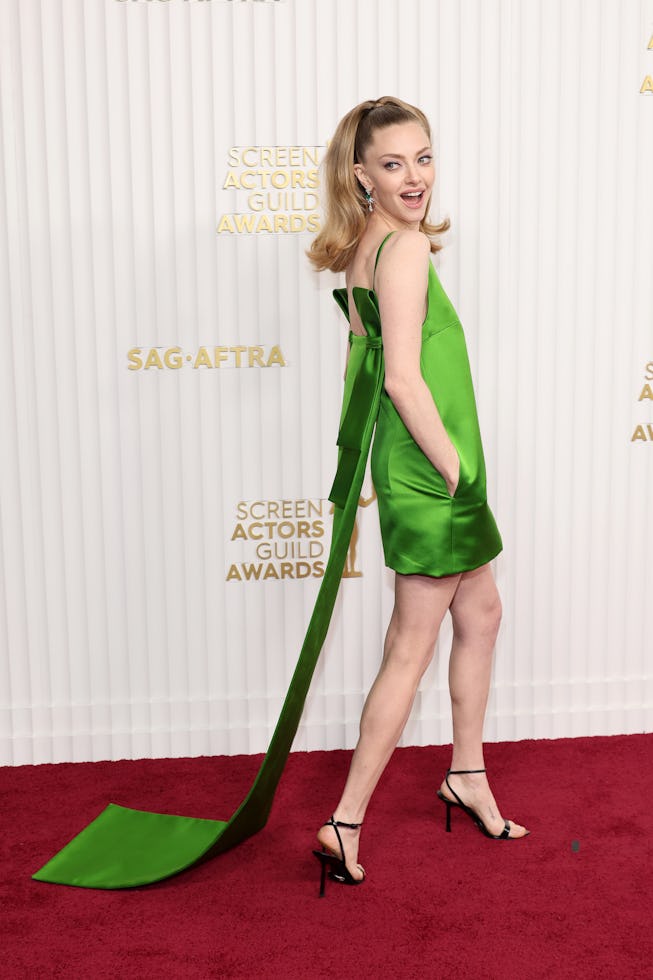 Amy Sussman/WireImage/Getty Images
The Exaltation Of The 2023 SAG Awards Red Carpet
Sunday evening's red carpet was a reminder of what it's like to be moved by fashion.
I've become accustomed to being bored out of my mind during awards season. Hosts are corny, runtimes are too long, the virtue-signaling is exhausting, the self-seriousness is...you get the point. But most of all, I'm bored of the red carpet. With seemingly unlimited resources and entire teams dedicated to their aesthetic excellence, why aren't celebrities bringing it? Where is the taste? Did everyone take a blood oath to wear exclusively "Barbie pink" and not tell me? In the immortal words of legendary Sex and the City party girl Lexi Featherston: Whatever happened to fun?
Just when I'd resigned myself to shaking my fist at my television screen, the 2023 SAG Awards happened. I like to imagine that every prominent stylist noticed Twitter uniting over the lack of red carpet glamour of late, saw their lives and reputations crumbling before their eyes, and said, "Not on my watch!" For the first time in what feels like years, actors came to the red carpet with something I thought was lost to the sands of time: a strong, elegant point of view.
The TikTokification of fashion trends is rapid and terrifying; going to an event might mean seeing dozens, if not hundreds, of people dressed exactly alike, finding safety in numbers, like a school of fish navigating a dark sea. The 2023 SAG Awards red carpet felt overwhelming in a different way — a new era of actors stepping into their power, completely unafraid to shine.
Gilbert Flores/Variety/Getty Images
Amy Sussman/WireImage/Getty Images
One of my favorite and most unique looks of the evening belonged to Ayo Edebri, a rising star thanks to her breakout role in the The Bear, and someone I will always remember as performing very funny standup to approximately seven people on a weeknight in Brooklyn only a few years ago. Edebri is new to the awards show red carpet circuit, and yet she's already established herself as a sartorial vision to watch. I feel the same way about Janelle James, who is a gift in Abbott Elementary and one of the most hilarious people who has ever been on camera. Edebri in Emilia Wickstead and James in Rodarte, respectively, are more than objectively gorgeous, they made me feel something. Imagine!
Frazer Harrison/Getty Images Entertainment/Getty Images
Amy Sussman/WireImage/Getty Images
Dignified style is a crucial element to an unforgettable red carpet moment — and delivering a gag takes it to the next level. I don't know if Amanda Seyfried and Jennifer Coolidge came to the SAG Awards with a comedic bit in their heart, and frankly, I don't care. I look at them and feel the same sense of giddy sex appeal I get from watching Megan Draper sing "Zou Bisou Bisou" to a bewildered and aroused living room audience in Mad Men. Sex appeal isn't against the law the last time I checked, and a cheeky ode to the blonde bombshell is the ultimate way to dive in head first.
Gilbert Flores/Variety/Getty Images
Frazer Harrison/Getty Images Entertainment/Getty Images
Gilbert Flores/Variety/Getty Images
Left to my own devices, I can't help but see the divine in all things beautiful. I'm a metaphysical girl at heart, and at the end of the day, the 2023 SAG Awards are happening at the onset of Pisces season. According to the transmissions from my tin foil hat, that's why the red carpet was littered with seashell motifs. Angela Bassett's conch purse and Quinta Brunson's mermaid shell detailing are as literal as it gets; and then there's Severance's Britt Lower, in a delicate, nude gown covered in aquatic appliqués, which looked as light and ethereal as the foam on a breaking wave. As the final water sign and the zodiac's closer, Pisces is a sign of empathy and no boundaries, the martyr who's willing to be the conduit to the power of the unknown. The fish has no defenses, and even if could build a shell of armor, it would refuse to close itself off to the power of emotion. Could there be a better sign to represent actors at an awards show for actors — those who have committed themselves to the vocation of baring their souls, over and over, for our entertainment? We don't think so.
Far too often in film, television, and the press cycles surrounding them, the gears are turning at full speed to manufacture a viral moment — and a savvy viewer can always sense the desperation. The SAG Awards red carpet was a welcome departure from this grind, a reminder that something iconic can exist without being tested and fabricated. Sophistication and fun still exist in Hollywood, and if we give our on-screen conduits the chance to share their point of view, we just might be moved by it.