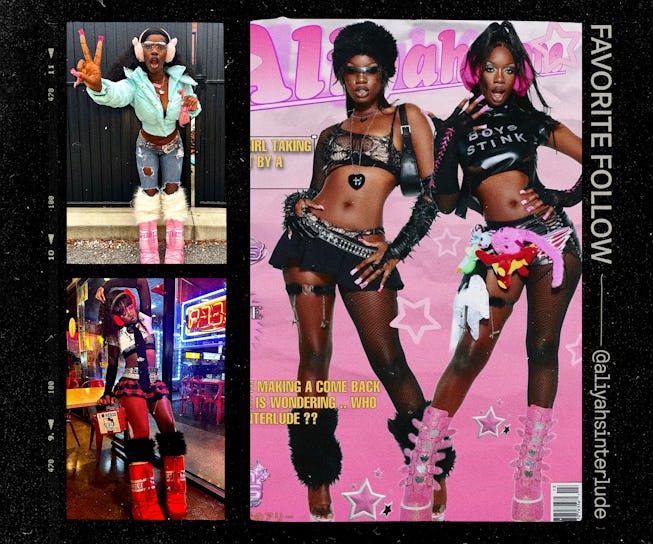 Nylon; @aliyahsinterlude; Edwig Henson
For Aliyah Bah, #Aliyahcore Is Only The Beginning
From TikTok to the runway and beyond, Aliyah Bah is only getting started.
Welcome to Favorite Follow, a series highlighting NYLON's favorite creators and the stories behind some of their most memorable content.
#Aliyahcore today, tomorrow, and forever. Coined by Aliyah Bah, the phrase was first used to document her outfit of the day — an alternative mix of harajuku, Y2K streetwear, and an explosion of pink. But now with 2.5 million TikTok followers and an entire hashtag dedicated to her signature style, it's quite literally the year of Aliyahcore.
Born in Clayton County, Georgia, the 19-year-old never anticipated her incoming fame when she stepped onto the TikTok scene. Bah's personal style has become uber-recognizable; wearing earmuffs, Moon Boots, and Hello Kitty memorabilia now instantly evoke the TikTok star.
While scrolling through the Aliyahcore hashtag, which currently boasts 171 million views, others share outfits influenced by Bah, and the self-described It Girl has started a wave of styling beloved by creators like Challan Trishann, Fannita Leggett, and Ve'ondre Mitchell. Even Chicago rapper CupcakKe and Lizzo recently went in on Aliyahcore, courtesy of eccentric, Bah-approved fishnets, pom-pom boots, and teeny-tiny miniskirts.
With her comedic nature, lovable personality, and refreshing taste in style, Bah's influence quickly surpassed the internet and into the real world. During London Fashion Week this past February, Bah walked her first runway show for Mowalola after the designer personally requested her presence. From TikTok to fashion runways and beyond, Bah has no intentions to hinder her creativity; she even plans to evolve toward superstardom by launching a fashion collaboration and releasing music.
Ahead, Bah shared tips for styling Aliyahcore in all climates, manifesting a collaboration with Moon Boots, her pop star dreams, and more.
Congrats on your runway debut for the Mowalola. Tell me about your first fashion week in London.
Honestly, I feel like the whole experience is something that I will remember forever, and it just came about from me just posting my outfits on Instagram. And I reached out to her and was like, "I would love love, love to come to your show." And she's like, "No, you should walk the show." Basically, I went out to London, and I walked my first-ever fashion show, and it was so amazing.
Where do you shop to accessorize yourself in head-to-toe Aliyahcore?
A lot of my clothes are thrifted, and I get clothes that I know nobody will ever have because you know they're secondhand. Most of my miniskirts are thrifted, and my accessories like my fur headbands or my ear muffs are from Amazon. And the fishnets are from beauty supply stores, and I just cut those up. And then the Moon Boots, of course, from SSENSE or Farfetch.
How did you begin finding your own style and unintentionally creating Aliyahcore?
I developed my own style by literally trying everything and seeing what looks good on me and what makes me feel good. I've been thrifting since I was six-years-old, so I've gotten really good at looking for what to find whenever I go to a thrift store and whenever I look online. It just depends on what era I'm in at that moment.
Video game character, Bratz doll, or Y2K Barbie — how do you choose what style, essentially the character, that you're going to embody?
It's honestly never something I plan. I feel like it's more of when I wake up that day. What am I feeling like? Do I feel like a Y2K character? Do I want to feel like I'm in an early 2000s music video? My mood influences my outfit completely every single day, but if I get new shoes I'll be like, "Okay, this will look really good with this type of character."
I love that I've seen you in a lot of smaller Black-owned brands like Handsome Girly who makes your signature earmuffs.
Shoutout to Handsome Girly actually, because she's super creative and I love her accessories company. I love Black-owned designers, and I always try to support them because I know that they're not on a level playing field at all.
As a prominent figure for Black alternative fashion, do you feel like you've had a lot of other Black women explain how your presence has inspired them to switch up their style?
I definitely feel like my style derives a lot from Black alternative culture but also Harajuku culture, streetwear, and Y2K. There's many different influences, and I think that just me being authentically myself and not really caring about being perceived or judged is a part of Aliyahcore, too. When you are confident in what you wear, a lot of people are inspired to do the same.
With the Moon Boots drama, have you found a way to endure the consistent backlash when people critique (and sometimes borderline bully) your sense of style?
I feel like no one who critiques my style is ever worthy of having a critique over my style. I just don't care at all. We always talk about how everyone's always wearing the same stuff. No one breaks out of this mold but when people actually go and break out of molds, people are still weird about it or upset.
What's next for you? I know that we both talked about your potential Twitch streaming era, but what about your forthcoming music career, modeling opportunities, or a clothing line?
I want to release a song before the summer like I really want to be a pop star so bad. I'm wanting to release a song, and I also want to release an item like a boot before summertime. Either way, I'm gonna create something that is dependent on me, and I want to design it to be super cool.
This interview has been edited and condensed for clarity.