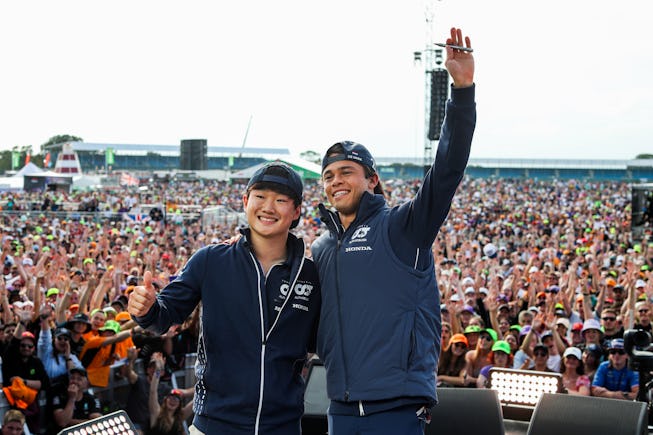 Peter Fox/Getty Images Sport/Getty Images
AlphaTauri's Yuki Tsunoda & Nyck De Vries Aren't Letting the Hate Stop Them
"In terms of adaptation, it's taking time — Rome wasn't built overnight."
The 2023 Formula 1 season has hit the midway mark, but AlphaTauri's drivers Yuki Tsunoda and Nyck De Vries aren't sweating it. In 11 out of 23 races so far – with Italy canceled due to flooding of the Imola region – the boys are keeping things pushing through natural disasters, critics, and more.
The AlphaTauri boys are stars in the making. At 23, Yuki Tsunoda is a Japanese firecracker of a driver beloved for his sense of humor and feistiness on the track; Nyck De Vries is the 28-year-old Dutchman responsible for four championship wins prior to his F1 career in 2020–21 Formula E, 2019 FIA Formula 2, as well as the 2010 and 2011 Karting World. After being a reserve driver for Mercedes for two years, De Vries impressed viewers after filling in for Williams' Alex Albon, who suffered from appendicitis, at the 2022 Italian Grand Prix. He finished the race in ninth place, scoring points on his race debut, and earned his seat on the Red Bull sister team.
Battling in the midfield is arguably more of a challenge than the front, as everyone wants to get a slice of the points in the top 10. So far, Tsunoda has two points under his belt from Australia and Azerbaijan and averages P11 in other races, while De Vries has been right under his teammate in P14 and below. The AlphaTauri boys admit that the team could be doing so much better, "You know the saying goes that you're only as good as your last weekend," De Vries tells NYLON.
More change is expected to come next year and onwards with the AlphaTauri team as the rumor mill is swirling and "silly season" is approaching – a new name, two new team managers, and possibly, a new duo? Anything can happen in this sport, but both Tsunoda and De Vries have their heads held high. Tsunoda and De Vries spoke with NYLON about the 2023 season so far, what fans can expect moving forward, and more.
What was going through your mind during and after experiencing the devastation of the Imola flooding in person, especially as the AlphaTauri office is based outside of that area in Faenza?
De Vries: It was a very tragic experience for everyone that lives in the area, and I don't think that people from outside quite realized how bad it is and what these people had to go through. Nor did I, as I wasn't really affected like that and what I did go through is nothing in comparison to what everyone in the area had to go through. People from our team and their families were affected, and so many people are still without [a] house and belongings.
In a lot of ways, it was an eye-opener in realizing how severe everything was. What I took from that experience was how it felt heartwarming to see how much people were looking out for each other. Everyone remained so positive and helpful and kind; they were just looking out for each other and that's a lesson that I will remember in life.
Tsunoda: This was the first time something like this happened in front of me and I couldn't leave. I was scared because I didn't know what was going to happen. Helicopters were flying around and I couldn't go outside because of the risk. I helped to clean up the streets a little bit and I was touched to see people helping each other and how fast they solved some of the issues; I thought it would take more than a month, but they solved a lot in just a few days. It was impressive.
[EMBED] https://www.instagram.com/p/CsWSmwutJpk/?igshid=Y2I2MzMwZWM3ZA==
You both are performing quite well so far into the season, but do you feel any pressure? Has it been frustrating to be so close yet so far from your goals, and do you feel that the points will come soon?
De Vries: I'm always excited to go racing, but it's even nicer to have new opportunities. I would say a difficult weekend is disappointing because you don't really want to be stuck in those kinds of feelings for too long. The best way to move forward is to obviously look ahead. We're excited for a new opportunity and a new weekend – that's my predominant feeling.
Tsunoda: In most of the races so far, I was close to scoring points but couldn't for multiple reasons, but I was close to P10 which is positive but frustrating. Overall, I'm happy with [my progress] and as a team, we're working hard to make improvements. I'm trying to be the best driver that I can be for the team and improve as soon as possible.
How do you keep positive and practice self-care throughout it all?
De Vries: In any industry, there's always pressure to excel at a high level and it comes from both the outside and the inside. I feel pressure towards myself to live up to my personal expectations as well. In all honesty, [being in F1] is no different from any other time of my life because we were always expected to perform, and the saying goes that you're as good as your last weekend.
In terms of the online criticism, I don't see and read anything, and if you don't see and read anything, it doesn't really get to you because you're not aware. I'm naturally a very positive and happy person, and I'm a firm believer in maintaining that as long as you don't really let that negativity get to you, which is easier said than done.
Tsunoda: The main thing for me that can be exhausting about this job is all of the traveling we do. It's not just a couple of hours – some places are more than 10 hours apart so that gets to me on top of having to keep my shape and maintain my mental health. I'm always at the sauna, especially after races, to refresh myself. This is my hobby, and I like it.
Other than that, I try to chat as much as possible with the team, everyone down to those in mechanics. I always greet them and say "good morning" so we can all be motivated and just be a team player. In racing, everyone involved counts [toward our success] and without them, I wouldn't be able to perform well.
How would you describe your experience with the team so far, Nyck? Does it feel like you're having a hard time adjusting or has it been smooth sailing?
De Vries: I feel very welcomed and supported. I'm feeling good in my environment and my relationship with Yuki has been growing. You can't build relationships overnight, but we respect each other already, even before I joined Formula 1, so I think that's been a solid foundation for our relationship. We're both on the same team trying to achieve a common goal together. Internally, I feel very well supported, and of course, this is an Italian team, and they have a lot of passion for the sport. It's been a family-like atmosphere here.
In terms of adaptation it's taking time – Rome wasn't built overnight. You can't force things and it's natural that I require some time to adjust since we need to mold into each other, but I feel like that is already going very well with it and it will only continue to grow over time.
What can we expect from the team's performance for the rest of the season? Any hints on the strategy?
De Vries: The strategy forward is not necessarily different than any other weekend we go into. We run through our normal race weekend preparations in the simulator, and then we learn from that to be best prepared as much as possible.
Tsunoda: It's hard to expect something from the races ahead because every race track is slightly different. Some tracks we really perform well and some not. Simulated work beforehand is important, which I'm working on because testing how much we can provide the engineers or how much we can extract from the car is also key.
This interview has been edited and condensed for clarity.