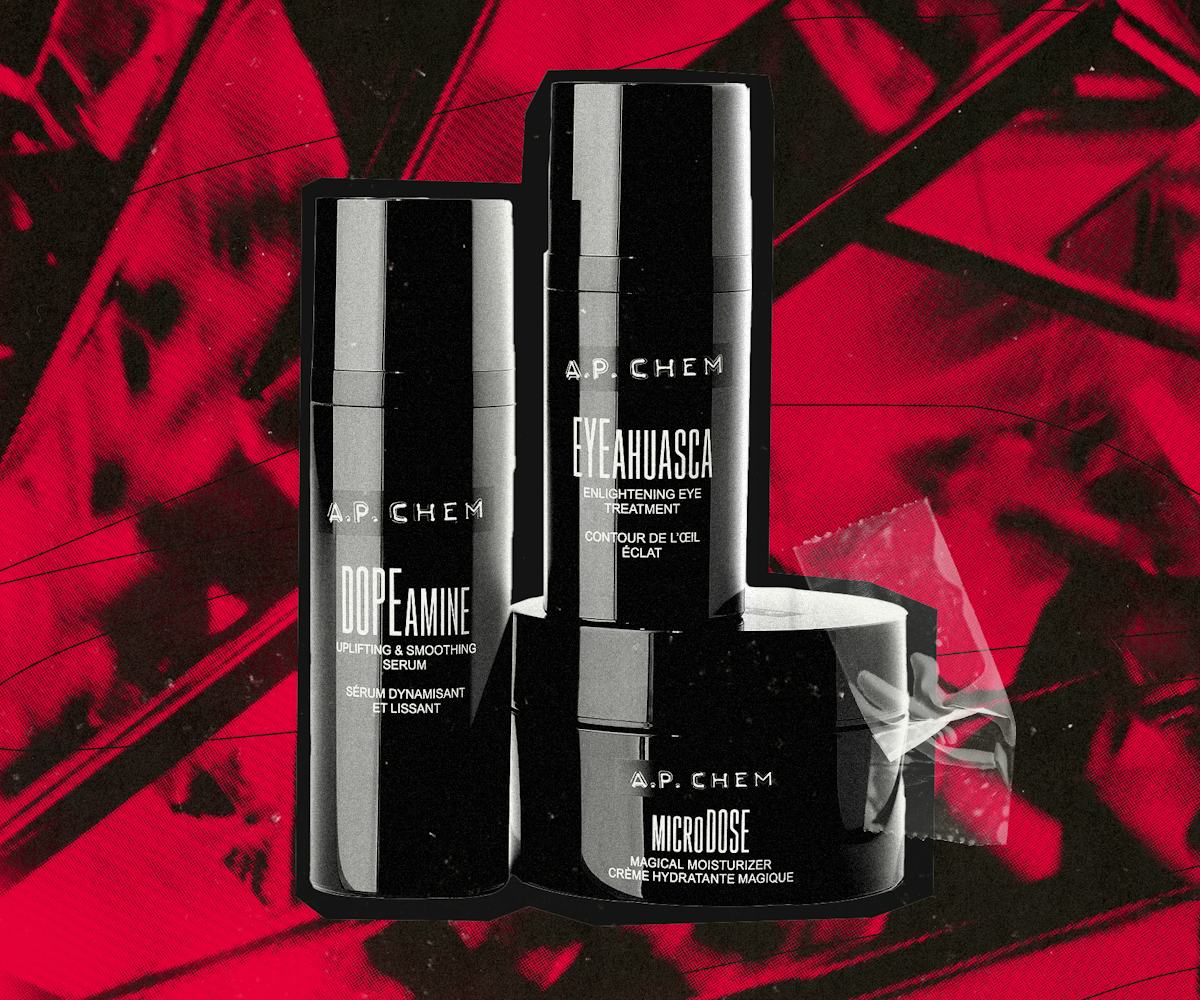 Lindsay Hattrick/Nylon/ A.P. Chem Beauty
A.P. Chem Beauty Is Brought To You By Science & Psychedelics
With A.P. Chem, Sandra Statz and Dr. Sherwin Parikh combined their experience in psychedelic treatment and advanced chemistry to create science-backed skincare.
When beauty industry veteran Sandra Statz came to leading NYC dermatologist Dr. Sherwin Parikh in 2008, she had no idea that nearly fifteen years later, the two would become business partners and create their own skincare line together. She also couldn't have predicted that ketamine therapy, of all things, would get them to make the jump.
After an autoimmune diagnosis and several excruciating rounds of IVF in 2018, Statz bid farewell to the corporate world — like her work with legacy beauty brands like La Mer, Clinique, Guerlain and more — to go full Gwyneth Paltrow on her road to recovery. Statz sought out Dr. Parikh, founder of Tribeca Skin Center, with whom she had already been a friend and patient for more than a decade. (Having a board-certified derm guru on speed dial? A Manhattanite's dream.) Statz and Dr. Parikh both brought something unique to the table: Statz, with a sponge-like mind, eager to soak up any new knowledge in the psychedelic medicine space; and Dr. Parikh, the chemistry-whiz with an upbringing in Eastern medicine, who could probably list any given product's ingredients in his sleep.
Known for his holistic approach, the biggest issue Dr. Parikh faces with clients is sensitivity and inflammation, describing it as "a response to both environmental and internal aggression." When Statz first welcomed the idea that they create their own line, the two went to the drawing board immediately. At that point, Statz had tried everything under the sun: topical creams, various specialists, and every trend the wellness market tried to push. But even in an over-saturated industry, Statz couldn't find anything that eased her inflammatory disease. Her last hope? Ketamine therapy.
Dr. Parikh and Statz put their project on pause, and at the start of 2020, Statz underwent six infusions of ketamine therapy. The psychedelic treatment was becoming less taboo over the years, especially as more studies showed benefits on patients suffering from chronic pain, arthritis, depression, PTSD, and in Statz's case, inflammation in the joints. After the most "mind-blowing" few months (no pun intended), Statz describes the mental and physical transformation as "a fog being lifted." It was then Statz knew the skincare line with Dr. Parikh needed to blend both classic and "alt-pharma" ingredients, especially anti-inflammatory ingredients you wouldn't normally find in facial products.
The two picked up where they left off and brought A.P. Chem to fruition. The playful, science-forward name came from the duo's nicknames for each other — "the cool nerds" — while also reflecting the brand's advanced chemistry ethos. "All the cool nerds took A.P. Chem in high school!" Statz gleefully tells me. (I agree with her even though I nearly flunked out of A.P Chemistry.) The two wanted the formulas to cater to Gen X and "Zillennials" — demographics they felt were overlooked in the beauty and wellness space in regards to products with luxury ingredients at an affordable price. Dr. Parikh and Statz wanted to use "a combination of the OG [ingredients] like hyaluronic acid, ceramides, and peptides" while introducing alternative ingredients like GABA, Palmitoyl Isoleucine, and Baicalin — all anti-inflammatory and clinically approved.
Along with the affordable price point, Dr. Parikh's formulations are created to target another "Zillennial" concern: age-deceleration. He tells me how many of his young clients who were already having fillers dissolved, and how in lieu of botox and fillers, he suggests A.P. Chem's anti-inflammatory ingredients to target the same concerns. Ingredients like GABA, a neuropeptide that acts as a "nature's botox," not only immediately lifts and firms the skin, but actually produces collage elastins over time; and Palmitoyl Isoleucine, which acts as "nature's filler," creating a sense of volume where skin normally starts to thin, hence why it's perfect for under-eyes.
In 2022, Dr. Parikh and Statz launched the MicroDOSE Magical Moisturizer, A.P. Chem's first product. The name references psilocybin, but also contains eight multi-benefit mushroom extracts. And this month, the brand introduced their EYEahuasca Enlightening Eye Treatment and DOPEamine Uplifting & Smoothing Serum — two powerhouse products packed with Polyglutamic Acid, Baicalin, GABA, and more.
As for the line's cheeky product names, Dr. Parikh and Statz are serving a higher purpose, ideating names meant to destigmatize psychedelic treatment and normalize conversation around it, while still being an authority on skin-science. "We don't condone the use of street drugs, and we never want to mock addiction," she says. "We're advocating for psychedelic medicine, used for therapeutic purposes."
"We could've just gone to a lab, asked for white label formulas, and slapped a logo on it," Statz says ahead of the launch. "But we wanted it to be science-forward. We know it's not for everyone, but we want to illuminate people's options." After testing all three products for the last month, my skin has never looked better. I look like I got a full night's rest on days where I most definitely did not, and my hyperpigmentation has taken a backseat, leaving me with balanced, even skin. It's clear that when it comes to A.P. Chem, Statz and Dr. Parikh have done their homework.