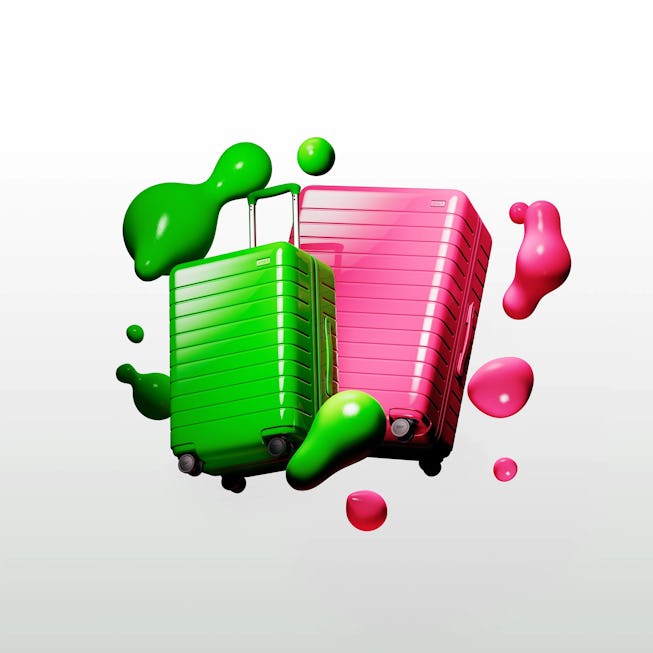 Away
Away's Latest Collection Puts A Neon Spin On Barbie-Core
Away is putting a little vibrancy in your summer travels.
Long gone are the days where minimalist silhouettes and calming neutrals ruled the trend cycle. Brighter, bolder colors have taken center stage for a minute now. Bright pink, in particular, is having its well-deserved, shining moment in the sun thanks to the upcoming Barbie movie and the ensuing Barbie-core mania — which really just means a global embrace of hot pink as an exalted color.
Now, even your luggage can get a neon glow-up. To celebrate the upcoming summer travel season, Away is introducing their most fun collection yet: a limited-edition Neon Collection, which is available for purchase beginning May 2.
Traditionally, luggage has come in the most neutral of colors, but Away's new collection will boldly and brightly stand out among the most crowded of luggage carousels. The collection is available in two hyper-glossy colors: Paradise Pink and Kiwi, a colorway that conjures the dreamy palette of 2000s Limited Too or Elle Woods' sorority house. (If her resume can be pink, your suitcase can be, too!)
If it feels like Barbie-core has taken your feeds, you're not wrong. According to data from global shopping service Klarna, there's been a 970% increase in pink minidress purchases since January 2022, a 343% increase in pink bikini purchases, and a 198% increase in pink sunglasses purchases. "Barbiecore" also spiked in Google search trends in February — and it's safe to say that after the Away launch, there will be an uptick in interest in hot pink luggage, as well.
The capsule collection includes neon-colored classic suitcases, available in the Large and Bigger Carry-On, the Everywhere Sling Bag and The Cosmetics Bag in Paradise Pink, and a set of four Insider Packing Cubes, which come in hot pink, lime green, tangerine orange, and highlighter yellow. We've never dreaded packing less!
The Neon Collection will be available for purchase exclusively at awaytravel.com or in-store at any of the brand's fourteen retail locations in the US, UK, and Canada.