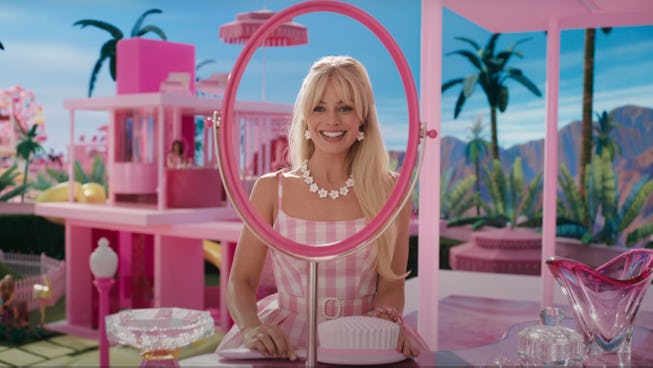 Warner Bros.
This Barbie Is Feeling Existential In New Trailer
Is life in plastic really that fantastic?
Barbie is finally close to getting her own movie, and one that's not animated and meant for children. The big 90s nostalgia moment has been over for a few years now, but Barbie transcends generations with easy glamour, literally impossible body standards, gorgeous wardrobes, and the earworm Aqua song "Barbie World," a constant reminder that it's Barbie's world and we're all just living in it.
Few details have been released about the film so far, but it was reported in January that shooting is starting this February in London. Margot Robbie is signed on to star as Barbie, because casting directors have eyes, while Greta Gerwig is set to direct. Greta co-wrote the film alongside her husband, fellow filmmaker Noah Baumbach, which all but guarantees it's not going to be a typical take on Barbie and will probably focus heavily on the relationship between Barbie and Ken (which, if Baumbach has anything to say about it, will probably at least tease divorce).
Find everything there is to know about the Barbie movie so far, below.
You can probably guess who's playing Barbie and Ken
Who in the year of our Lord 2021 was meant to play Barbie and Ken more than Robbie and Ryan Gosling? According to Deadline, Ryan Gosling, who looks like a Ken doll, is in final negotiations to indeed play Ken. He initially turned down the role, but apparently the studio wouldn't let up, saying that Gosling was their only choice. Like I said, who else could play Ken?
Greta Gerwig is signed on to direct
Gerwig, who directed Lady Bird and Little Women, is set to direct Barbie, which will, for better or for worse, probably mean there will be some elements that can only be described as quirky in the film. Gerwig's husband, Baumbach, who is most famous for writing and directing screenplays about divorce and New York City, co-wrote the script and will probably inject some painful reality about love and marriage into the Barbie-Ken relationship. He's been doing it since 2005's The Squid and the Whale, and he'll likely never stop!
The project was originally going to star Amy Schumer or Anne Hathaway
The Barbie film was previously in the works at Sony with Amy Schumer and Anne Hathaway at different points, according to Deadline. Once the project expired at Sony, it got picked up by Warner Bros. The plot for that project was that Barbie gets kicked out of Barbieland for not being perfect enough and goes on a journey of self-discovery to realize that perfection comes from the within. It's unclear if that's the same plot as the current project, but I'm not sure I want to watch super hot people realize it's what's on the inside that matters.
Robbie is aware of the "baggage" that comes with Barbie
Robbie talked about the upcoming film in an interview with British Vogue in June. "It comes with a lot of baggage. And a lot of nostalgic connections," Robbie said. "But with that comes a lot of exciting ways to attack it. People generally hear 'Barbie' and think, 'I know what that movie is going to be,' and then they hear that Greta Gerwig is writing and directing it, and they're like, 'Oh, well, maybe I don't.'"
It's hitting theaters in summer 2023
After finally getting greenlit, Gerwig's Barbie movie began shooting in London in February 2022. Barbie will officially rev her pink convertible into U.S. theaters on July 21, 2023.
It's one of many toy movies in the works
Other than Barbie, Warner Bros. is also at script stage on a Hot Wheels film, Variety reports. Netflix is working on a reboot of Masters of the Universe, with Kyle Allen starring as He-Man. Universal Pictures is working on a horror franchise based on Magic 8 Ball, along with a Rock 'Em Sock 'Em Robots film. Tom Hanks is going to play the astronaut action figure Major Matt Mason, and Lena Dunham is going to direct a Polly Pocket film starring Lily Collins.
The studio is working closely with toymakers
In an interview with Variety, Mattel Films executive V.P. Robbie Brenner says the toymakers have taught the studio unit about things like the supply chain and where to source doll hair.
"There is so much history. Take Barbie: There's a team that makes her hair, her clothes. There's a team that does her social media. You need these immersions," Brenner says in the interview. "You get into really big questions like, what is the play pattern of a toy? Why do girls like princesses and boys like the Hot Wheels loop? The psychology is fascinating."
The cast is full of Hollywood heavyweights
Gerwig's vision of the Barbie universe continues to grow, including a cast with America Ferrera, Saturday Night Live star Kate McKinnon, Simu Liu, Alexandra Shipp, Will Ferrell, and 14-year-old Ariana Greenblatt. As of April 14, Issa Rae and Michael Cera will also be joining Barbie's world, along with And Just Like That's Hari Nef. Dua Lipa and Saoirse Ronan have also reportedly joined the cast, which is getting too large to fit in a Barbie dream house.
Yes, there's a twist...
While Gerwig's plot remains tightly under wraps, a new rumor hit the internet in regards to the plot. Allegedly, Robbie won't be the only one portraying Barbie; Rae and Nef will also be playing different versions of the legendary doll.
Ryan Gosling is Ken and yes, he is extremely blond
We stand by there being no better actor to play Ken than Ryan Gosling, who in many ways, resembles a real life Ken doll. That was before Gerwig and Baumbach decided, for whatever reason, to ruin him. The headshot was released for Ken, featuring Gosling with bleach blond hair, a pink-tinted spray tan and a cutoff jean vest, with a little smirk on his face I want to wipe away. Thankfully, it has been rumored that several different versions of Barbie and Ken factor into the plot, so here's hoping, because this headshot is not doing any favors for adult male blondes right now.
Gosling appears to be aware of his inherent Ken-ness, a quality that isn't necessarily a good thing. In a recent interview with MTV News, he discussed the upcoming role.
"There's always been a Ken inside of me," Gosling said. "It's the role I was born to play, I've had this Ken-ergy if you will, and the Ken-ergy is alive in me now." Is he practicing method acting? It's unclear.
Simu Lu is allegedly also playing Ken
Simu Lu of Kim's Convenience and Shang-Chi is allegedly playing another version of Ken. He told Variety earlier this year that the film is one of the best scripts he's ever read. He also reportedly had to wax his entire body for the role, which he called "one of the most painful experiences of my life." Boy, I'll say.
Speaking of Ken, we're learning a lot about Ken's character
Besides his cartoonish good looks, Barbie's Ken isn't a hot shot. He's down on his luck, with "no money, no job, no car and no house," Gosling told Entertainment Tonight.
"That Ken life is even harder than the 'Gray Man' life, I think," Gosling said, comparing Ken to his role as a hunted spy in Netflix's Gray Man. "Ken's got no money, he's got no job, he's got no car, he's got no house. He's going through some stuff." Is it Barbie to the rescue or will Ken continue to coast on his good looks forever? Only time will tell.
The Barbie Trailer gives the first look into the technicolor Dream World
After more than a year since it was announced, Barbie got its first trailer on December 16 — and it promises a vibrant foray into the universe of Barbie.
"Since the beginning of time, since the first little girl ever existed — there have been dolls," a disembodied narrator says in the trailer. "But the dolls were always and forever baby dolls until —" Cue Barbie's mile-long legs, which pioneer-era girls stare up at as she removers her cat eye sunglasses with a wink and the girls smash their porcelain babies. hurling them through the air.
We're then shown glimpses of the eye-popping technicolor world Barbie inhabits, a place where everything is pink, and where Ken wears jazzercise meets Coyote Ugly apparel, and where Robie embodies effortless, plastic glamour.
The film's first extended trailer landed on April 4 and reveals more about Gerwig's Barbie universe. The multiple Barbies and Kens live in a beachfront, heart-shaped enclosure called "Barbie Land," where everyday is bright pink and free from strife. Along with new posters included how the Barbies are women in STEM, mermaids, celebrated authors, and more, the trailer teases a different road for Robie's Barbie — she's seen driving past the borders of "Barbie Land" and into the "The Real World." Gosling's Ken's along for the ride (rollerblades in hand, of course) and it's safe to say this brave new world will include a few rude awakenings. What happens when life in plastic meets a little thing called ennui? Watch the trailer, below.
This Barbie is releasing a song for the Barbie movie
As soon as Dua Lipa became connected with Barbie, there was a huge chance that the pop star was cooking up music to accompany the film. It's all happening — the pop star-slash-Barbie mermaid is releasing a shimmering disco track called "Dance The Night" on May 26. Watch the teaser, below.
The Barbie Movie Soundtrack Artist List Is Stacked
In the same way that it seems like every corner of Hollywood is on the cast list for The Barbie Movie, it looks like just about everyone in the music industry is too. One day the Mark Ronson-produced soundtrack will serve as a time capsule for what 2023 sounded like. The stacked soundtrack includes songs from Dua Lipa, Charli XCX, Nicki Minaj, Dominik Fike, Tame Impala, Ice Spice, Ryan Gosling (we have questions), PinkPantheress, and it's probably safe to say Gerwig is cooking up even more surprises.
This Barbie Is Having An Existential Crisis
In the film's latest trailer, Robbie's Barbie is going through the motions. She's thinking about dying, she's falling off her roof, and worst of all, she has flat feet. When she accepts to explore the truth about existence (represented by none other than the trusty, crusty, granola-y Birkenstock sandal) she and Ken are thrust into the real world, where they keep getting arrested and no one appreciates their bright and full-bodied sense of fashion. We also see a glimpse of the film's antagonist: Ferrell as a corporate fat cat at Mattel, who wants to stuff Barbie back into her box. Over her plastic body!
This article was originally published on