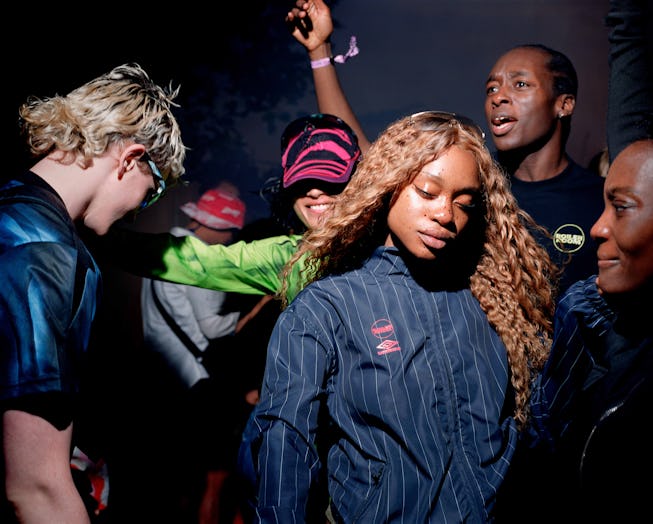 Ewen Spencer, courtesy of Boiler Room x Umbro
Boiler Room & Umbro Are Making Football Clothes for the Club
The new collaboration is a jolt of fresh club fashion — made to score a goal or dance at 110 beats per minute.
Football, or as we like to say in the U.S., soccer, has always been among the most stylish sports. Long shorts, high socks, colorful jerseys; fashion has long borrowed from the football aesthetic. But while it's not uncommon to see a soccer jersey at the club, it's less common for a jersey manufacturer to specifically make club wear at the intersection of the two activities, which are both concerned with style and performance.
Now, Boiler Room, London's music broadcast and club promoter cool-kid brand, and Umbro, which makes both streetwear and field-ready football jerseys, have teamed up to make the ultimate collection for all of your wide-ranging interests: scoring goals and getting down to 110 BPM, for football and the nightclub.
The collection was inspired by the early days of raving, when football, fashion, and music collided in the UK. It makes sense to create athletic wear for the club. After all, hitting the dance floor is a high-endurance sport, it's just one you always have to look good doing.
Ewen Spencer, courtesy of Boiler Room x Umbro
Ewen Spencer, courtesy of Boiler Room x Umbro
Ewen Spencer, courtesy of Boiler Room x Umbro
Ewen Spencer, courtesy of Boiler Room x Umbro
The seven-piece collection includes a black pin-stripe tracksuit with red logos, slime green and electric blue football jerseys emblazoned with an x-ray, which according to the brands, "[symbolize that] underneath we're all the same, one world, one community, one team." The collection also includes football scarves in green and black, echoing the neon lights and stark darkness of the club, as well as pinstripe shorts and black jerseys with buttery yellow logos.
The campaign was shot by British Photographer Ewen Spencer, who is famous for documenting UK club culture, capturing the hedonism of adolescence that is present, too, in the Umbro x Boiler Room shoot, in which you can almost hear the propulsive beat and feel bodies in silky jerseys, dancing under neon lights.
The collection is available to shop starting June 30 at 9 a.m. from Boiler Room.
This article was originally published on