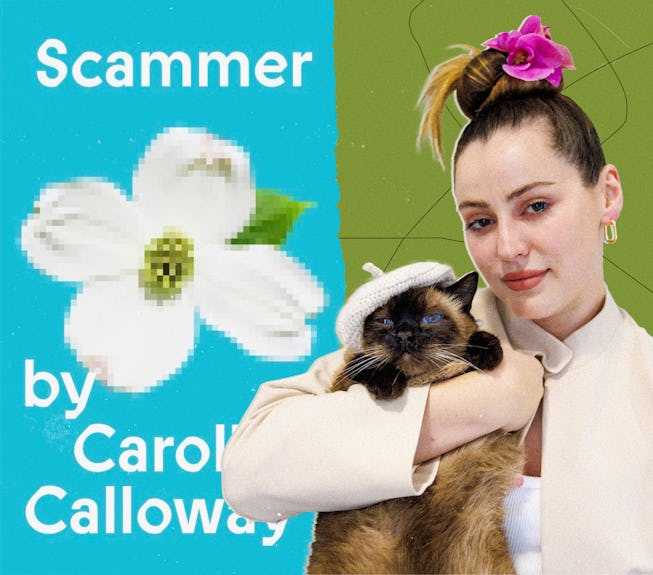 Nylon; Courtesy of Caroline Calloway
The Lies, Truths, And Scams Of Caroline Calloway
Caroline Calloway never cared about saying the right thing, which makes for a good memoir.
"It's definitely a 'come for the scams, stay for the prose' kind of book," Caroline Calloway tells me over Facetime from her bedroom in Sarasota, Florida. Her cat Matisse is purring so loudly, a soft buzz comes through my iPhone speaker. It is 11 a.m., a time when most days, Calloway wakes up to a call from a reporter to talk about Scammer, her long-awaited debut memoir.
People expected Scammer to go down the rusty internet drain of Calloway's other various ventures (such as bottles of homemade facial oil Snake Oil, which she sold for $75 a bottle to help finance the printing of Scammer without a publisher). When I posted a photo of the book on Instagram, several people sent me messages of disbelief, but also of envy. In the months since Calloway first started shipping out copies of Scammer, which she calls a "day book," or a book meant to be read in a day, the memoir has been garnering effusive press, including from The New Yorker, which called it "funny, engaging, and full of genuine insight – mostly into the art of social-media influencing." She's sold 7,000 copies, 3,000 of which have been shipped. I ask her if she is at all surprised.
"The correct answer to your question is, 'No, I was so surprised, and so I was shocked and so grateful.' That's what is likable in a PR way," Calloway says. "But the truth is that I finished this book and I thought, 'Goddamn, I'm a f*cking genius. This book is so f*cking good.' I know it's not the right thing to say, but it's the truth."
For years, Calloway meticulously crafted Instagram captions about boys and bad hair days while attending Cambridge University. It's what led her to becoming Caroline Calloway professionally, a name that once inspired the New York Times article: Who Is Caroline Calloway? An Explainer.
But behind the captions, Calloway was cutting lines of Adderall with her student ID and staying up for days. She writes about once tumbling down a spiral staircase from a lack of sleep, sustaining a concussion and broken fingers. She was deep in addiction, so different from the sunny American girl with flowers in her hair she purported to be online. Of course that's what Instagram was about in 2013: aspirational content. But years ago, Calloway stopped being interested in saying the right thing. It sometimes makes her an easy target; it often makes her unlikeable. It also makes her a better writer — and if there's anything I learned from staying up until 3 a.m. reading Scammer in one sitting, it's that all Calloway has ever wanted to be is a writer.
"Some people are plagued by uncertainty — they don't know what they want to do with their lives," Calloway writes. "My affliction is that I have only ever wanted to be one very specific thing."
Calloway changed her name to Caroline Calloway because she thought it would look better on book jackets. She identified an agent her senior year of high school (Tucker Max's agent) whom she later convinced to sign her just off her Instagram. She posted about Cambridge to leverage a book deal, which she was only told she would get if she had followers and press. Once she finally got the book deal (a half-million-dollar deal for a memoir called Schoolgirl) is when things started to fall apart. She never had any intention of writing Schoolgirl; she sold the idea so she could pay her tuition. (Eventually, she had to pay back her publisher a $100,000 advance, which she did by selling topless, literary-inspired photos on OnlyFans.)
Financial woes aside, that's when tragedy really struck: Natalie Beach, her ex-best friend, wrote a searing essay titled "I Was Caroline Calloway" in The Cut, where she takes credit for all of Calloway's Instagram captions, and reveals some of her more unhinged episodes during the throes of addiction. Calloway was labeled a scammer on par with Billy McFarland and Anna Delvey. Two days after the article was published, her father died by suicide. Now, four years later, Scammer feels like an end to all the means; a chapter closed, a beautiful object that Calloway has to show for the tragic, wild years of her 20s. All of it counted, and all of it is here.
Calloway knows we come for the scams (namely the fallout between her and Beach, or to learn that Margaret Qualley was in talks to star in Lena Dunham's adaptation of Calloway's life story; or did you know that 40,000 fake Instagram followers cost $4.99 in 2013?). But Scammer is a Trojan horse decorated with the orchids Calloway wears in her hair, a look she's become so synonymous with that Sydney Sweeney once clocked them at a party. It's about beautiful things: castles, flowers, baby dolphins, strawberries, and camembert. And darker things: addiction, grief, and a constant recalibration of a self that's turned 45 degrees to the public.
"This book is so f*cking good.' I know it's not the right thing to say, but it's the truth."
We stay for how strikingly vulnerable and self-effacing Calloway is on the page, more so than she could ever be online. Calloway's prose is breathless, chaotic, off-the-cuff, and at times would benefit from a closer edit — but aren't we all here for Calloway, unedited?
"I realized that I've had a flawed goal this entire time," she writes. "All my life I wanted to be a famous memoirist. But we want our famous people to be role models. And we want our memoirists to be honest."
She writes about faking every orgasm, she reveals she lied about her grades on her application to Cambridge, and she shares that partly why Beach's betrayal was so hurtful was because she was in love with her. She writes in searing detail about her mother's cancer and her father's death and her own debilitating depression. But the most vulnerable reveal is when Calloway writes about being physically aroused when Natalie tells her about being sexually assaulted.
"It was the thing that I was most scared about putting in, obviously. I think it's one of those things where it's like, it'll be so easy for a worked-up Redditor to use as proof of my ghoulish evil," Calloway says. "But I really believe that most queer millennial women who present femme first discovered that they were attracted in a sexual way to their friends' bodies in unconventional to f*cked-up ways. And for me, it was f*cked up. But I hope it lessens the shame."
Scammer was originally going to be a book about how 2019 was the worst year ever: Calloway was publicly dismissed as a scammer and her father had died. (Also, there were only a few years she could work with. Her publisher had the rights to everything that happened in her life up until 2016.) The plan was for the book to go to print on March 15, 2020.
"In the midst of this apocalyptic global crisis, no one wanted to read a book about how 2019 was a really sh*tty year," Calloway says. "It really curb-stomped that plot into irrelevance forever."
Instead, she stripped that book for parts and paid back her publisher so she could buy the rights to her life story back. She briefly became a fixture of the Dimes Square scene, which included performing at a Red Scare live show the night before giving the eulogy at her father's funeral, which garnered a "blizzard of New York tweets about how unstable and uncool I am," Calloway writes.
Her first priority was seeing her dying grandmother through to the end of her life, and then her stepfather died and she spent time grieving the loss with her mother. While processing her losses over the previous few years, a friend forwarded Beach's leaked book proposal to her, which promised an expanded version of the The Cut essay, as well as more details about Calloway's addiction — which is when she got really angry.
"Girl, if you want to be a memoirist, go get your own life. Stop using my name and photos of me to sell stuff for you. I was just so sick to death of being used," Calloway says. "I was just not going to sit by, and let her once again use my first and last name, and photos of me to do all of her book press and to just position herself as the only authority on my life story."
Calloway went into a self-imposed extreme period of writing: She exiled herself to Florida, finishing Scammer over five intense weeks — putting all her feelings into the book.
"I lived like something between a Roman emperor and a monk. I didn't see people, I didn't exercise, I ate whatever I wanted. I possibly now have gout," Calloway says. "I just wrote. I just gave myself all the tasty treats like a little gremlin, if I just wrote for 10 hours a day. I was spending all my money, I was bleeding savings by buying all these tasty treats. Five weeks sounds like an extreme amount of time to write the book until you hear how extremely I was living."
Now, her days are still filled with work: doing press, cutting paper, appendaging stickers, gluing ribbons for hours to create deluxe-edition copies, which are hand-signed and personalized, printing shipping labels, and mailing out copies every day until 2 in the morning. She has about 4,000 more copies of Scammer to ship. She was doing it all herself, though she recently hired an assistant, a fellow Swiftie whom she met online, who helps her ship 100 books a day.
It doesn't leave her a lot of time to write, though her goal is to release two more books this year: The Cambridge Captions, a book of annotated captions from the Instagram posts, and a book version of "I Am Caroline Calloway," the essay she sold on Patreon during the pandemic to raise money for doctors. One will have a yellow spine and one will have a blue spine, which will join Scammer's red spine to create what she is calling "the Instagram trilogy." She also eventually plans to write her "first first book" And We Were Like, where she will write about Cambridge and European aristocracy.
"I hope some fun and glamorous things happen to me again someday. I very much hope that I haven't been to my last party ever at 31," Calloway says. "But if that were the case, if nothing fun or glamorous ever happened to me again, I would have enough content to at least write the books that I want to write because I've always really wanted to write about the worlds of downtown New York and aristocratic Europe. I've at least got the memories that I need to make the literature I want to make."