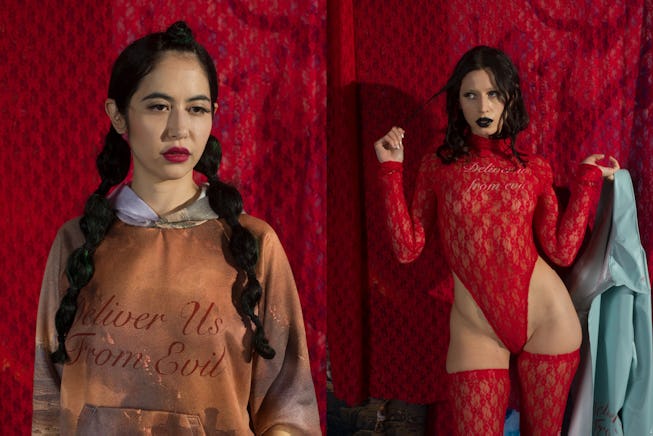 Models: Valley Latini and Allyson Cammita. Photography by Samantha Sutcliffe.
Drink More Water's Latest Collection Channels Your Inner Fallen Angel
Hot enough for the gates of hell.
Independent clothing brand Drink More Water is back with its fifth season and boldest season – one that takes you to Hell's depths and spits you back out somewhere in lower Manhattan. DMW is the project of Serge Neborak, a 27-year-old New York City-born and bred designer who wants to make clothes to make you feel hot, and his newest collection Deliver Us From Evil aims for hot enough to get in at the gates of Hell itself.
The aesthetic of Catholicism will never go out of style, but has been enjoying a certain resurrection in the last three or so years, whether it be the irony of Praying or the trad-wives who are actually converting to Catholicism. DMW's latest collection is a decidedly cerebral take on the trend: It's based in religion, but more appropriation by way of attending Catholic School, being of Italian heritage, and studying art history. It's less white lace and more Dante's Inferno.
"I really got into Paradise Lost and Dante's Inferno and wanted to tell that type of story of an angel falling to earth," Neborak tells NYLON over fries and ice tea at the Odeon. We're meeting before his evening bartending shift. "I have a very rabbit hole type of personality that seizes on one thing."
The collection, which was shot by Samantha Sutcliffe, is done in moody hues, the colors of scorched earth, capturing a sleazy, sludgy underworld: party clothes for the apocalypse. There's a cropped for underboob t-shirt with inlays of teal, turquoise, orange, with "deliver us from evil" in delicate red script. There's a low-waist micro-mini skirt with orange and browns like sunsets and desert hills, like God's grizzled, burnt ground. There are heeled boots that evoke Hell and earth, the former in brown, orange and yellow, the colors of a Dune moodboard and the latter brown, moss, and ash, a sky penetrated by wildfire smoke. There's a tube dress with a blacklight-negative image of a Renaissance-era woman, a beehive of hair atop her head that brings to mind the Matrix in RealTree. A maxi dress length sweatshirt depicts a kind of Biblical-era war, and a quote from the book of Revelations about a war that broke out in heaven. My favorite? A turtleneck bodysuit cut so high on the thigh it rivals Pamela Anderon's Baywatch suit, in crimson lace, like a napkin Satan uses to wipe the wine off his upper lip.
DMW captured the attention of downtown New York last August when he styled the musician Blaketheman1000, in a much-lauded Baby's All Right show that included electronic sibling duo Frost Children and Harrison Patrick Smith of The Dare in his band Turtlenecked. Blaketheman1000 wore a shiny, reflective suit Neborak designed and calls the "mirror suit," which Rolling Stone wrote "could give someone a seizure. Artists like Alice Longyu Gao, May Rio, and Allyson Camitta of Shallowhalo have been seen wearing DMW pieces (the latter wearing a cross cutout minidress while opening for Alice Glass), which are stocked at Retail Pharmacy and Bowery Showroom. He has collaborated with Dirty Magazine and Forever Magazine editor Madeline Cash, for whom he designed a small line of merch for her debut short story collection Earth Angel. A February Alt Press article compared Neborak to what designer Christian Joy was to Karen O of Yeah Yeah Yeahs 20 years ago — a stylist for a scene.
"I really could not have envisioned how much of a community and world [The Baby's All Right Show] would open up, but it really did," he says. "Life has changed so much from it. I still have all my friends from before and whatnot, but I have a whole additional social world and scene and whatnot that I just wasn't even aware of a year ago."
Neborak started DMW in 2018, with a screen-printed collection which he taught himself as a hobby. He knew he wanted to make clothing that was inspired by good tailoring and high-end streetwear, and he didn't want to stick a slogan on a t-shirt and call it a day. He had stints in working in fashion public relations, as well as for a tailor. With the exception of one sewing class and a couple design classes at Parsons, he's entirely self-taught. His technical skills have gotten better with each season – and he's most proud of Season 5, which feels like the crystallization of his skills and vision.
Neborak always knew he wanted the brand to be more than clothes, so he launched a magazine alongside Season 4, a collection of sensual clothing based on the theme of "love." This past winter he started an interview and performance series at X Pizza where he interviews musicians who give a tiny desk-style concert at a small Seaport pizza shop and recording studio; he's already featured performances from Shallowhalo, Big Dumb Baby, and Quiet Luke. His ambitions for DMW are and will remain local: Everything is entirely made in New York City. It's been the ethos from day one, and His ultimate goal is to open up a retail store.
"I just want to make it big enough to be sustainable. I want to be able to live off of it one day, but I want it to be a thriving, local brand that's made in New York by people paid a living wage, where it supports the careers of people here," he says. "I want it to be a thriving cultural hub."
Neborak's clothes come at a good time. Much has been written about the resurgence of nightlife photographer Mark Hunter aka Cobrasnake (and this generation's Cobrasnake Matt Weinenberg) whose flash-heavy photos online tell the story of the night before, of everything you missed, like its Dim Mak in 2009. (Usually what you missed is hot people being hot!) But it's not just the shows or the people performing them or the guests, but what everyone is wearing – and DMW clothes are made to be photographed. They're made for people to look – and feel – sensual, particularly DMW's dresses, which are the brand's most popular items.
"That's where I see our niche becoming: It's not streetwear. It's not super high-end design, but it's fun, sexy clothes to wear out," he says. "The first time I saw my clothes out, like on someone that wasn't a friend of mine, it was Cobrasnake's girlfriend Maya. It was her birthday weekend. She was just wearing my dress and she had gotten it at Retail Pharmacy and she was just like, 'I needed a dress to wear out.' That was the first time I'd ever seen it, which was the coolest thing ever."
For Neborak, clothes should be beautiful: They shouldn't be only for people conventionally beautiful enough to make anything look good.
"I want to f*cking make clothes that people look hot in," he says. "That's not just like Bella Hadid wearing the ugliest outfit ever and she looks good because she's Bella Hadid."
Neborak brings up the Studio 54 exhibition at the Brooklyn Museum, referencing a quote about Halston, another famed designer for a scene.
"It made people want to go out in these beautiful Halston dresses and get photographed, like Bianca Jagger and all these people," he says. "We've had this really amazing cultural rebirth of downtown. People are going out again. They want to go out and have fun. I want people to do it in my dresses and look hot while they're doing it."
Drink More Water's runway show is July 22 in New York City. You can RSVP here.