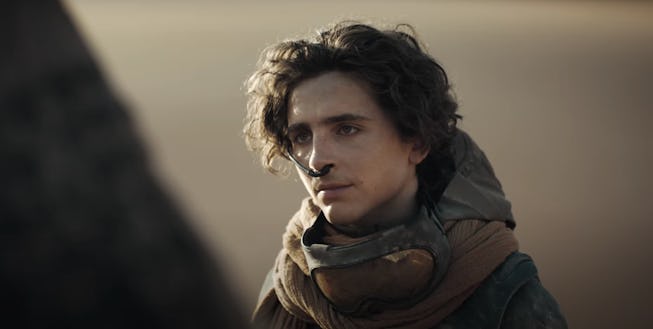 Warner Bros.
Timothée Chalamet Rides A Sand Worm In Dune: Part Two Trailer
Zendaya, Timothée Chalamet, Austin Butler, and Florence Pugh return to the fight over spice in Dune: Part Two.
Dune: Part Two is coming — and is poised to be even bigger than the first.
Audiences are getting a major look at Dune's second installment ahead of its fall release: a sneak peek debuted at CinemaCon in Las Vegas, Vanity Fair gave an exclusive look at character and story details, along with photos, and now, the first trailer for Dune Part: Two has arrived. Dune: Part Two will be released in theaters on November 3, and until then, find out everything you need to know about the film, below.
Dune Part: Two essentials
The first thing you should know is that director Denis Villeneuve has clarified that Dune: Part Two is not a sequel, but a continuation of the first film; picking right back up where the first film left off. The second thing you should know is that Dune: Part Two might make good on the love story the first film teased. While Timothée Chalamet and Zendaya, offscreen, seem like Hollywood's most unlikely couple, anything is possible in the desert.
"It was funny trying to figure out in this futuristic space talk, like, how do they flirt?" Zendaya told Vanity Fair. "What does that look like for a space warrior and the young duke of a planet? How do they show that they like each other? What does that even sound like? We were definitely trying to navigate that, which was funny because all of us were stumped. I think it's just as foreign to us as it probably is to the characters."
Dune: Part Two expands its cast
Austin Butler comes on as the lethal Harkonnen prince Feyd-Rautha, who, fingers crossed, doesn't talk like Elvis. (Butler is notoriously known for his um, commitment, to method acting i.e. for holding onto an Elvis accent long after was necessary for the role.)
"Austin Butler brought to the screen something that would be a cross between a psychotic, sociopath serial killer and Mick Jagger," Villeneuve said. Once a rock star, always a rock star, I guess.
Florence Pugh also joins Dune: Part Two as Princess Irulan, the daughter of Emperor Shaddam IV (played by Christopher Walken). "When I met Florence, I was struck by her assurance, how grounded she is as a young woman, how direct, how unapologetic," Villeneuve says. "She has something inherently royal about her. I will definitely believe that Florence could become, in the future, a prime minister."
The Dune Part: Two trailer is a desert epic
Hints of spice orgies, a completely bald Butler, desert flirations, and Chalamet surfing on a monstrous sand worm? The Dune Part: Two trailer will satiate longtime fans of the novel and newer inductees alike.
Villeneuve is aiming to blow audiences away
Although Dune was a blockbuster and was nominated for 10 Oscars, Villeneuve still thinks he could have made a better film — something he's striving for in Dune's second installment.
"You have to accept your failures as an artist," he says. "It's a task that was almost impossible, for me to be absolutely faithful to what those childhood dreams were. But what brings a lot of peace in my heart is that I brought a lot of them to the screen, a lot of them are close to what I had imagined."
Despite the film being a continuation of the last, Villeneuve wanted to give it a slightly different look, shooting the entire film with IMAX cameras and building new sets in order "to avoid repetition."
"We went to all new locations…everything is new in the film," Villeneuve said at CinemaCon.
This article was originally published on