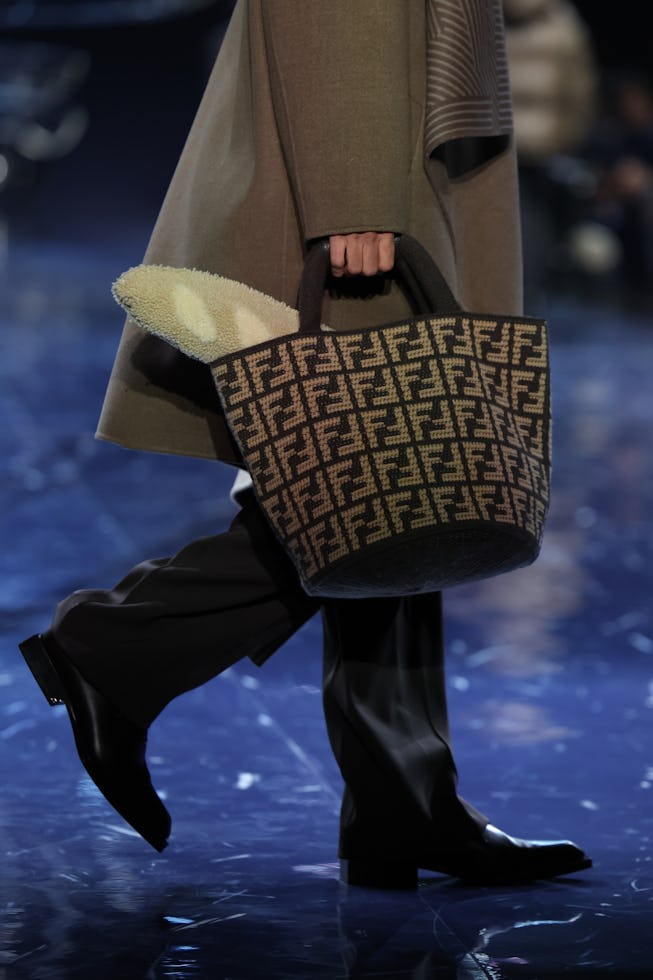 Daniele Venturelli/WireImage/Getty Images
Fashion's Bread Obsession Is Recession Camp At Its Best
Fashion has entered its Jean Valjean era.
Few things in this life are certain, but there are two things we can always count on: economic recessions and trend cycles.
Right now, the price of a dozen eggs hovers around $10 in Manhattan, and even a $17 martini doesn't guarantee a sidecar. We're feeling, in ways much larger than cocktail prices, the effects of a recession that's been a long time coming, and fashion has been taking notice for months.
Recessions and fashion trends always go hand in hand: Take the hemline index, for example, which theorizes that hemlines get shorter in times of economic prosperity, and longer in times of economic destitution. Celebrities at the Golden Globes this year were notably lacking jewelry, another potential harbinger of the recession.
TikTok creators are also predicting trends like simpler clothing, which is not only in response to the recession, but also a reaction to the Y2K maximalism we've seen in recent years, an amalgamation of see-what-sticks trends that are perhaps best exemplified by Portia's SHEIN wardrobe on Season 2 of The White Lotus. But besides the usual harbingers of a recession, fashion is particularly preoccupied with a household staple this season: bread.
Fashion has seemed to enter its Jean Valjean era, as evident by its obsession with loaves of bread, which we've seen, in fabric form, nestled into bags on the runway for Fendi, as well as in photoshoots for Luar, and perfectly placed in Gohar's silk Baguette Bag, which is designed solely to carry baguettes. Food prices, after all, have risen so much that bread is basically a luxury consumer good.
But fashion's bread obsession isn't exactly recession-core; it's more like recession-camp — and it's a lovely tongue-in-cheek accessory to the drab, minimalist style that historically accompanies a recession. Fabric loaves in Fendi bags? "Let them eat cake" indeed!
While trends and times of economic prosperity cycle, I can't help but appreciate the humor the bread trend is injecting into this recession. Just because minimalist clothes and little-to-no jewelry are predicted to come back into style doesn't mean that we have to give into the trend — what the bread obsession offers is a playful nod to not only the recession, but the fact that recessions even influence trends at all.
Just because a recession is serious business doesn't mean clothes can't still be places for unbridled, unserious self-expression; in fact, if the world is burning, all the more reason to carry a silk bag made with the exact dimensions of a baguette.
The bread trend has already begun to trickle down to retailers: Lisa Says Gah is selling a baguette necklace, for example — but the biggest evidence of the mainstream adoption of recession camp was best exemplified by the fast-casual bakery Panera Bread: the Panera BAGuette, which sold out in only nine hours, though eBay sellers wasted no time in jacking it up to four times the price.
And it goes beyond bread: Designers couldn't get enough of farm stand chic at New York Fashion Week, where eggs, peaches, bananas, and apples all became luxury goods after several designers featured collections showcasing foods of the farmer's market variety.
Fashion darling Puppets & Puppets have long included food in their collections, but at New York Fashion Week, the brand debuted egg bralettes, sunny side up. Melke, on the other hand, showed blazers adorned in peach patches, as well as 3-D fruit appended to dresses and cardigans; Coach showed an apple-shaped, top-handle bag; Area revealed watermelon and banana dresses.
MelkeDia Dipasupil/Getty Images Entertainment/Getty Images
Puppets & PuppetsVictor VIRGILE/Gamma-Rapho/Getty Images
Giovanni Giannoni/WWD/Getty Images
Courtesy of Area
Luxury fashion's embrace of the culinary is nothing new. Gohar also has a chicken feet pearl necklace. In November, Marian Bull wrote about food-inspired fashion for Elle, mentioning art director Todd Heim's line of homewares called Chez Diane, which included gingham lobster bibs, as well as Rachel Antonoff's gingham dress emblazoned with an entire seafood tower. "If the first wave of Pop Art glorified the supermarket soup cans and diner hamburgers of postwar America, this new culinary-sartorial wave of the genre insists on luxury," Bull wrote. "It's a simple visual language that communicates lusciousness, opulence, and that one thing everyone craves —time off."
The recession has taken a stronger hold and it's being reflected in the foods fashion is fixated on: A loaf of bread is not a platter of oysters. Whatever inspired designers' grocery store spree, be it serious economic woes or a sense of whimsy, this season's looks conjure a welcome self-awareness that none of it is that serious.