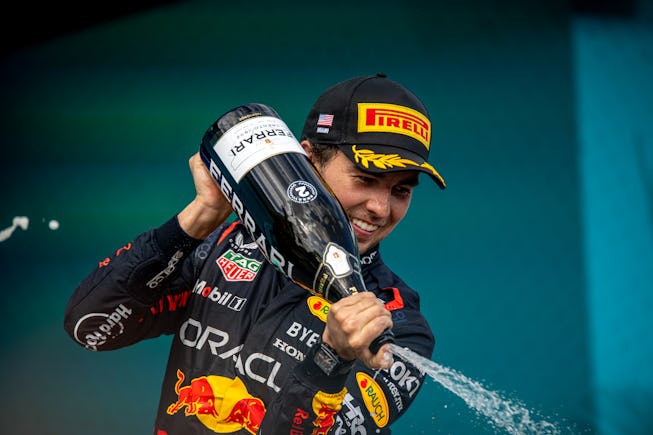 BSR Agency/Getty Images Sport/Getty Images
What It's Like To Attend A Formula 1 Grand Prix
A deep dive into the all the fast and furious festivities at the 2023 Formula 1 Miami Grand Prix.
"There needed to be a cultural event in the time between Art Basel, Fashion Week, and Coachella," my companion in the shuttle from the Miami airport says as we pass a superyacht docked on Biscayne Bay, the light on the water blinding you if you stare too long.
We've just arrived for the Formula 1 Miami Grand Prix, which is a sporting event in the same way the Kentucky Derby is about the race, or Coachella is about the music or Art Basel is about the art — which is to say, it's a place to spend and to make money, to see and be seen. It's a place to catch the Jonas Brothers DJ on a yacht or to spot Elon Musk pretend to be a human, to watch Ludacris perform a set at renowned strip club E11EVEN, or spy a Kansas City quarterback bobbing to an Abba remix at Sexy Fish. It's a place to watch engines rev at 220 mph to race in 57 laps for a total of 191.5 miles in less than two hours on the scorching pavement of the Hard Rock arena, ideally while relaxing by a pool filled with women in bikinis and mermaid tails while a DJ blasts "I'm Blue" by Eiffel 65.
Formula 1 has been gaining popularity in recent years, particularly among the young and fashion-obsessed. Attendance from 2019 to 2022 shot up 36 percent; the fifth season premiere of the Netflix docuseries Drive to Survive in February saw a 40 percent jump in its first week over 2022's; and Will.i.am and Lil Wayne dropped "The Formula," a single inspired by F1, on Saturday, the day before the race. Formula One has become a pseudo runway, confirmed by a recent Vanity Fair spread showcasing the sartorial ascent of the stars of Drive to Survive. A-list drivers are attending Louis Vuitton and Givenchy shows; official F1 merchandise sales went up 101% in 2022; even PacSun has an F1 collection, and you can't walk down a street in Manhattan without spotting someone in a racing jacket.
It is Friday afternoon, and we are on our way to 1 Hotel South Beach, the five-star hotel where everyone is constantly wiping their nose if only to combat the gallons of Le Labo pumping through the elevator shafts at at all times. If Formula One has a signature scent, though, it wouldn't be Santal 33, but Tar by Comme des Garçons, a sticky eau de gasoline that smells like hot rubber on hotter pavement with a top note of cold, hard cash.
I am here on a press trip with Red Bull. Oracle Red Bull Racing is a stalwart of F1, sponsoring the first and second place winners this year: Max Verstappen and Sergio Michel "Checo" Pérez Mendoza.
"If Formula One has a signature scent, though, it wouldn't be Santal 33, but Tar by Comme des Garçons, a sticky eau de gasoline that smells like hot rubber on hotter pavement with a top note of cold, hard cash."
Our first stop is at Soho Beach House, where Red Bull is hosting a party. I meet two girls who wander in. They're visiting from New York and one of them tells me about how she just scored an F1 invite: She met a guy who works for BMW who invited her to his box for the race on Sunday. She can't believe her luck, but says she is still stressed about having to spend $100 on an Uber to the racetrack an hour north. The girls lead me into a half indoor-half outdoor bar that smells like a chimney ("good luck telling a man he can't smoke inside," the F1 invitee shrugs), where I leave them to flirt with tan septuagenarians who kiss our cheeks.
I order a Grey Goose and Red Bull and join influencers like Tinx, Tefi, and Channing Centeno, a mixologist and creator of Bonnies' famous MSG martini, to watch a Q&A with snowboarder Mark McMorris, skateboarder Leticia Bufoni, and tennis player Reilly Opelka. I briefly lose my mind watching a video where Bufoni drops into a half pipe constructed on a plane and then skydives out of said plane. Tinx and I chat about her upcoming book, which combats scarcity mindset when it comes to dating, and she says it's the book she wishes she had in her early 20s.
We eat tuna tartare, burrata with tomatoes, and steak and golden potatoes and take tequila shots; Tinx posts a photo of a carajillo, a Spanish take on the espresso martini, served on the rocks. Later, I see on her story that someone chastised her for saying it was Brazilian, to which she apologizes and explains that it was her Brazilian friend showed it to her. A table of influencers takes turn holding a lamp up to give themselves a spotlight and share their rose and thorn of the day, many of which include going to a party on a yacht, although one influencer mourns she missed the yacht because she was doing a recording session. "It's stuck in my head," she says. "So cringey. My own song!" I tag along to La Otra in Wynwood, which Miami-based influencer Isadora Figueroa assure us is one of the city's truly good clubs. We dance to reggaeton on a platform next to the DJ booth while servers deliver bottles of Grey Goose, and everyone calls a car around 1:30am.
The next day I spent $54 on a beachside pina colada before a colleague and I find a shuttle to take us to the stadium. On the way, he name drops people who are going to be at the race: Tom Brady, the Jonas Brothers, "Lebron if he's not playing," and Jeff Bezos. When we step out of the shuttle, I hear the Jonas Brothers performing "Jealous." They're playing at a private poolside area sanctioned off from the rest of the grandstand, next to a pool stocked with women dressed as mermaids. After a sweaty walk to the gate, I spend most of the day in the Red Bull Energy Zone, a VIP sectioned-off area (with a rumored $6,000 ticket price) with influencers in Alo tennis skirts and mesh white pants, Louis Vuitton shoulder bags, and tube tops. We eat carnitas tacos and mango off icy platters, dry ice swirling into the hot, humid sky.
I politely decline to join for a Red Bull beach run on Sunday morning, and instead prepare for a full day at the track, which means that I, too, put on a white tennis skirt to go with the no less than four wristbands I've acquired in the last 48 hours, granting me various levels of access to free drinks. Today, we are in the grandstand. Another journalist goes to a garage tour where he is served wagyu and caviar. I assume he's kidding until he elaborates: "It's like a $30,000 ticket experience," he says. I watch a crowd decked out in Red Bull Racing apparel shout "Checo," in singsong and crane to get a photo of him leaving the Red Bull energy zone. A DJ spins "I'm Blue" no less than 27 times from his post in the gated-off pool area. Two girls in Vans and long braids run by me clutching Red Bull watermelon margaritas in aluminum cups past a woman in a Vegas showgirl outfit on stilts posing for photos in the Hard Rock Cafe tent, and someone with a walkie-talkie asleep on a table face down; they're on their way to the Flor De Cana tent where a small mob is dancing to Bad Bunny.
Everyone is talking about celebrity sightings, but there's a fat chance that Bezos or Musk are sitting in our gate. (The VIP gate, a shuttle driver tells me, is Gate 11, FYI! We are in Gate 14A.) That's the thing: The autodrome is 3.363 miles long. It's a little puzzling that F1 is a spectator sport because even in the best seats, you can only see a small portion of the race. Every few minutes, the ground vibrates and the cars speed by you; maybe one driver will overtake another in your view, but otherwise you're blind to what is happening on the rest of the track. After an hour and 27 minutes, Verstappen wins ahead of fellow Red Bull Racing driver Checo, which is not exactly expected, and the crowd in our grandstand promptly folds up their Mexican flags (Checo's hometown is Guadalajara,) and leaves.
Afterwards, I hop on a shuttle back to the 1 Hotel and drink a sugar-free Red Bull, which for some reason just lulls me into a nap; I need one before the official Red Bull after-party at Sexy Fish.
I walk into Sexy Fish around 11, and bottle service is already afoot, which here, means bartenders wearing three-piece suits emblazoned with illustrations of fish are pumping bottles with lit sparklers into the air. We're dancing to Madonna's "Hung Up" under giant sculptures of anatomically-correct octopuses and squids worthy of the Natural History Museum. I run into Isadora on my way to the bathroom, and she says I must go up; it's the best bathroom she's ever been in. Sure enough, there are no less than a half dozen photoshoots happening in the Sexy Fish bathroom, which looks like a Barbie Dreamhouse if Barbie was a mermaid in Atlantis. It's covered in pink, illuminated fish scales with a wall made entirely of mosaic tiles. I snap about a hundred photos and then go back downstairs. The influencers are dancing on tables; a quarterback from a Kansas City football team bobs his head. By 12:30 AM, it's thinned out. After all, it's almost time to head back to New York.