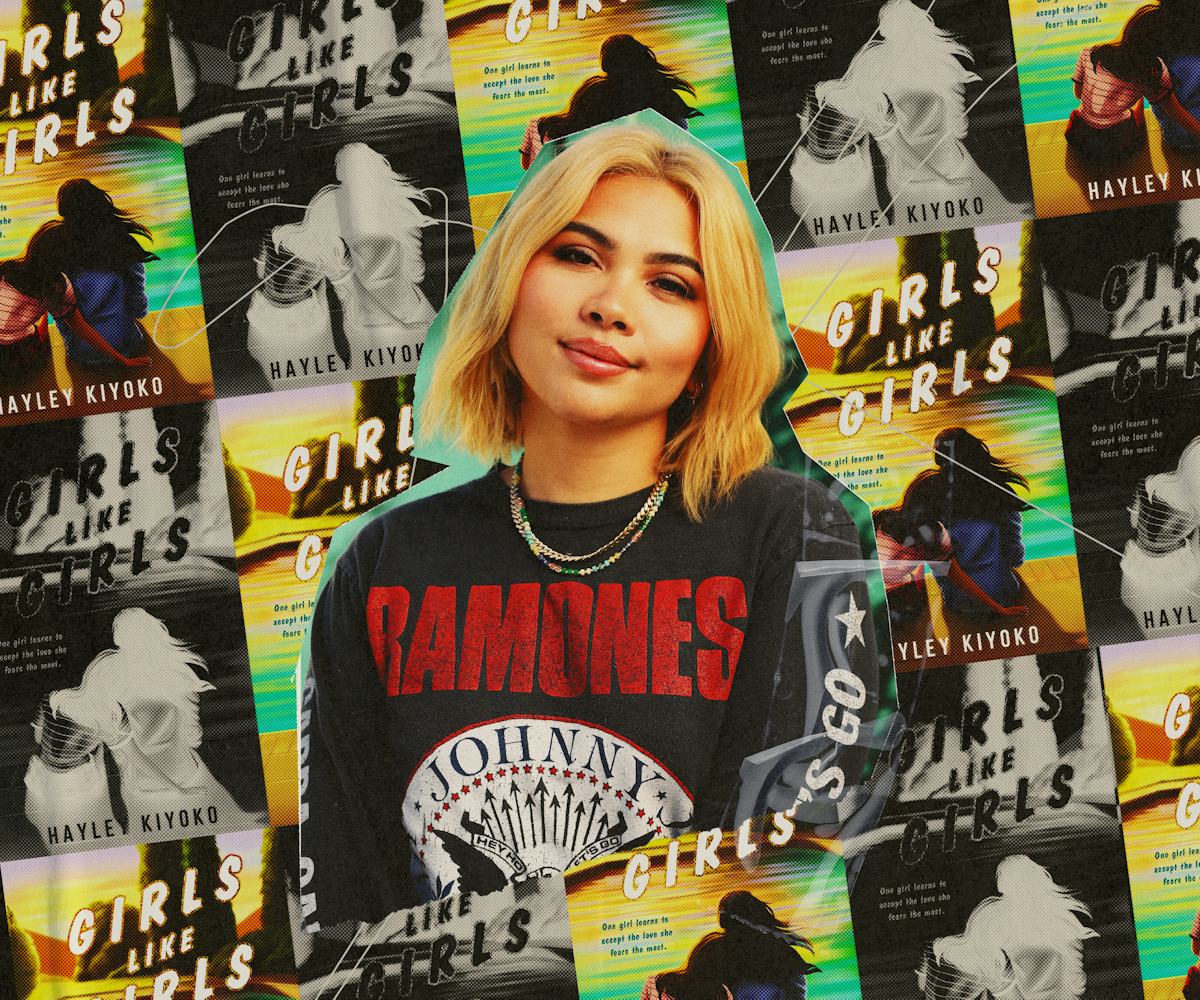 NYLON/Victoria Warnken/Trevor Flores
Hayley Kiyoko's Novel Girls Like Girls Is For Her 17-Year-Old Self
Hayley Kiyoko always wished she had a queer novel like Girls Like Girls — so she wrote it.
Nobody saw the success of Haley Kiyoko's "Girls Like Girls" music video coming. It was 2015, and there wasn't anything close to the spectrum of queer media that exists now. Kiyoko's video was bold, subversive, violent, and, to top it all off, hot. Following Coley, Sonya, and Trenton, it traced, in just five minutes, the story of two girls who fell in love and are caught by Sonya's boyfriend, who beats up Coley. In the end, their love is triumphant: Sonya wipes the blood off Coley's cheek and they embrace in a passionate, long overdue make out. It was a gay awakening for many a viewer and subsequent queer anthem and went on to garner more than 150 million views — even eliciting fan theories.
But "Girls Like Girls" always had a broader scope than the video. Before her fans anointed her as "Lesbian Jesus," Kiyoko was a teenager in love with her best friend in the year 2006, an experience that serves as the basis of both the song, and now, a novel.
Kiyoko had originally set her sights on expanding "Girls Like Girls" into the cinematic universe, but when her feature film visions didn't pan out, she decided to turn the story into a novel, which she worked on when touring was on hiatus. Now, the singer is finishing up her Panorama tour in support of her acclaimed — and very fun — second album, just in time for a new kind of tour: a book tour.
Girls Like Girls, the novel, follows Coley, who moves to small town Oregon in the summer of 2006 with her estranged father after her mother's passing. It's there she meets Sonya, to whom she's instantly and inexplicably drawn. It was surprisingly easy for Kiyoko to embody the voice of a mid-aughts 17-year-old, and the book is a time capsule of the era, complete with nods to LiveJournal and Rihanna's "SOS."
"'Trent! I can't believe you,' the girl shouts out a window, and then the door slides open and she steps out. Striped shirt, cropped high and effortless. Some girls can just wear clothes, you know? She's a stretch of tan skin and long legs. Dark hair, brushing down her shoulders. She tucks it behind her ears as she hurries toward me. I track the movement, snagging on the color of her nails, that funny color between purple and blue: periwinkle," Kiyoko writes.
The book is ultimately yet another way that Kiyoko is creating the art she wishes she had as a kid — an impulse most of her career has stemmed from.
"If I had had Girls Like Girls, oh my gosh, I would've carried it everywhere. I would've slept with it, and I think I wouldn't have gaslight myself so much growing up, because I felt crazy for loving women the way I did and feeling the way I felt," Kiyoko tells NYLON. "To be able to have a book to validate that and remind me that I'm not alone would've been very, very helpful in my journey of self-acceptance and self-love, and I think it just would've made it a little easier for me."
Kiyoko spoke to NYLON about building the world of Girls Like Girls from song to page, the importance of queer literature, and more.
Girls Like Girls is available from Wednesday Books now.
How did you go about figuring out the plot in this book? Was that something that you had conceived of before? I'm so curious about that world building.
The world building took a long time. I had spent years structuring it and figuring it out before I even decided it was going to be a novel. Once the novel thing was a real thing, it was really challenging to decide where to take it in general because obviously, when you're directing a music video or a movie, you have to pay for everything you screen, and every single decision you make affects another decision, budget-wise and reality-wise. Being able to write this novel in this limitless zone of "I could literally do anything and I can tell this story when this happened to me and I can add eight characters here," there were so many possibilities. I think that the biggest challenge of writing this novel was the fact that I could take it anywhere. Another big challenge was also that I had already created the characters within the music video, and then trying to personalize it and tell my story through this fictional character, Coley.
How did it feel to tap into some of your own experiences and novelize them? Obviously, you do that in songwriting, but I imagine it's pretty different to do it through the voice of a 17-year-old girl.
It felt shockingly natural. I think I'm very connected to my 17-year-old self. I think that was a pivotal time in my life where I had fallen in love with one of my best friends and it's an experience I'll never let go of or forget. It was very therapeutic for me to have Coley go through certain scenes and instances that I had lived through, that I have carried throughout my life. Writing Sonya's character and getting to show a little bit more of her world, it was very healing for me to be able to empathize with my real life Sonya that had broken my heart at the time, and understanding that we all are on different journeys. We all struggle with different aspects and parts of navigating our identity and our sexuality, and it can get messy, and someone can still show up for you in the end.
People love the music video so much; it's not only gone viral, but people have theories about the characters! Did you ever expect it to have such a life of its own?
No, I definitely did not. I don't think anyone could have truly expected that. I remember being terrified the night before releasing the music video and not knowing how it was going to be perceived. I remember having a lot of pushback with different outlets, not necessarily wanting to support it because it was too risqué. There were lots of borderline offensive words that were said about the video, and so I didn't really know what to expect. The fact that this video came from such an honest place, and also from a place of fear, to then leading me to a community of people that have made me feel so loved and seen, has truly been a surprise of a lifetime.
How did it feel to tackle the actual writing of a project like this? I feel like even in reading the prose, there are some similarities to your songwriting. For instance, a lot of the language is poetic and concise. Had you written fiction before? What was it like to really write long fiction like this?
No, I haven't. I've written scripts before, which is similar, but also very different. I was fortunate enough that a lot of this was from real life experience, so within the LiveJournals and even the songs, every little detail are moments and things that I've remembered that I've lived through. I think that that obviously helped me navigate the fiction aspect of it. But like I said, it's fictional characters within a different environment, but what Coley goes through is very much what I went through in my journey at that age, and so it felt like I was really telling my story through these other characters.
It feels very nostalgic to a certain era, which is really fun.
It's set in 2006, which was the year that I had fallen in love with my best friend. I really wanted to set the scene and I thought it would be really fun for my generation and older generations to be able to read the book and go back in time, and then for younger generations to be exposed to something new.
You have such a busy life and career, how did you set aside time to make this happen?
Music touring was put on the back burner. I was doing a lot of it last year and I had released my Panorama album, so I wasn't able to tour last year because of it, and was trying to isolate and just kind of compartmentalize my time. It's been really awesome to finally be on stage, and it's all kind of worked out though because I'm able to tour.
What queer literature do you like?
Any and all queer literature is important. I'm very grateful for the book space and being able to be a part of it because I feel like there's so much better representation in the book space than in mainstream television and film. Any queer content that is created and supported to me is a massive win for everyone, and we need as much as possible because our country is in a very, very dark and challenging place, and it's very scary for a lot of people to exist right now, and to get through their everyday life. To be able to have queer literature and to be able to pick up a book and feel seen or to get to read about someone else's story and be like, "Oh, I went through that and they got through that, so I'm going to get through it too," is lifesaving.
This interview has been edited and condensed for clarity.