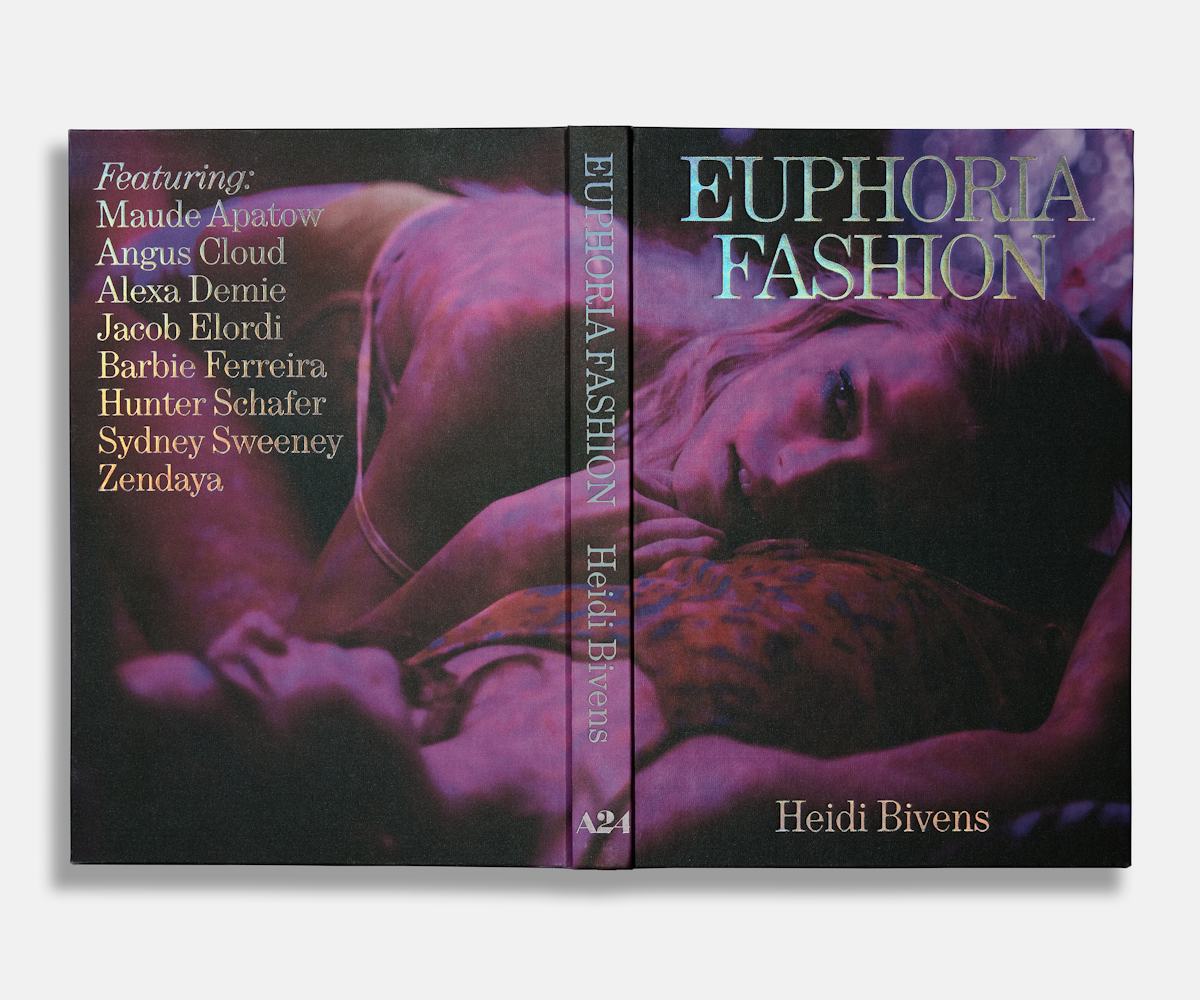 Courtesy of A24
Heidi Bivens' Euphoria Fashion Book Is A Deep Dive On The Show's Looks
There's nothing like the clothes on Euphoria — costume designer Heidi Bivens shows us how she did it in her new book, Euphoria Fashion.
Euphoria may be on break, but Heidi Bivens hasn't stopped thinking about costumes. Instead, she's been revisiting her work over the last two seasons – sifting through the production's collection of over 8,000 photos to find the best ones that capture the groundbreaking clothes of a show that's become famous for its fashion as much as for everything else. Bivens blew the lid off the boundaries of what modern costuming could be for film and television, and is a crucial part of why the show has captured the zeitgeist.
For the last year, in between styling gigs for Chanel, Bivens has been working on Euphoria Fashion, a new book from A24 highlighting the work of the auteur costume designer famous for her work on films like Spring Breakers, The Beach Bum, and David Lynch's Inland Empire.
A24 gave Bivens the opportunity to creative direct the book: She organized and designed it how she saw fit – breaking the book into characters and taking us through the minute details that led to the creation of the looks. The result is a thick, gorgeous photo book offering even the staunchest Euphoria devotees new information, photographs, and art surrounding costumes, hair, and makeup. It's chock-full of interviews with the cast, a conversation with head makeup Doniella Davy, as well as essays, including one from William Van Meter exploring how Nate and Cal's normcore style reflects their sexual aggression and confusion.
For Bivens, the process is all in the details, right down to the pair of underwear a character is wearing. "I'm so excited to put out a book that really explores the sort of nuances of what goes into the decision-making behind the costumes," Bivens tells NYLON. "I feel like it's rare that you get a window into a costume designer's process."
Courtesy of A24
Courtesy of A24
In the book, Bivens writes about the staggering number of choices that led her to create each costume, which includes unprecedented precision when it comes to color, texture, and silhouette. For example, for Rue, Bivens knew she wanted an oversized t-shirt and bike shorts. "A kind of slacker vibe that references rave and skater culture," Bivens writes. "Ultimately it was about Rue wanting to be comfortable in her clothes as that is key for her." For Jules (Bivens' favorite character to dress), she knew a tennis skirt was crucial to her style. For Maddy, she kept the word "vamp" in mind, particularly for Season 2, while Cassie's style is made up of "a cross section of references from social media 'It girls' who are focused on looking attractive," she writes.
And Euphoria Fashion only includes the looks that made it – which is sometimes as many as 30 costumes per character for a single episode. Other times, maybe only a shoulder gets in the shot. "Maybe someday I'll be able to do another kind of book where it's all the lost looks of Euphoria," says Bivens.
In the foreword, Jeremy Scott writes that Bivens is a "dual citizen in the world of fashion, but she's also a citizen in the world of costume design," which is rare: usually people are one or the other. Her grasp on contemporary fashion comes from the fact that she didn't get the typical start in costume design. She interned at magazines like Paper and W in the '90s, as well as worked as a fashion stylist at places like Vogue, Interview, and i-d before becoming a costume designer. Her first job? Eternal Sunshine of the Spotless Mind. By the time The Beach Bum came out, her costumes were literally influencing trends; after she dressed Matthew McConaughey's character in the film, Uggs came back into style and Prada showed a flame-print suit.
"The fact that these characters feel so real to us is not solely because of the acting (though it is excellent) it's also about how Heidi makes very exacting choices in how these characters adorn themselves," Scott writes. "There's a skill very few people have. I mean, the fact that glitter is now synonymous with Euphoria – well that's exactly what I'm describing."
The book serves as the capstone of Bivens' work on Euphoria's two seasons; she will be taking a step back on Season 3 – tossing the reins to her assistant costume designer, Angelina Vitto. She would like to start producing and directing. "I want to be a costume designer's producer," Bivens says. "I want to be a champion for the costume department and look out for them."
NYLON spoke with Bivens ahead of the book's release about all the underwear she has to pick out, her passion for getting more people interested in costume design, and about her favorite Euphoria looks.
Euphoria Fashion is available from A24 now.
What do you feel like people are going to maybe misunderstand or will be surprised about what you do? Is it that you are picking out underwear?
I don't really know how other designers work so much because I started doing my own jobs right away. I didn't assist that many people to know generally how other people work. But the way I work is extremely hands-on, where even though I have a team who are supporting me and working with me and helping me get everything done, I do really like to be involved with every single creative detail.
Actually, Season 2 was the first costume job where I actually started to let go a bit and give more creative control over to my assistant costume designer, Angelina Vitto. Because I started to understand that if I was going to be able to sustain working as a costume designer in television, that I had to free up some of my brain space for other things because I was living, breathing, sleeping the show.
I think hopefully what will be surprising and a fun thing for people to understand is all the thought tangents that go into decision-making. I explore that a lot in captions. The way the book is laid out, I had a specific costume shot, a still life, and then there's captions that talk about the details behind why the pieces were chosen or how the costume came together the way it did. I think some of those anecdotes will be surprising.
As far as misconceptions go, I would say that it's less work than it really is, maybe. But I think people know that that show is a lot of work. I think people know because of how fast-paced it is and how many costumes one character can have in one episode. I can remember counting over 30 costumes for one character for an episode.
Or maybe a misconception that a lot of people who don't really pay attention to costumes because it's not their thing or they're not passionate about it, and this goes for people who work in the industry also, they think you just put clothes on people. They think, "Oh, I get dressed in the morning. How hard is that?"
You'd be surprised how many people are dismissive about costumes. And I mean, that is very apparent in terms of pay equity, which the Costume Designers Guild has been campaigning for more pay equity in the past few years because it's become more public knowledge what the sliding scale is for what crew gets paid on a TV and film set. They have a campaign and their slogan is hashtag Naked Without Us.
There are so many iconic Euphoria looks. Do you have a favorite, or do you have one or two that you feel like encompasses your work on the show?
They're like my children. It's like saying which one's my favorite. Jules is definitely my favorite character to dress. She's the most fun. I think some of her costumes are probably, in my opinion, the most interesting because they're the most layered in terms of texture and color, and there's not as many rules for Jules. Anything goes with her. Some of the other characters have what I would call "style rules" that I consider when I am thinking about their looks. I love doing big set-pieces, whether it's Halloween, winter formal, or the New Year's Eve party. I love the looks for the New Year's Eve party.
I think that when you're designing for multiple people to be on camera all the time, you're making an effort to give each character their individualistic style and make sure things work harmoniously together and stay within whatever color palette you've designated for each, but that it all works together. And when you throw in shooting at night and you know it's going to be dimly lit, that's another consideration. I was really happy with how all the looks for New Year's Eve came together. I don't think there's any photographs that exist of the whole cast together and their looks for that night.
We have an amazing stills photographer, Eddie Chen, who has been with us since Season 1, who's taken all the iconic official stills that people have seen. Going through the photographs for this book, there were over 8,000 for both seasons combined that I looked at.
I think moving forward for Season 3, there are definitely sort of more photo ops that I would ask for, even for me, for documenting the costumes. A lot of people are really good about documenting their work and their costumes. On a television show like Euphoria, things are moving so fast. I set out at the beginning of Season 2 to take amazing photographs, and I told all my crew. I even gave them cameras and I said, "Let's make sure we take great photos this season." It's just that things move so fast, and there's many times where you didn't get a shot of something because of time. Eddie's taken so many amazing photographs that are in the book, new photos that people haven't seen before.
Would you ever want to do a book of your entire body of work? Everything you've worked on is very different, but it feels like there are through-lines to the work.
I always hope that there's some visual thread that kind of runs through all the work, but what interests me the most is propping up other costume designers. One of the reasons why I want to produce is that I want to be a costume designer's producer. I want to be a champion for the costume department and look out for them.
One thing that really excites me is the possibility of creating a book series that involves costume design in this way that A24 has given me this opportunity to do this book. For example, Arianne Phillips, who is one of my mentors, who did a conversation with me for this book, she's doing the sequel to The Joker. How amazing would it be to have a book like this about her costumes for that movie and all the amazing films and TV shows that have come before that we want to know more about the process of how the costumes came to be?
I think that there's a lot more room for books like this, especially as in recent years there's been more attention paid to how costume designers contribute to the overall look of a film or a television show, and that they're starting to get more recognition for that. And because of that, hoping that more people, young people, coming up in the workforce who maybe didn't consider that as a career before, might consider that now. I think that's definitely something that inspires me to want to do more of that.
Your work on a show like Euphoria is absolutely making the position of costume designer more visible.
I think in the past it's been such a sort of specific career that unless you knew someone or you had a family member who was in costumes or you went to school for theater costume design, or it's something so specific, you wouldn't really fall into it. It's not a career that a lot of people just stumble upon.
I think because of that, there has been a great lack of diversity in all below the line positions on film and TV sets. There's been a lot of push for more diversity in the past years, too, which is exciting to me. I think it's another reason why I'm excited to put this book out there. Right now it's direct to consumers through A24's website, but there's talk about maybe trying to put it in some stores. If this book was in Urban Outfitters for example, there could be someone who never thought about costume design, walked into the store and picked it up, and then through reading this book maybe decided to explore that as a career. That would be the greatest joy for me. That would be so cool.
This interview has been edited and condensed for clarity.
This interview has been edited and condensed for clarity.