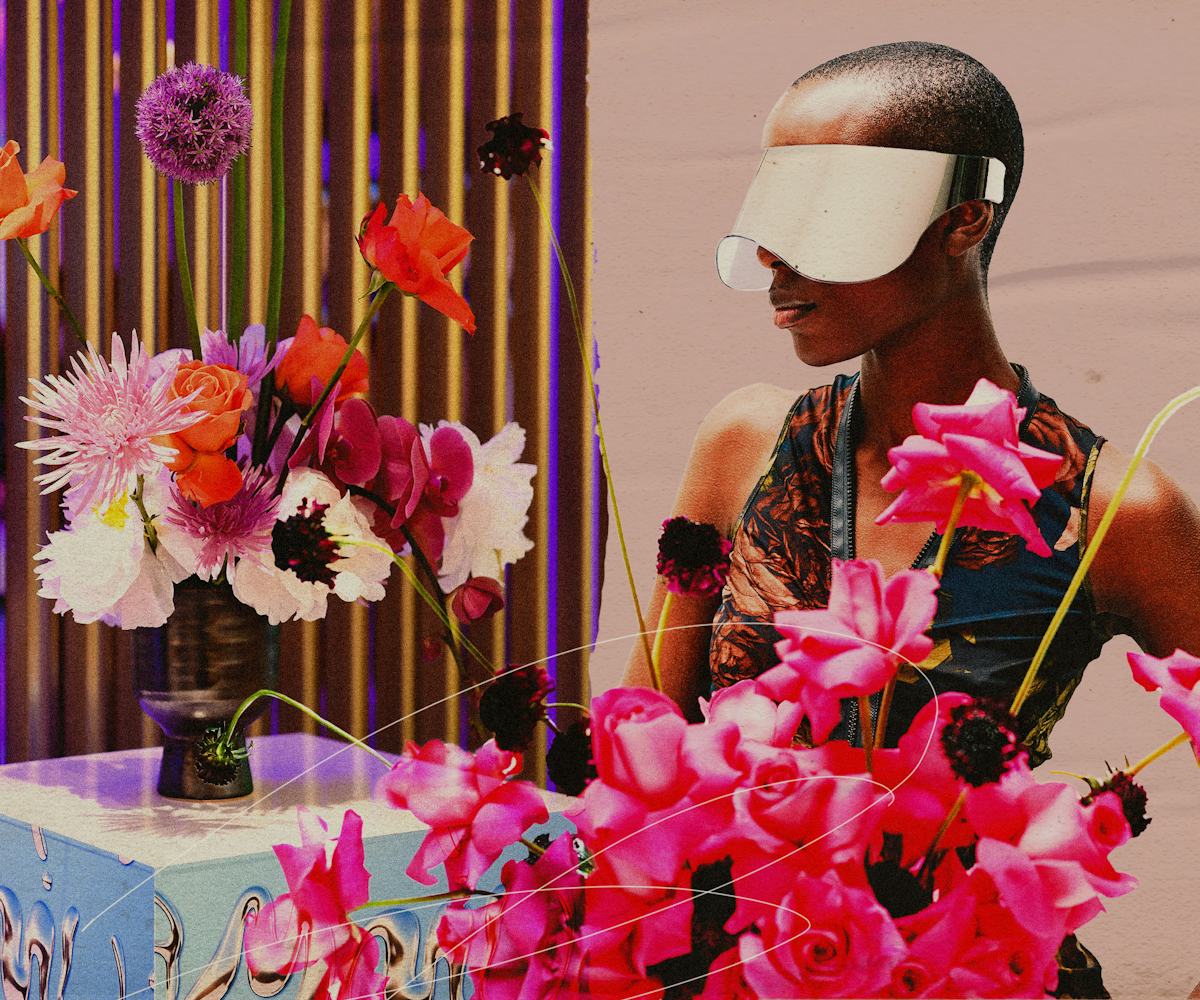 Ikebana's New Chapter: How Modern Florists Embrace The Ancient Technique
For contemporary florists, ikebana eclipses the trend cycle. It's a gateway to unlock unconventional floral mediums.
When ikebana teacher Aya Sugino creates an arrangement, she allows the flowers to talk and guide her. "I follow their motion. When they direct me to their desired placement, I know the arrangement is where it needs to be as it feels rightfully guided," she tells NYLON. "All materials have a character."
Similarly to Seguino, botanical stylist Hayley O'Byrne recognizes the humanistic characteristics of her materials. "I personify the flowers. I see a flower and feel its emotive energy," she shares. "It can be happy or sad, which determines the direction or flow of the body," she shares.
Ikebana is a cherished personal experience, one fueled with emotional heroism. The historical Japanese art of flower arranging, which roughly translates to "making flowers come alive," uses blossoms, greenery, and other flora to convey a response or feeling in the observer. The highly respected art form is a layer to the Japanese art of refinement alongside tea-making (chadō) and fragrance curation (kōdō).
Ikebana harmonizes nature with human touch and highlights the beauty of simple moments — like the exaggerated curve of a branch, the jaggedness of a leaf, the uneven shade of a petal, and the lopsided dominance of a blossom. It reminds us that no two flowers are identical, releasing a control for perfection. Playing on experimentation and impermanence, the materials of arrangements can vary based on the season but vulnerably reveal the inner workings of the florist's mind.
Using vases or traditional kenzans to peg florals at the desired angle, the final product is always more than just a bouquet. Unlike maximalist Western floral designs, Ikebana focuses on a composition that erases rigidity or formulas, often utilizing minimal materials. It values shape, size, and dimension while driving intentionality, embracing asymmetry, praising imperfections, and encouraging multi-dimensionality.
Today, traditional Ikebana techniques have greatly influenced modern florists, like Sugino and O'Byrne, who have allowed the rituals and practices to blossom into floral studios worldwide for a contemporary twist on ancient principles.
As a certified teacher from The Sogetsu Ikebana School in Tokyo, Sugino encourages a "less is more" mantra to spotlight spatial dynamism; her branch of ikebana emphasizes arranging flowers freely beyond the established forms, and her students who participate in workshops from her airy Toronto home eagerly describe the practice as meditative, pensive, and free of restriction.
"When creating an arrangement, subtraction is key. If you're unsure if you need a stem, then it's best to remove it," Sugino says. "The uncertainty holds a hidden message, and it's best to use it as a guiding principle." Sugino affirms that there is no right or wrong way to build an arrangement; it's up to the ikebanist to simply create what they feel called to.
"The uncertainty holds a hidden message, and it's best to use it as a guiding principle."
"Like a painting, the arrangements are inherently beautiful, but it's not just about the beauty. There's composition, varying textures, lines, spacing, and colors that collectively come together to create the final piece and depict a specific meaning," Sugino says.
With a background in printmaking and fashion, self-taught florist O'Byrne of Carmel Floral calls on ikebana as an influence. O'Byrne often gravitates toward grass, a humble and productive ingredient; she is captivated by the linear presence the material adds to an arrangement. "It allows you to energetically extend the mass of the arrangement upward, downward, or sideways, and when used sparingly, I find it carries those energy lines and adds an emotional element to a piece."
Without manipulation, O'Byrne aims to represent materials as they are in nature: the feelings, gestures, and shapes exist naturally in the world, and her work is to reveal them in a more attuned way. Take grass, for example; if there's a slight wind, the material will dip and bend as it would in a field, carrying an impressionable visual experience, O'Byrne shares. "Hundreds of tiny, thin stems quietly negotiate for space as they rest together in a vase."
This, too, applies to the natural limitations of living vessels like florals that can hinder a piece's development. "Because of the way florals are commercially manufactured, modified, and shipped, it can limit the evolution of their growth," explains O'Byrne. "But when resourced from local growers, florals can naturally reach their full maturity and carry different energy with captivating physical attributes like bendy stems and heavier heads that create dimensional shapes and lines that become useful when designing,"
Modernizing the practice, Nathalie Baylis, Caroline Baylis, and Casey Marques Pereira are the multifaceted trio behind Mitsu, an ikebana floral hub creating unconventional arrangements eliciting a wave of playful dreaminess. Each mind behind Mitsu offers a distinctive style reflective of their individual personality. "All of our arrangements are different, but an underlying thread connects them all. I can always tell which one of us created it," Caroline says.
Their attention to detail fused with a distinguished minimalist aesthetic welcomes the abnormalities and imperfections of nature. "Nowadays, traditional florists will change or swap materials to fit their arrangement. We like to utilize the natural shape of the material and follow its flow instead of forcing the direction," Marques Pereira shares. Sticking to two or three materials per piece, embracing a long crooked stem and the curvatures of an indented petal are the focal points of Mitsu's work.
"All three of us are obsessed with imperfections," Nathalie says. "Whenever we see a flower that's shaped oddly or has a weird look, we all love it. We feel that those imperfections add character to the piece, and rather than trying to manipulate the materials to be perfect, we've learned to work with the imperfections and spotlight their beauty."
New York-based florist Rabab Shaddoud uniquely came to flower arranging from a medical sciences background. Throughout her studies, she turned to ceramics and flower arranging as a vessel for creativity. In her early stages, she was curious about ikebana and purchased equipment like kenzans and shears to explore the technique. Although not an active ikebana practitioner today, she likes to bring the outside in and create arrangements fuelled by mindfulness.
"I've learned to appreciate the process and respect every individual component that goes into the final arrangement," Shaddoud says. "I like to think of my work as sculptural, capturing movement and evoking specific moods or feelings, which is highly inspired by my admiration for ikebana."
Since materials like florals are seasonal and dependent on factors outside one's control, Shaddoud likes experimenting with unexpected bouncy textures and colors from anthuriums and lady slipper orchids to elicit a reaction: "Just because darker colors are used in an arrangement doesn't mean it can't evoke positive emotions. Bright flowers may be synonymous with summer, but polarizing color formations can convey a similar emotional response."
Sohyun Lee (@lalune__flower), a floral designer based in South Korea, takes a more abstract approach and molds flowers to be intentionally divergent. With arrangements that are explosively invasive and sometimes hanging from the ceiling or wall, Lee challenges all that we know about floral aerodynamics. Lee welcomes interpretations of her work that innocently label it as "bizarre" or "scary"; in fact, this heightened curiosity is emotively intriguing. "When I had the hardest time, I erased my thoughts by touching flowers for therapy and found my arrangements mirror my complex emotions."
"I like to create space and increase density by rejecting flat designs. An atypical frame, where I weave the stems with fishing ropes, twist them, or make them appear in a way that hasn't been done before, excites me. I like to explore new dimensions and compositions," says Lee.
Collectively, the practice of ikebana enables a freeness for creation and a sense of escapism activated by channelling an (almost innate) connection with nature. Like Hiroshi Teshigahara, author of The Art of Ikebana, writes, "Just as musicians express themselves through the language of music, ikebana artists must use the language of flowers."