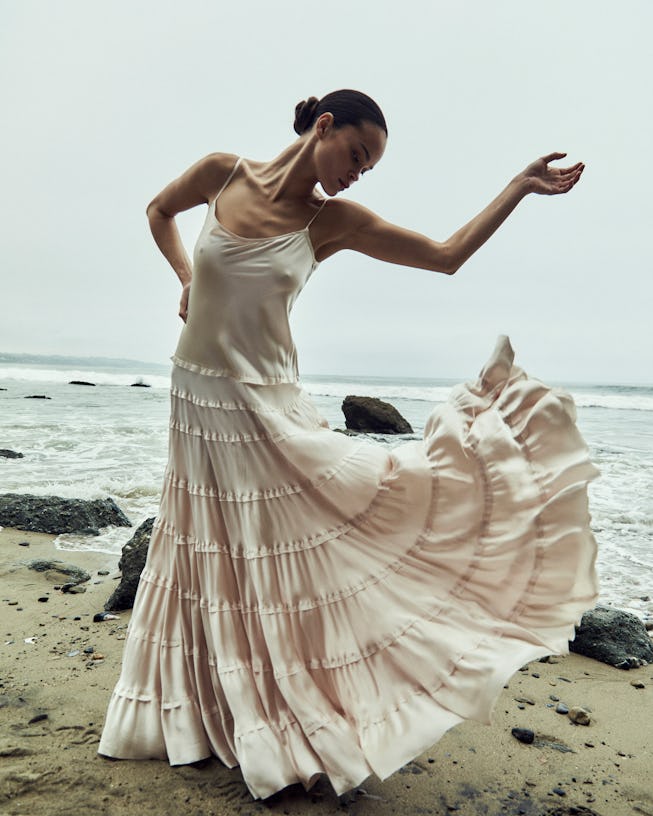 Jane Booke's Summer Collection Is Embodied & Elegant
A quiet Malibu beach meets Jane Booke's sumptuous Summer Collection in a new lookbook, premiering today on NYLON.
Long before Jane Booke began designing clothing, she lived by one rule: Don't save beauty for later.
Booke was a latchkey kid of sorts. Her parents would leave Los Angeles for months at a time for far-flung, fantastical adventures: orchid collecting in Peru, digs for pre-Colombian art, treks through the Amazon jungle. Booke would be left alone with the spoils of their hunts, an Eloise in a home museum. "I don't know if you are familiar with pre-Columbian and New Guinea art, but it's really ugly, like scary," she tells NYLON. "It's like monster faces and stuff. So my bedroom was a sanctuary. It was the only place that I could really control. It was mine."
Booke began curating her own space in diametric opposition to her parents' decorating style. Wherever her eye fell, she wanted it to be on something beautiful. And soon, the feeling snowballed. Booke is not a woman who believes in saving something for a special occasion. Why wait to embrace beauty, when you could let it engulf you here and now?
Booke's designs — which include bespoke gowns, coats, and jumpsuits — embody a type of everyday regality that's been lost in our era of athleisure. To wear Jane Booke is to indulge the senses; Booke sources airy linens and gossamer silks that elegantly drape the body and evoke an immortal sense of grace. Her designs are regal enough for the elvin Lady Galadriel or Camelot's Guenevere, but if you ask Booke, they're also the perfect thing to throw on for running errands at CVS or gliding through Erewhon.
"Glamour has gone out the window. And it's really a sad thing to me because it really can enrich people's lives," she says. "And it's not a lightweight, shallow kind of glamour I'm talking about. It's any year. I think we need it. I felt like you can wear this stuff on the beach! You can wear it to a black tie event. You can wear it to the Oscars if you need to."
Booke wants her clothing to feel special, but not precious. She wants whoever wears her designs to feel alive. Based on her stories, it seems like it's working. She speaks of women breaking down crying in her arms, overcome by how powerful and free her designs made them feel. ("I don't know why!" she explains of this semi-regular occurrence, and I believe her.) One of these women, Booke regales, was none other than celebrated actress Sharon Stone.
"She put on the King Arthur coat and fell into a heap on the floor. I kind of didn't know what to do. And then she lifted her hands to the sky and screamed at the top of her lungs, 'Jane Booke clothes are a celebration of a womanhood!' And I went, 'Can I use that?' And she said, 'Yes, yes, tell the world.'"
See photos from the latest Jane Booke collection, premiering exclusively on NYLON, below.