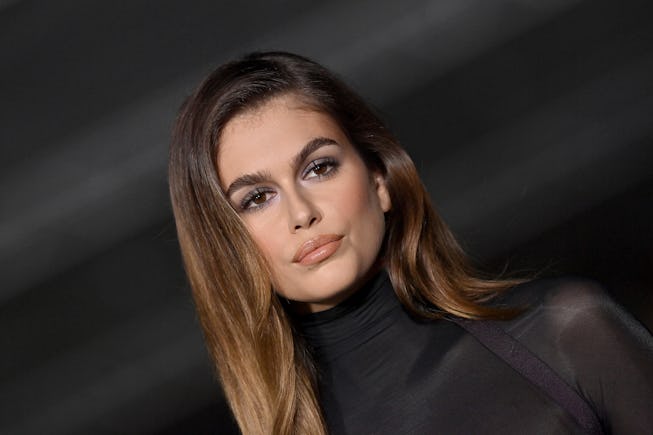 Axelle/Bauer-Griffin/FilmMagic/Getty Images
Kaia Gerber Won't Stop Until She's Cast As Patti Smith In A Biopic
The model and actress is name-dropping the rock star wherever she can. It just might work.
Kaia Gerber is going through her Patti Smith phase — a relatable rite of passage for a young, book-obsessed person. But while most Smith fans furiously underline quotes, Gerber is setting her sights on not just reading and talking about Smith, but playing her.
The model, actress, and noted Nepo Baby of Cindy Crawford and tequila tycoon Rande Gerber has already racked up quite a resume off the runway. She's made appearances in American Horror Story and its spinoff American Horror Stories, along with Carissa Gallo's short film Palisades. She also has the film Bottoms coming up, directed by Shiva Baby's Emma Seligman and co-starring Rachel Sennott and Ayo Edebiri. But she has her sights set on a major biopic role: Patti Smith.
"Patti Smith, with Just Kids, fully changed my life," she says in an interview with Elle. "And Joan Didion. I've read everything she's ever written. I watched her documentary a million times. She has this quote that really resonated with me, about wanting to know where the pain is. I found that —not running away from your feelings — through her."
It's not the first time she's mentioned Smith in interviews. When talking to i-D last year, when asked who would write the forward to her unplanned autobiography, Gerber mentioned — you guessed it — Patti Smith. "Well, if there was a universe where anything's possible, I would literally crawl on the floor to have Patti Smith write it," she said. "But hey, you have to dream big, so I'll say Patti Smith!"
Who knows if Gerber could channel her Malibu upbringing to the rough and tumble anti-glamourous poverty of the 1960s New York folk scene. I guess that's why they call it acting! After all, Gerber's boyfriend, Austin Butler, made playing Elvis his entire personality.
In the meantime, we are eagerly awaiting Bottoms, maybe even as much as Gerber is. After she saw Shiva Baby, Gerber knew she wanted to work with Seligman.
"I was a fan of Emma because I saw Shiva Baby, and I was like, 'No one has ever done anything like this. It's so funny, and sad, and real, and touching,'" she said. "She has such a strong point of view, and I just, immediately, was like, 'What else is she going to do?' Same with Rachel. I just thought she was so good in that, and funny, and real. I've always loved her stand-up. Same with Ayo. I was a fan of her stand-up. I'm such a comedy nerd."