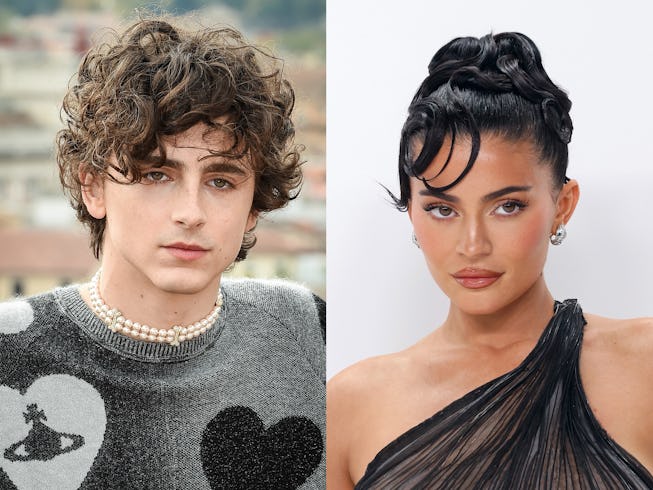 Getty
Inside Kylie Jenner's New Romance With Timothée Chalamet
The couple is dating, but keeping things fun and light — a tale as old as time.
In the confusing, fast-paced world of celebrity dating, all bets are off. Celebrities don't date like normal people — they have managers and PR teams to deal with all the annoyances of scheduling dates and breaking up — and often, their pairings leave fans bewildered and intrigued. The latest alleged couple to join these ranks are A-listers from opposing sides of Hollywood spectrum: reality television mainstay Kylie Jenner and one of the busiest and buzziest actors on the planet, Timotheé Chalamet.
A source confirmed to Entertainment Tonight that the couple is dating, but keeping things fun and light — a tale as old as time. "They are keeping things casual at this point. It's not serious, but Kylie is enjoying hanging out with Timothée and seeing where it goes," the source said. "It's been really fun for her because it feels a lot different than her past relationships. It's new and exciting for Kylie and she's having a lot of fun."
Despite this confirmation of sorts, Jenner and Chalamet were nowhere to be seen during the first weekend of Coachella, the desert festival where many a celebrity couple has debuted their public flirtations. "Kylie decided she didn't want to make things public with Timothée this past weekend at Coachella and really just wanted to chill and have fun with her friends," the source noted.
For those wondering how the two met (same manager? A classic run-in in the great city of Calabasas?), the source notes that there's a mutual friend involved: Jenner's older sister Kendall. "Timothée is also friends with Kendall," the source said, "so it's been easy for Kylie to integrate him into her life."
Chalamet's past paramours include Lily-Rose Depp, with whom he shared a much-memed, nautical embrace in Italy; Jenner, meanwhile, is in the "off again" phase with her on-again, off-again boyfriend and father of her two children, rapper Travis Scott.