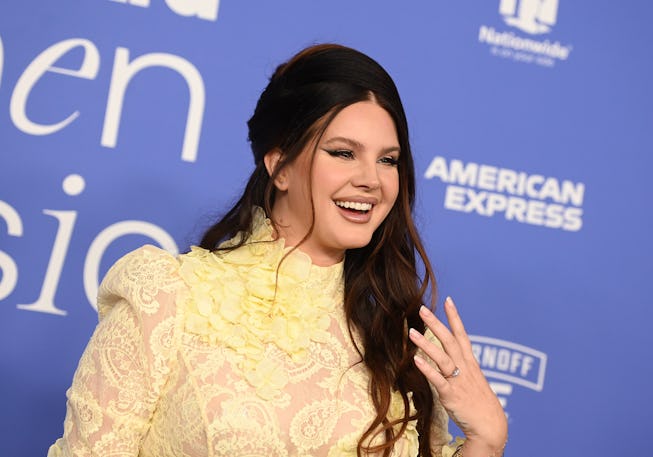 Gilbert Flores/Billboard/Getty Images
Lana Del Rey Is Reportedly Engaged
Lanita could be putting her white dress on for Evan Winiker, a musician turned talent manager.
Lana Del Rey is having a good year. Just days off the release of There's a tunnel under ocean boulevard, her ninth studio album that further cements her legacy as one of the greatest songwriters in American history (which we can't stop listening to) — its been revealed that Lanita could be getting hitched.
Billboard reported Thursday that Del Rey is engaged to Evan Winiker, a 40-year-old musician and talent manager. What?
Despite the fact that Del Rey did walk the Billboard Women in Music Awards red carpet with a diamond ring on the fourth finger of her left hand earlier this month, the engagement feels out of the blue. It's worth saying that people jump on Del Rey engagement rumors like seagulls on Venice beach, and this engagement has not been confirmed. In December 2020, it was rumored that she was engaged to YouTube cover singer Clayton Johnson. That, too, was an engagement that came out of the blue, as we were all still getting used to the fact that Lana was dating a cop.
It's unclear how long the couple has been together, but were reportedly first spotted last September at the Malibu Chili Cook Off. Earlier this month, they were spotted at Pappy and Harriet's restaurant in Pioneertown, California, where fans asked the singer and her date for photos. It's also likely they were introduced by Jack Antonoff, who used to be in a band with Winiker. Steel Train was active in the mid-aughts, in an era that prompted tours with The Fray, Tegan and Sara, Ben Folds, and Silversun Pickups, who are bound to make a comeback any day now. There's not much else we know about him or them as a couple — other than the fact that he has a normal person's Instagram and a golden retriever named Henry.
But whether or not she's actually engaged or if Winiker will one day be fodder for another perfect album, Del Rey is happy, and that's all that matters in this world.
"I feel like being happy is the ultimate goal," she said during her acceptance speech for her Visionary Award at the Billboard Women in Music Awards. "So I did it."