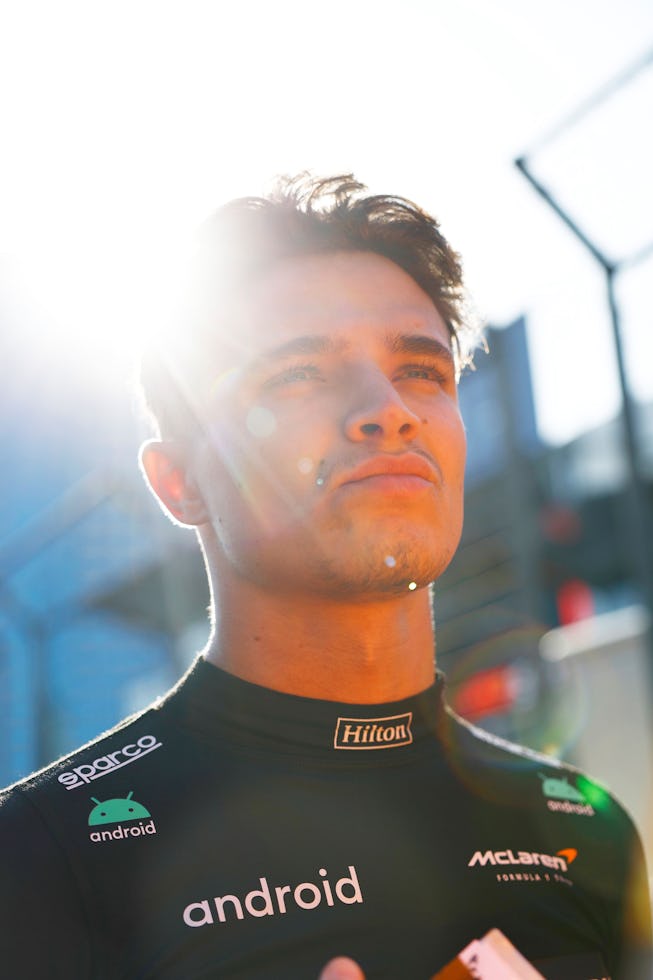 Formula 1's Lando Norris Is Just Getting Started
The 23-year-old McLaren driver admits the team has had a rough start to the 2023 season, but says it's only up from here.
If there's one thing to know about Lando Norris, it's to not get him twisted. At 23 years old, the Belgian-British driver, born and raised in Bristol, already has an accomplished Formula 1 career. He climbed the Formula series as the champion of F3, the runner-up in F2, and now part of the F1 McLaren team (as the youngest driver to join the sport at 19), Norris reigns triumphant as a must-watch talent — despite the chorus of rumors, haters, and negative press.
Shortly after his arrival in Florida ahead of the Miami Grand Prix, the fifth competition out of 23 circuits, Norris sits in the team's office sporting his McLaren-branded polo, as expected. This is only a sliver of his time considering his jam-packed schedule of photoshoots for his Miami-edition helmet, press junkets (like this interview), and practicing before the three-day race weekend commences. Nonetheless, Norris seems confident and relaxed, fully understanding that his job, which is to make point-winning drives, is nothing he hasn't experienced before.
Compared to previous seasons, he admits it's been a rough start for McLaren. Out of the four races so far, the team has ranked in the lower part of the grid out of 10 teams – unusual for the racing giant as they typically are neck-and-neck with its midfield rivals like Alpine. They have a new car and a new teammate, 21-year-old Aussie Oscar Piastri, and with that comes new problems due to the FIA's rule changes last summer, which included raising the floor edges by 15mm to combat the phenomenon known as porpoising. But the driver-slash-part-time DJ isn't worried about the what-ifs or the fan theories. If anything, he's ready to tackle whatever challenges lay ahead.
"There's been a lot of bad headlines in terms of our performance, but it's not been as bad as people say it is," Norris tells NYLON. "There have been certain things which we've been very unlucky with – I made a mistake in Saudi qualifying which was completely on me, and we then got very unlucky in the race. Things haven't always gone our way, but we had a P6 in Australia, and a P9 in Baku so it's not been too bad."
He adds that the team strives to get better results, but it's taken longer than expected. "We still want to be doing a lot better than where we are but it just takes a lot," he explains. "We always want to improve. We want to be competitive. We want to win in whatever we're doing. We're disappointed that we weren't in a good enough position to start the year to meet our targets to try and get closer to achieving it."
Ahead, the McLaren star chats about the 2023 season so far, his goals for future races, his personal style, and more.
McLaren has had a rough start to the 2023 season. What are your honest thoughts about the competition so far?
A lot of people are saying that McLaren has under-delivered, which I think is a fair answer. We had some damage on the front wing, which put us out of the Saudi race. First race in Bahrain, we had an engine issue when we probably should have scored some points. We know amongst ourselves that we haven't done a good enough job, and I think we came into the season finding out some things about the car's development and how to improve the car a little too late. We wish we had done that earlier to confidently fight at the front of the midfield. But it's not something you can just change overnight; it takes years sometimes to do. Both sides are doing the best job we can, and we both want to do better. I always want to improve on my side, and the team does too, whether it's the mechanics, the engineers, or how we build the car.
Speaking of what people are saying online, I think fans are very curious to know how you're getting along with your new teammate Oscar Piastri.
Actually, we get along great and he's a very down-to-earth, lovely guy. He's new to Formula 1 so he has many things to learn but he's a great teammate and is doing a very good job so far. We're working together well and helping each other where we can. We share the same comments on how we can improve the car which makes things a lot easier for the whole team. Maybe our driving styles are a little bit different, but that's the same for everyone. Overall, things are good between us both.
You mention having different driving styles – how would you describe yours versus Oscar's?
I've never known how to answer this one. I just try to go as quickly as I can. For example, in some corners, Oscar would choose a different approach to what I would, but it's not like he only goes one way and I only drive another way. We do different things and then learn which way is the best.
Do you feel a lot of pressure being in F1 at such a young age, between keeping up with schedules, travel, and pressure? Do you talk to the other younger drivers on the grid about this?
I think there are only two drivers who are younger than me and that's Yuki and Oscar, and we don't necessarily talk about it. There's a lot [to the sport] that just comes with experience. If you asked me four years ago what it's like, then I would say it's a lot more daunting and nerve-racking, and things like that play in your mind even when you're away from the circuit. You have to possess a mentality that, in a way, you don't care about what others think of you because not that you don't care – you always care about how you're perceived – but since it's in your everyday life, that's just the way that it is.
I'm sure people deal with this pressure in different ways and I probably struggled a bit more with it back when I started versus today. Now, I feel very relaxed. I know how to balance everything in my life, which I think is one of the most important things that you learn over the years like balancing F1, but also life away from it and making sure I spend enough time with my family and my friends and trying to live some ways of a normal life.
With about five races back-to-back, could you reveal anything to look forward to, like team strategy and your mindset going into Miami?
I'm focusing on one race at a time – I don't even know what's right after Miami. The focus this weekend is trying to maximize what we've got and I think we have some time off after Miami to go through everything and do the simulator, things like that. I'm excited to try and improve on where we are right now. We had an upgrade, we had a new floor in the final race in Baku, which is good, and it seemed to help us move a little bit in the right direction. This weekend we're on a very different circuit with very different temperatures so we're focused on this weekend solely. I think it's easy to get lost in your thoughts if you start thinking about the weekends to follow.
As a fashion writer who loves F1, I'm curious to know if we can expect to see any cool outfits in Miami this week.
I just released the Miami line for my own merch collection so I'll most likely be wearing that into the track. I have a new helmet that hasn't been released yet but I'm going to do a shoot for it after this tonight. I need someone to help me with my fashion – my fashion taste is dreadful and I don't know what to wear, ever. Maybe I need to speak to Lewis or someone to help me with this stuff. Normally, I'm not the kind of guy that turns up in the most fashionable stuff and I just float around in a hoodie and joggers as much as I can, but I don't want to turn up to the track wearing that so I just put on slightly better clothes. We'll see what I wear this weekend, but it's mostly going to be my Miami merch.
This interview has been edited and condensed for clarity.