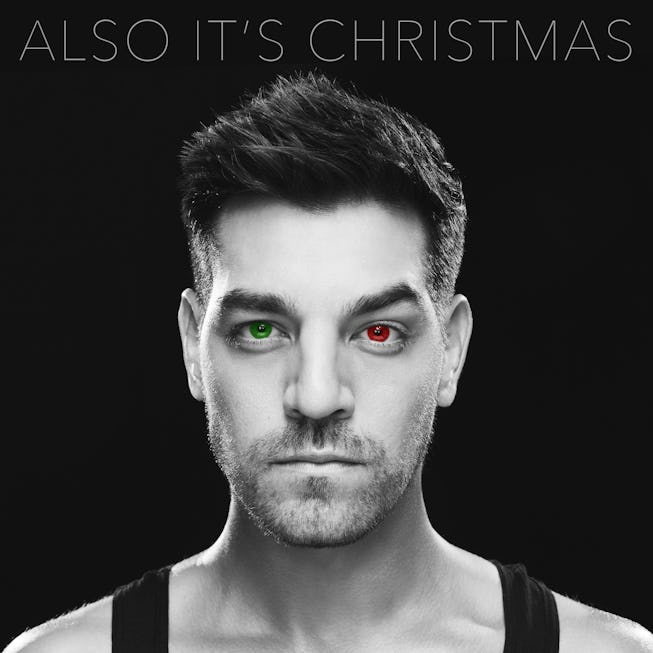 Matt Rogers Premieres A Horny Club Banger For The Holiday Season
"Also, It's Christmas" is an uptempo club banger that captures the feeling of wanting to bring someone home in the face of less than desirable logistics.
Christmas is the horniest holiday, yet few yuletide songs seek to capture the carnal anticipation of the season.
"It's like two months of edging," Matt Rogers tells NYLON. "The day is pretty orgasmic if you think about it. There is the giving, the receiving; there is exchange; there is the color red. I think in the beginning of time when they designed Christmas, they really knew what they were doing, and they were doing horny stuff."
Rogers is best known for co-hosting Las Culturistas with his best friend and collaborator, Saturday Night Live's Bowen Yang, and starring in films like Fire Island — but in the last few years, he's followed in the footsteps of stars like Mariah Carey and Ariana Grande who have capitalized on Christmas, particularly booting Bing Crosby aside to make room for modern earworm melodies that are guaranteed to become modern classics.
On November 3, Rogers will release his debut album Have You Heard of Christmas? on Capitol Records, which will feature special guests. The album includes some hit musical numbers from his Christmas special of the same name — like the truly hysterical "The Hottest Female in Whoville" — which premiered on Showtime last year to much acclaim and quickly resulted in sold-out live shows across the US.
Today, Rogers premieres his first single "Also, It's Christmas," an uptempo club banger that captures the feeling of wanting to bring someone home, but having logistics be less than desirable, as exemplified in the couplet: "Also It's Christmas, do you still wanna f*ck or is it weird?/ Also it's Christmas/ Forgot to mention that my sister and her kids are here." Produced by Gabe Lopez and Leland, Rogers' voice traverses an impressive range in this synth-heavy, fist-bumping sensual romp.
The video, directed by Jake Wilson, stars Rogers and Zane Phillips, "the hottest man in the world," per Rogers. "You're welcome." Taking place in varied locations like the bidet in a bar bathroom stall and a glittery snow globe, "Also, It's Christmas" tells the story of two hotties connecting at the club only to be faced with the sobering fact that despite wanting to go home together, it's, well, also Christmas — which might mean running to your sister or accidentally rolling over an ornament.
NYLON caught up with Rogers ahead of the video's release to talk about how he created a true Christmas club bop that takes itself exactly as serious as it should.
Watch "Also, It's Christmas," below.
I would love to just hear a little bit about the inspiration behind the song.
This was actually the first song that I wrote for my album Have you Heard of Christmas? One thing about the holidays that I've discovered is it's actually one of the horniest times of the year because it's sort of when you go back to high school, you know what I mean? You go back to the bars and you see your old friends and some people are looking good over time. But then it's incredibly difficult to close the deal around the holidays. So that's sort of the tension that I'm exploring with this song is: Wow, I'm out. I'm looking good. I'm seeing other people that look good, but also, it's Christmas. How do we navigate that?
It's pretty well summed up in the line: "It's Christmas/ Do you still want to f*ck or is it weird?"
If you're in a horny crowd atmosphere, you're going to see a Christmas decoration. Especially if you're in New York, San Francisco, Chicago — these cities that really go all out for Christmas. You could really be in the throes with someone and feeling like you want to take it to the next level. And then you see an ornament that says "Seasons Greetings" and you're really brought down to earth by that. When I was first writing this song, I really wanted an uptempo song for the gays and girls to go out and dance to, but that also has a festive element. I thought, what would be a better mix than the naughty and the nice? We're horny at the club, but also it's Christmas.
Do you have any other favorite horny Christmas club songs? I remember Lady Gaga's "Christmas Tree," which goes: "Light me up, put me on top/ Let's fa la la la la la la la." This feels in a similar vein.
One of the reasons why I even wanted to do this album was to get a piece of this Christmas music pie. It feels like anyone who is smart and worth their salt out there is capitalizing on this market. What all pop stars have to think is: What is going to be my contribution? That's a big moment. How am I going to introduce myself to the Christmas market because that song is going to be forever. Those are the songs that are going to be revisited every year. Not everyone scores a 100 like Mariah on "All I Want For Christmas Is You." I'm not going to name any names, but I think we know that there are some songs that are less iconic. But I just wanted to say something that was truthful to me, and I'm very horny all year round, but I just had to bring that to Christmas.
"Also, It's Christmas" is a true club bop, which is a really nice addition to the Christmas oeuvre.
I mean, listen, the gays really don't have a song we can play at not only family gatherings, but also warehouse party, So now I give it to you, I give this to, the queers. I say, do whatever you want with it. Get filthy with it if you have to. I'm taking applications for remixes. If any features want to jump on this, I'd love to have one of those singles that has 10 remixes: The Christmas Dark Club remix.
Remixes better be bumping at the club in Bushwick this holiday season, or I want my money back.
I can feel it happening. We've got not only a new Christmas classic, but a club classic here on our hands, God willing. And of course, we do have Him to thank for the holidays.
This interview has been edited and condensed for clarity.