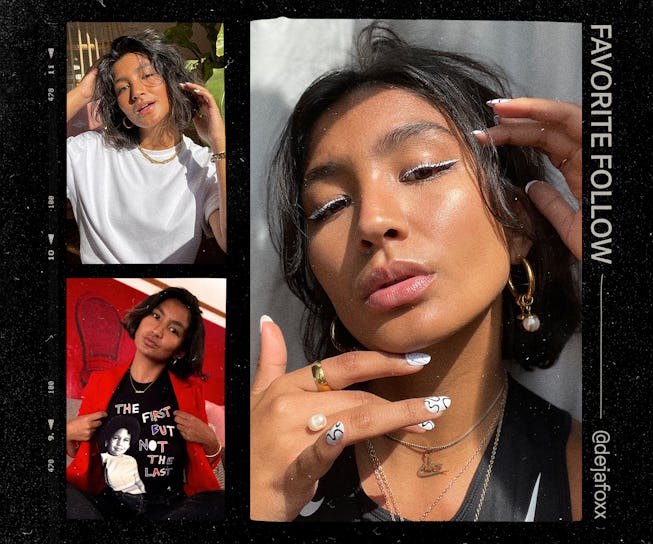 Meet Deja Foxx, The 20-Year-Old Activist Using Social Media To Make A Change
She talks about balancing being an activist and influencer, authenticity online, and more for NYLON's Favorite Follow.
Welcome to Favorite Follow, a new series highlighting NYLON's favorite creators and the stories behind some of their most memorable content.
Deja Foxx was unpacking her suitcase at her Columbia dorm in 2019, ready to start her sophomore year, when she received a DM on Instagram — a job opportunity on the Kamala Harris presidential campaign. Two weeks later, she moved to Baltimore, a brand new city for the Arizona native, and signed a lease on her first apartment at 19 years old. She was the campaign's youngest staffer and first-ever Influencer and Surrogate Strategist.
Foxx, now 20, first got involved in reproductive justice in reaction to her high school's failure to educate students about consent and birth control. "I remember the teacher scrolling through this PowerPoint on birth control being like, 'I don't have to teach you guys this because your parents will.' And his implication was that, you know, this wasn't really that important," she tells NYLON.
So Foxx turned to Planned Parenthood for help. "I didn't have access to [birth control] because I didn't have a parent, I didn't have money, and I didn't have insurance," she says. "I went to Planned Parenthood and it was through them that I was able to access it." She decided to get involved in her school board and contributed to rewriting her school district's sex-ed curriculum, which she claims hadn't been updated since the 1980s.
At that time, Foxx was also experiencing hidden homelessness, an issue that affects 1 in 30 teenagers, per a study conducted by Chapin Hall at the University of Chicago. "It wasn't a safe environment," she says referring to her home, where her mother faced issues of substance abuse.
In April 2017, Foxx gained an online following when she went viral in a video of her calling out Republican senator Jeff Flake for his stance on Planned Parenthood. Her life changed very quickly from being homeless and working at a gas station to being invited to talk on CNN and getting a full-ride scholarship to Columbia University.
"There's a lot of pressure on doing political work. There's a lot of eyes on me doing influencer work," she says. (The balance between both presents its own sets of challenges, as well.) "Our generation is the first generation to have our entire lives documented."
If we don't redefine what leaders can look like and can do, "we will lose out on a generation of women leaders," says Foxx. "We will lose out on a generation of people who bring unique perspectives and come from diverse backgrounds." She urges anyone who wants to get involved in the change-making space to be themselves and get involved by targeting the issues that are personal to them. According to Foxx, anyone can start by volunteering and building their personal network. "If you see anyone doing 110%, know they're never doing it alone," she says.
Below, Foxx shares her thoughts on balancing between being an activist ad influencer, having authenticity online, her idea of success, and more.
On The Kamala Harris Campaign
"[Our boss] reminded us that there are people out there that have more campaign experience than us. There are people out there who've worked in politics longer. But what makes us unique, what makes us such a special and powerful team is our perspective. I walked into that room, not only with the years of experience that I was bringing, but also my personal experiences, having experienced homelessness, growing up in secondary housing being raised by a single mom, being a first generation American informed the way I did my job and the environment around me. And so I think I also, in some sense, learned just how valuable my perspective was."
On Reproductive Justice And Activism
"Reproductive justice is about choice. And not just the choice if and when to have children, but to raise them in communities that are healthy and safe and thriving. And so that means communities that are free from gun violence, police brutality, family separation. So reproductive justice is a framework, and that is the framework within which I work. And so to understand that it is not just about birth control, it's about choice. It's about living lives that are defined by choice."
On Being Both An Influencer And An Activist
"At the end of the day, I come from a family that never had a safety net and never had a social network to connect me to. And so what I'm using my social media for is, yes, to build communities, to experiment, to build strategies, but also for my own personal benefit. There's no bad in that. I'm trying to build financial stability for myself and a social network that will help me continue to be successful, and be in new rooms, and be the first, and make way for others."
On The Importance Of Self-Love And Authenticity Online
"I often was told, even from a very young age, 'You shouldn't post things like that becausewhat if you want to run for office one day?' And I do want to run for office. I plan to run for president and win — but it wouldn't be worthwhile to do it if I wasn't doing something differently. And the thing that I'm doing differently is I'm showing up as a whole person. I'm showing up as someone who embraces my sexuality — let's not forget that my work has been based in sex since the beginning. So to say that I shouldn't post up in my bikini is f*cking ridiculous, that I shouldn't post up with a vibrator is ridiculous."
On Success And Being A Role Model
"Success for me, is and has been, being a good role model. That is my through line. I kind of see it like a diagram. There's this through line of our lives and we do all these different things. I was an organizer and a community organizer in high school and then I've gone on to be a student and a founder and a strategist. But at the core, what I do, and all of those roles, the way that I bring myself and my purpose into them, is by trying to be a good role model. And that can look like a lot of things. It kind of goes back to [...] showing up authentically, showing up as my whole self to make space for others to show up as their whole selves, as well."