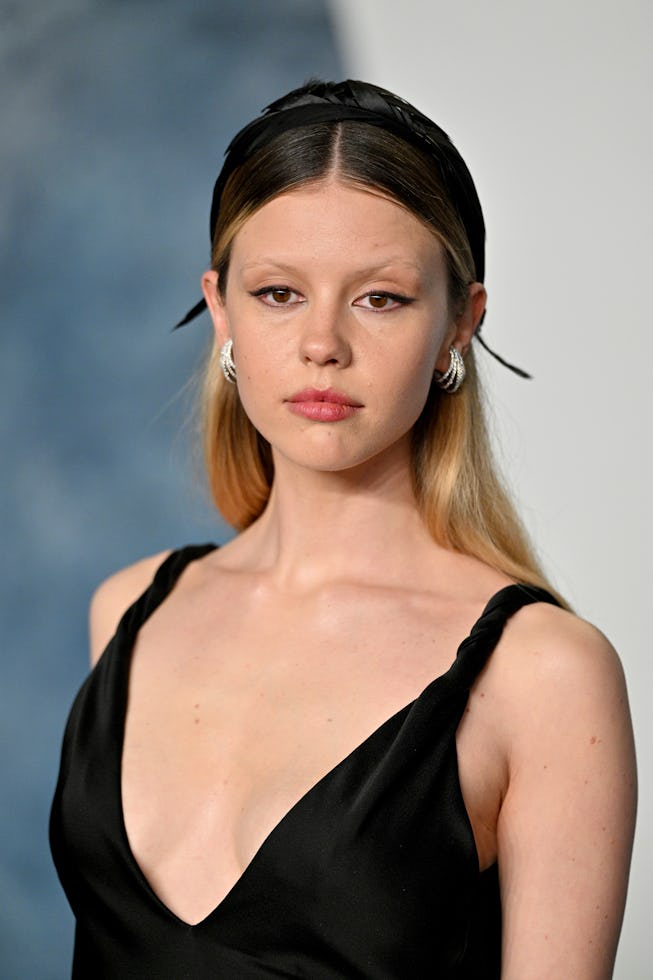 Lionel Hahn/Getty Images Entertainment/Getty Images
Mia Goth's Newest Role Is A Gothic Horror Classic
The freak-queen's reign continues.
Every so often, something in life makes perfect sense: Our favorite murderous robot M3GAN posing for Marc Jacobs Heaven, for example, or Leighton Meester and Adam Brody's marriage. And now, further confirming the natural order of the world is the fact that Guillermo del Toro, fresh off his Oscar win for Best Animated Picture for Guillermo del Toro's Pinocchio, is considering Mia Goth to star in his adaptation of Mary Shelley's Frankenstein for Netflix.
There's no better fit for an adaptation of a Gothic horror classic than Goth — it's her last name for God's sake! It's a role would cement Goth's reign as not only a scream queen, but the true freak-queen she is.
As reported by Deadline, sources say the film is in very early development. Del Toro is still working on the script and nobody has formally signed on, but he has reportedly met with Goth — as well as with Oscar Isaac and Andrew Garfield — who are all reportedly on board.
Isaac and Goth make a lot of sense; together they're like an "American Gothic" portrait for 2023 (no pun intended!), with palpably spooky, magnetic energies. Garfield, on the other hand, proved his chameleon acting chops last year in Under the Banner of Heaven. Plus, Isaac has already played a mad scientist billionaire daddy who accidentally fathered a monster: the robot in Ex Machina, a Frankenstein-esque tale for the tech age.
It's unclear who would play who (Goth should play Frankenstein, IMO) but sources say Goth would be playing Doctor Frankenstein's love interest. But if there's anything about Goth, it's that her characters — at least the murderous ones in X, Pearl, and Brandon Cronenberg's Infinity Pool — end up stealing not just scenes, but hearts, and limbs, too.
Del Toro's Frankenstein has been in the works for some time, but it's also not clear if it's meant to be a period piece or set in modern-day. Del Toro was supposed to remake Beauty and the Beast at one point, but instead made The Shape of Water, a loose riff on the tale — so as it goes in Hollywood, it's safe to say anything could happen.