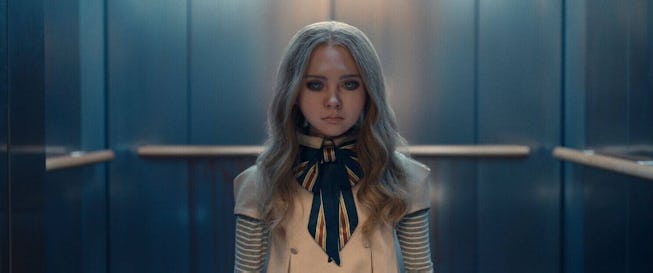 All Hail Marc Jacobs' Newest Heaven Model: M3GAN
The murderous robot is a Heaven girl, because of course she is.
Two weeks ago, we thought Marc Jacobs Heaven casting couldn't get more relevant than putting Tara Reid, Sandy Liang, and Michael Imperioli on a couch together, for a collaboration with metal band Deftones and streetwear brand Stray Rats — which is what an AI would spit out if you asked it for the exact center of the Venn diagram of Gen X, Millennial, and Gen Z sensibilities.
That was until Tuesday, when Creative Director Ava Nirui proved her brain is bigger than the Heaven couch itself — by anointing the most relevant girl in the world to be the latest face of Heaven: M3GAN, the murderous robot (also known as Alison Williams' daughter), who has had the world in a chokehold, literally and figuratively, since the release of her eponymous film in January.
Shot by MJ favorite Harley Weir, the campaign features M3GAN in the Deftones' God Help Me Up zip hoodie (more like God Help Me with a restock, am I right?) and lug sole knee-high boots. Bathed in red like the blood spilled from the toy company execs she murdered with a paper cutter, M3GAN looks off distantly off camera, with a sense of haunted longing. We can't help but be proud of our favorite girls' first big modeling gig.
M3GAN is the newest addition to Marc Jacobs' internet-breaking creative direction as of late. Heaven has always been rich in the currency that is the internet, but the brand is also flexing a penchant for the viral. Last week, Marc Jacobs re-released the iconic mid-aughts Stam bag, with a campaign featuring Paris Hilton, Selma Blair, Ashanti, Ashlee Simpson, and Jessica Stam herself, which was also shot by Weir.
But more importantly, in other M3GAN news, an uncut version of what we're predicting will be 2024's Best Picture Oscar Winner was recently released on Peacock. The film's director Grard Johnstone also gave an exclusive update on the M3GAN sequel this week.
"It's really important to do a debrief on the first movie, like a post-game analysis, and look at what worked and how we can do it again," Johnstone told Comicbook.com. "I mean, Jesus Christ, it's difficult to replicate the success. No one was expecting that, so it's daunting, but exciting at the same time."