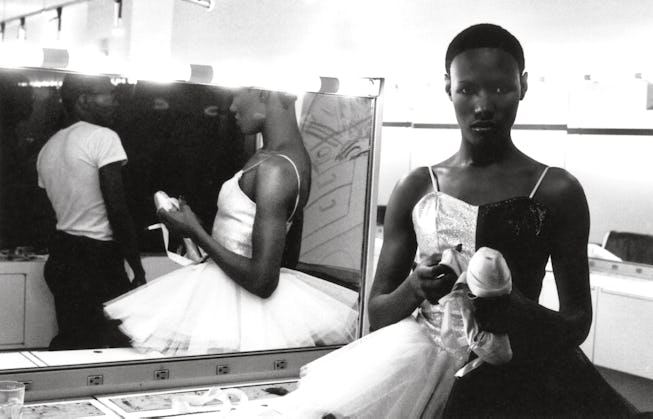 Ming Smith On Photographing New York City Legends Of The '70s And '80s
Ming Smith's photographs capture Black cultural life with reverent glamour. Now, she has a solo exhibition at the Contemporary Arts Museum Houston highlighting five decades of her work.
Ming Smith photographs legends. Nina Simone, Sun Ra, and Grace Jones — whom she met at a hair salon in both of their modeling days — to name a few. But a propensity towards jazz isn't only present in her subjects, but in her form: Smith brings an off-the-cuff, improvisational immediacy to her subjects. But Smith never sought out to capture legendary artists. She just wanted to photograph artists, out of a deep and boundless love for their work.
In doing so, Smith became an icon herself, as a renowned photographer for her reverent, glamorous, arresting representations of Black cultural expression. After moving to New York City from Detroit in the '70s, Smith initially worked as a fashion model and dancer before going on to become the first Black female photographer whose work was acquired by the Museum of Modern Art. Now, Smith is about to close "Feeling the Future," the first solo exhibition at a major institution to trace the past five decades of her work of street photography, figurative imagery, portraiture, abstractions, as well as new commissions in experimental film and installation, all chronicling a heartbeat of Black life and cultural expression. Curated by James E. Bartlett, the exhibition first opened this spring at the Contemporary Arts Museum in Houston, and includes some of Smith's most renowned photographs, including a 1974 photograph of Jones, and a 1978 photograph of Sun Ra.
"A lot of these people in my photographs, it came out of just a natural love or fit towards them as artists," Smith tells NYLON. "I photographed them out of love and respect, and I wanted the the younger generation to know who they are, to know who they were."
NYLON spoke with Smith before the close of her exhibition about the unexpected nostalgia of visiting some of her early work, her deep love for artists, and when she met Jones at a hair salon.
I would love to hear more about the role of jazz in your work.
In jazz, musicians selects a song, and then afterwards they take turns improvising. Sometimes they improvise as a band or they go to the bass player and the pianist or the saxophone or the trumpet, or they play in the scheme of improvising. In my work, when I photograph, I improvise. There's different elements, and then I improvise depending on the work, the person, the movement. I take all the elements: composition, light, timing, all of this and try to create something in that moment. My work is mainly improvised.
Jazz not only gives form to your work, but many of your subjects are also jazz musicians, so it works on multiple levels.
I have jazz musicians, but I also have dancers, artists, painters…a lot of dancers. But with the jazz, I have pieces like Little Tina Scott, Michelle War, or Dexter Gordon and Johnny Griffin. I photographed people that were in my life, that's how the Sun Ra piece happened.
Can you tell me more about that photograph?
I'm also a dancer and one of my friend's buddy said she was going to go see Sun because she wanted to dance. He would have some dancers improvise with the band performing during the performances, and so I was interested in that. I didn't go because I got to see Sun Ra. No, I went because I was supporting one of my friends. That's just a clear example of most of my work.
Can you tell me more about the photographs of Grace Jones you took?
The photographs I took of Grace Jones were when I was modeling. I went to a hairdresser to get my hair done, and she was there and we talked about work. We were too "exotic." They called all Black models "exotic." They never said Black, they called it "exotic." And if you were Japanese or if you were Indian, if you were a dark South American, they would just say you were "exotic." But we were talking about the woes of the business. She said she was going to Paris, and I told her that I wanted to go also. We talked about boyfriends. She was too much. She didn't have a boyfriend; she was too out there. Just girl talk.
I took that photograph because someone was painting her or illustrating her and she had the ballerina outfit on. She came to New York and she called me and told me to bring my camera with me at Studio 54, and I did. She was a big success in Paris, and she was coming back as a star performing at Studio 54. So that's how I took that photograph.
I'd like to think as I looked at my bodies of work, it was pretty much a solo trip, but many times being a woman, many of those pieces were there because I was a woman. I was going with my girlfriend to give her support or to have an experience. I am a woman, and my work reflects that.
Did you have any unexpected nostalgia in revisiting some of these pieces?
Pretty much all those photographs brought back a story. I reminisce about Grace Jones where I probably wouldn't have if I didn't have an exhibition with her picture in it, and no one would ask me about it; the photograph is just in my drawer. When I show a lot of the work that was done in the '70s and '80s, it brings me back. I was a different age. I was struggling. My father always used to make a joke about finding myself: "You're 20 years old and you still try to find yourself!" He always used to make that joke. Also with this exhibition, there's sadness that was attached because both my parents had passed and they were always wondering what I was doing with my life.
This interview has been edited and condensed for clarity.