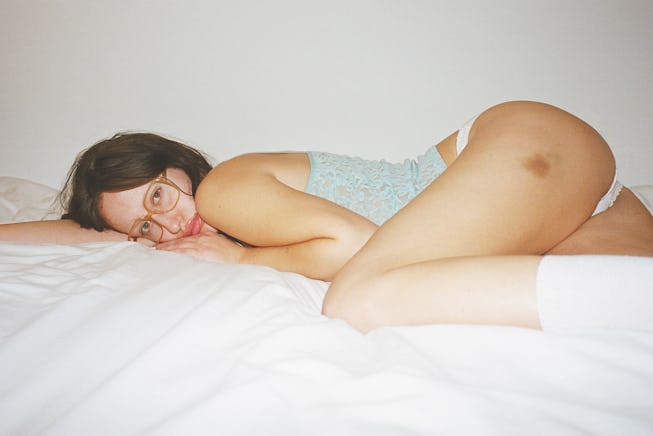 Morgan Maher
Morgan Maher's Girls In Bed Is A Love Letter To Intimate Friendships
Morgan Maher's photographs emit a tender, slumber party frequency.
There's a moment during every sleepover, just after you turn the lights out, when you're lying next to your best friend, and there's a beat before you start talking. Maybe you even break the brief silence at the same time, with secrets, or with laughter. It's a feeling that, as far as I'm concerned, is something akin to magic, a divine moment powered by the frequency and fluency of friendship.
This is the feeling Los Angeles-based photographer Morgan Maher captures in Girls In Bed, a photo book chronicling five years of portraits of, well, girls in bed; all crisp white sheets and knee socks, big t-shirts and lace bras, bedhead and mermaid costumes.
"I feel like so much of the process is really just what I thought about as a slumber party frequency, where it's two girls in a bed and it's a conversation like what we're having right now, where it's just exploring what it means to be a girl," Maher tells NYLON. "It's the intimacy of it all and the friendship and the honesty and talking about crushes and laughing, and reclaiming a space."
Because as much as the bed, with its blood-stained sheets and mascara-smeared pillowcases, is the landing strip of so much of the intimacy of female friendships, it is also the site where a lot of women experience trauma or abuse. In her work, Maher takes back the bedroom, creating a playful, safe place to be sexy and unserious, a place where girls can be themselves.
"Being able to do something that unifies a group of remarkable women in a way also where there's been an abundance of trauma, it's really crazy. I don't really know a girl that hasn't had a traumatic situation with a man," Maher says. "Being able to make this work and have women experiencing play and leisure and fun and safety and expression for simply the joy of being a woman and exploring that girlhood that still exists in all of us, was the most important part of making the work."
Over the past five years, Maher photographed everyone from actors like Rachel Sennott and Chase-Sui Wonders to musicians like Sabrina Fuentes and Harmony Tividad to writers like Willah Bennett and Madeleine Cash, in beds across at least five New York City apartments, Los Angeles, and Europe. It was here they told secrets, talked about crushes, fear, and dreams, an intimacy that comes across in Maher's work, which captures the feeling of being deeply known in a photograph.
NYLON spoke with Maher about what it's like to photograph her friends, why the bed is so important to the essence of friendship, and about the new sheets she recently bought.
Girls In Bed is available now from Friend Editions.
The setting of the bed feels radical because the bedroom is the site of trauma and also so much joy. It's also the site of where so many women are photographed by men, and by you doing it, it's flipping that. It's not about the sexualization, but about so many other things.
It really is just about the joy and the play and the pleasure of being a girl and a woman, and feeling safe enough to tap into those parts of you. In art, women experiencing unassigned leisure is still taboo. Women experiencing fun and play and love and beauty and friendship. It's for no justification.
It's just been amazing that it's something that was so simple. I was really hard on myself this time last year where I was like, "Am I just doing the same thing over and over again?" Then I printed out all of the photos that I had had so far, just 4x6 from CVS, put them on my floor and I was like, wait, this is such important work, seeing all of these remarkable women together.
Where did this project start? I know it's been photos from over the last five years.
The first photo I took of a girl that I met who was still a friend of mine, her name is Zoe Thaets and she was from Brussels. We met when I was working with a casting director on a Miu Miu show in Paris, and it was her first show ever. Then she came to New York and we became fast friends. I was new in the fashion world and she was new as well. We were hanging out at my apartment one time and I didn't particularly find my apartment to be inspiring or beautiful, but the moments that, throughout my entire life, I felt safe with my female friends, was always in the bed. It was where we would gossip and talk about heartbreak and love and beauty, and I took photos of Zoey there. It started out as something simple where I could photograph, just pure beauty with no distraction. It felt so raw and real. I loved that I was able to just capture her truly who she is with no outside information. That was a notion and concept that I carried throughout five different apartments, different cities, a new apartment in LA, and LA being a new city, as well. Then, I kept visiting the girl in bed over and over again. In the last two, three years is when I really made an intentional decision.
Harmony TividadMorgan Maher
Madeline CashMorgan Maher
Chase Sui-WondersMorgan Maher
Willa BennettMorgan Maher
A lot of these girls are your good friends. What was it like to watch them come alive in front of the camera or access new parts of themselves?
I just got chills thinking about it, because it's like we were saying earlier, the space is a priority for me whenever I'm shooting, I want to make it so safe. It was seriously just fun. The photos that I shot of Salem [Mitchell], we did literally in five minutes.
I was like, "You're hot, you're laughing, you're experiencing joy. It's fun." I was literally in pajamas shooting her, and it was so pure. I think it was also a testament to that at the opening. There were girls coming up to me being like, "Thank you so much for making this work. I've never really seen women represented like this in a way that you can feel that it's safe and collaborative." Obviously inherently with photography there's a gaze and a power dynamic because of the nature of how the work is created, but even with a pose, I was always like: "Are you comfortable? Does this physically feel comfortable? How would you lay in a bed if you were laying in a bed?"
I think that's why it truly does feel like you're at a sleepover. Looking at these photos is getting to gaze in on that intimacy.
Absolutely. I feel so lucky that there's so many remarkable women, and the fact that this can serve as a body of work that is a time capsule of my life and their life. A lot of the girls in the book, there's through lines to them being connected as well, which I also think is so special.
I feel like the bed is a really good example of a time capsule, too: what sheets you have at a particular time of your life, whether or not they're blood-stained, etc.
It's so funny you say this. I have white sheets, obviously they're not all the same set, but it's funny, because I was on my flight yesterday and I was like, "Oh my god, I can get different sheets now." So I bought hot pink, leopard print sheets on the flight yesterday. I literally just period blood-stained my duvet this morning and it's in the wash. I'm like, "All right, well, that's a wrap." Like you're saying, a bedroom is a time capsule and with the bed being a solid white, it's more so like it's a time capsule of the girls in that moment than the room, because I wouldn't give any direction. The direction that I would give is, basically was like, "Whatever you feel best in. It can be fun, flirty, sexy, cozy." It's really how everyone wanted to be presented in that moment of their life, which I think is so beautiful, too.
Who were some of your favorite people to shoot?
My best friend who's in the book, Lukita Maxwell, she was on the HBO show, Generation, and she's on the Apple TV+ show right now, Shrinking with Harrison Ford and Jason Segel. I'm actually her date to the Vanity Fair party tomorrow. I'm so excited. I have no idea what I'm going to wear. I have a sunburn. Basically, I'd never seen the show and we just started following each other on Instagram maybe three or four years ago now. We went to get ice cream. I was like, "You're so cute, let's be friends," how girls do it on the internet. She and I were getting ice cream and the girl that's serving us ice cream was like, "Oh my god, you're from Generation." She was like, "Yeah." I'm like, "What is she talking about?" Then she tells me, "Oh, I'm on this show." I'm like, "Okay, cool." I did her first fashion shoot for Tory Burch, which was really amazing for her. She was like, "I literally am just this girl from Utah, this is crazy." Then we both just had this very collaborative and reciprocated relationship, where it's so organic and so kind.
It's more so meeting in such an organic way and then being a part of each other's creative processes, and there really being a full spectrum of trust there. I had gone to New York to finish earlier this year because there were still some girls that I hadn't got, like Sabrina Fuentes, who I shot when she was 16. I love her. I was living in Brooklyn at a friend's house for a week and we were internet friends. She comes over, we hang out, I took a photo of her in bed but didn't really think anything of it. We just played dress up. But I was like, "Oh my God, I literally need Sabrina in the book or that's psychotic." I've known her now for almost 10 years.
Also, over the winter, when Talulah [Brown] and I released our first zine, we stayed in a hotel together. That was fun, because that was literally Salem, Gabby Richardson, Talulah, and Taylor Jeanne Wells. That's when I shot their pictures, too. We were literally all in the hotel, It was absolutely slumber party frequency.
This interview has been edited and condensed for clarity.