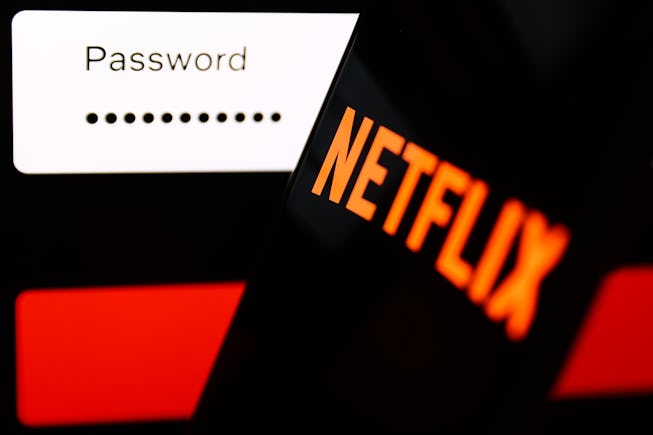 NurPhoto/NurPhoto/Getty Images
Netflix Is Seriously Cracking Down On Sharing Passwords
In this economy? The nerve!
Netflix has been famously permissive when it comes to users sharing their passwords. I can't name five people who have their own account — for a decade at this point, many of us have been signed into our parents' or old roommate's or ex boyfriend's account, for virtually every streaming platform. Netflix estimates that over 100 million users worldwide are using someone else's password — and now they're hoping they can convert some of those users addiction to the platform into cold, hard cash.
Netflix first announced they were going to curtail the common practice of password sharing back in August, doubling down on the threat in January. In this economy? The horror!
As reported by The Streamable, Netflix now has a page on its Help Center detailing new rules around account sharing.
According to Netflix, accounts will still be shareable, but only within one household. Netflix will ask users to connect to the Wi-Fi at a primary location, open the Netflix app or website, and watching something at least once every 31 days.
If you're the matriarch of a cross-country Netflix account, don't worry; Netflix will not begin automatically charging accounts whose information is used outside the home. Instead, Netflix will prompt users to sign into their own accounts and block access until they do.
Could this be the beginning of the end of the golden age of streaming for the platform? Not likely, but it will be interesting to see how many users simply leave the platform — particularly on account of Netflix's questionable content strategy in recent years that has valued quantity over quality, with the network opting to produce dozens of low-budget original series to bloat the platform. (We're not personally mad about the existence of two seasons of Selling Sunset a year — but Netflix is far from their prestige television days of shows like House of Cards.)
Interestingly, Netflix will begin offering a tiered subscription plan that will allow for multiple devices on the same account — the only kind of workaround that exists for password sharing. The Streamable outlined a four-tier plan that starts at "Basic with Ads" ($6.99/month) and goes to "Premium" ($19.99/month) which allows for four devices to use the account.
It's unclear when Netflix will broadly roll out their new restrictions, but it may be time to start strategizing in the group text.