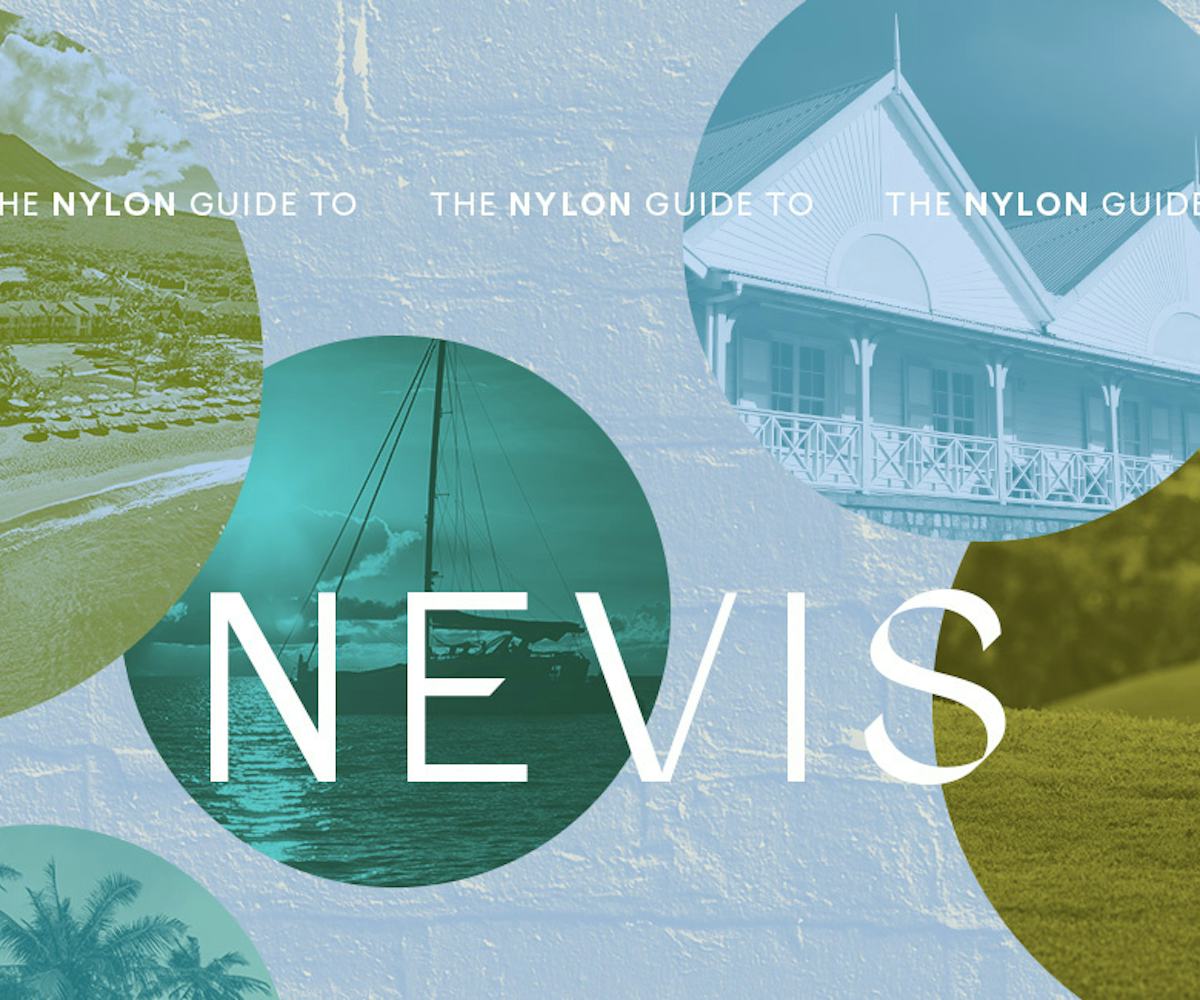 Photos by Christian Horan/Four Seasons Resort Nevis, Getty Images, and Shutterstock.
The NYLON Guide To Nevis
Where to stay, eat, and what to do while there
If you clicked into this article after asking yourself, Where is Nevis, you're not alone. In fact, before traveling to this small island, compromising Caribbean's Saint Kitts and Nevis, I heard this question from almost everyone I know (after asking it myself a year prior when I first heard of it from a friend). And while that may seem unfair given Nevis' potential to rival any of the other stunning Caribbean islands that neighbor it (Anguilla, Antigua, etc.), it's also what makes Saint Kitts' sister island an unspoiled gem amongst the popular (read: significantly more tourist-filled) destinations whose location you would be able to easily place on a map.
Made up of jungle-like grounds, the island is distinguished by a cloud-capped Nevis Peak, and can be reached by taking a car from the Saint Kitts airport to the pier, from which a boat crosses the two-mile strait, called the "Narrows," to Nevis. Once on the island, which you can circle in about an hour, you can settle by the base of the mountain if you're interested in a beach vacation, or higher up on the mountain if seclusion, greenery, and views is what you're after.
With no building taller than any one of the many palm and coconut trees that cover the island and only 12,000 residents, Nevis remains an untouched island — one that still has plenty to offer despite the seeming remoteness. Ahead, where to stay, drink, and eat at and what to do should you find yourself on this best-kept-secret of an island.
Where to Stay
Golden Rock Inn: Owned by New York artists Brice and Helen Marden and designed by the architect behind the Aman Resorts, this stunning location is a hillside paradise. Boasting 100 acres of tropical gardens, you feel like you can get lost on the property's grounds made up of giant ficus trees and staghorn ferns. Before you do, though, take a guided tour of the landscaped garden — if only to smell the ylang ylang flower (the same one used in Chanel No. 5) and learn about the herbal botanicals that grow here and can be used to cure everything from headache to nausea. When you're done, browse the property's museum-worthy artworks, ranging from Ronan & Erwan Bouroullec x Vitra Vegetal chairs that may look familiar if you frequent New York's MoMA (where Brice also had a retrospective in 2006) to a Rene Ricard original. Next, take a seat in one of those chairs by the Instagrammable freshwater pool overlooking the greenery and take in the quiet, remote surroundings, before retiring in one of the 11 eclectically-designed cottages and suites that feature private porches with views of the ocean and neighboring islands. Plus, don't miss the ice cream cart that holds homemade popsicles (coconut is a must!) and the opportunity to hike Nevis Peak right from the property.
Four Seasons Resort Nevis: If fitness and company are what you're after, settle at the bottom of the mountain at the luxe, 350-acre Four Seasons Resort located on Pinneys Beach. In addition to an endless array of watersports activities and three swimming pools, the property features nine tennis courts (with three different surfaces), a basketball court, golf course (where Green Vervet monkeys gravitate to), and a fitness center with cardio classes and yoga (which you could do while watching the sun rise over Nevis Peak) offered daily. The open-air spa facility grows native herbs used in treatments and teas — ranging from a signature Nevisian massage that begins with a cleansing foot ritual to various facials — and features a Japanese-inspired cold plunge and volcanic stone hot water pools nestled into the Eden-like scenery and nighttime offerings that include private couples massages and dinner under the stars. Though there's no shortage of food and drinks options (there's seven gourmet restaurants and bars on-property!), take advantage of the nightly Sundowners event on the pier, during which you can take in the breathtaking view of the sun setting over the Caribbean Sea while having a tropical cocktail and fresh oysters.
Where to Eat and Drink
Chef's Counter at EsQuilina: With plenty of Caribbean fare on the island, chances are that you'll want something different a few days in. When you do, experience the Mediterranean-inspired tasting menu at EsQuilina that features local ingredients. During my visit here, some of the dishes offered included spicy Greek-style keftedes with pickled tzatziki, a mouthwateringly tender smoked scallop Crudo, and a Moroccan-inspired rosewater Panna Cotta. For a complete experience, opt for the expertly selected wine pairings.
The Rocks: Stunning views of sea and garden aside, this alfresco restaurant, housed inside the Golden Rock Inn, attracts diners from all over the island with its global take on Caribbean favorites. Featuring local and seasonal seafood and produce, dishes include smoked wahoo carpaccio, conch chowder and fritters, Spiny lobster in a curry sauce, and Queen Red snapper served in a butter sauce you'll want to drink. If you aren't staying on the property, booking a lunch or dinner here is also one way to glimpse at the incredible decor and some of the artworks.
Sunshine's Beach Bar & Grill: You will hear about Sunshine's from more than a few people while visiting Nevis (the first time might be while taking the boat to the island). Set on the famous Pinneys Beach, this no-frills beach bar is known for its Killer Bees rum punch and live music at night that draws tourists and locals alike.
Crowned Monkey Rum Bar: For a more elevated drinking experience, learn about the Caribbean's favorite spirit, rum, while sitting at the Crowned Monkey Rum Bar. The bar, whose walls are flanked by quirky paintings of, you guessed it, monkeys, boasts a collection of 50-plus rum selections, as well as its own blend. Learn about the history of the spirit during a rum tasting or sample a few of the rarest ones.
Oasis in the Gardens Restaurant: While you wouldn't think to go to the Botanical Gardens to eat lunch, this Thai restaurant — overlooking the gardens filled with native plants and flowers, Nevis Peak, and the ocean — makes a solid case for doing just that.
Where to Go & What to Do
Pinneys Beach: No trip to Nevis would be complete without a visit to this stunning stretch of beach. With calm waters, you can engage in a range of activities — kayaking, paddleboarding, windsurfing, and more. For those who prefer to spend their time more leisurely, the soft sand is perfect for laying out or taking walks, and the beach is dotted by quintessential beach bars and restaurants.
Hike Nevis Peak: While the beach might be why you are really in Nevis, don't miss out on hiking the island's mountain. While the hike to the top isn't the easiest to complete, there are other trails that you can take that won't require equipment (though you should make sure to wear appropriate shoes, as the trails can get muddy after rain), that likewise boast rich jungle fauna and beautiful views.
Hot Springs: While these hot springs are on the smaller side, they have a history, one which includes voyagers and explorers of the past traveling here to experience the healing powers of the 107-degree natural waters. Combine the visit here with the Botanical Gardens.
Make Hot Sauce: Chef and creator behind Nevis' famed hot pepper sauce Llewellyn Clarke holds a hot sauce cooking class at the Four Seasons Resort. Not only will you learn how to make the signature Paw Paw Pepper Sauce from scratch, but you will also take home a bottle of your own batch.
Newcastle Pottery: If some of the bowls and dishes from Golden Rock Inn catch your eye, know that not all of them come from museum-worthy boutiques from around the globe. In fact, some are made at this very pottery shop that sells handmade items, ranging from serving dishes to gift figurines, made from the local red clay.