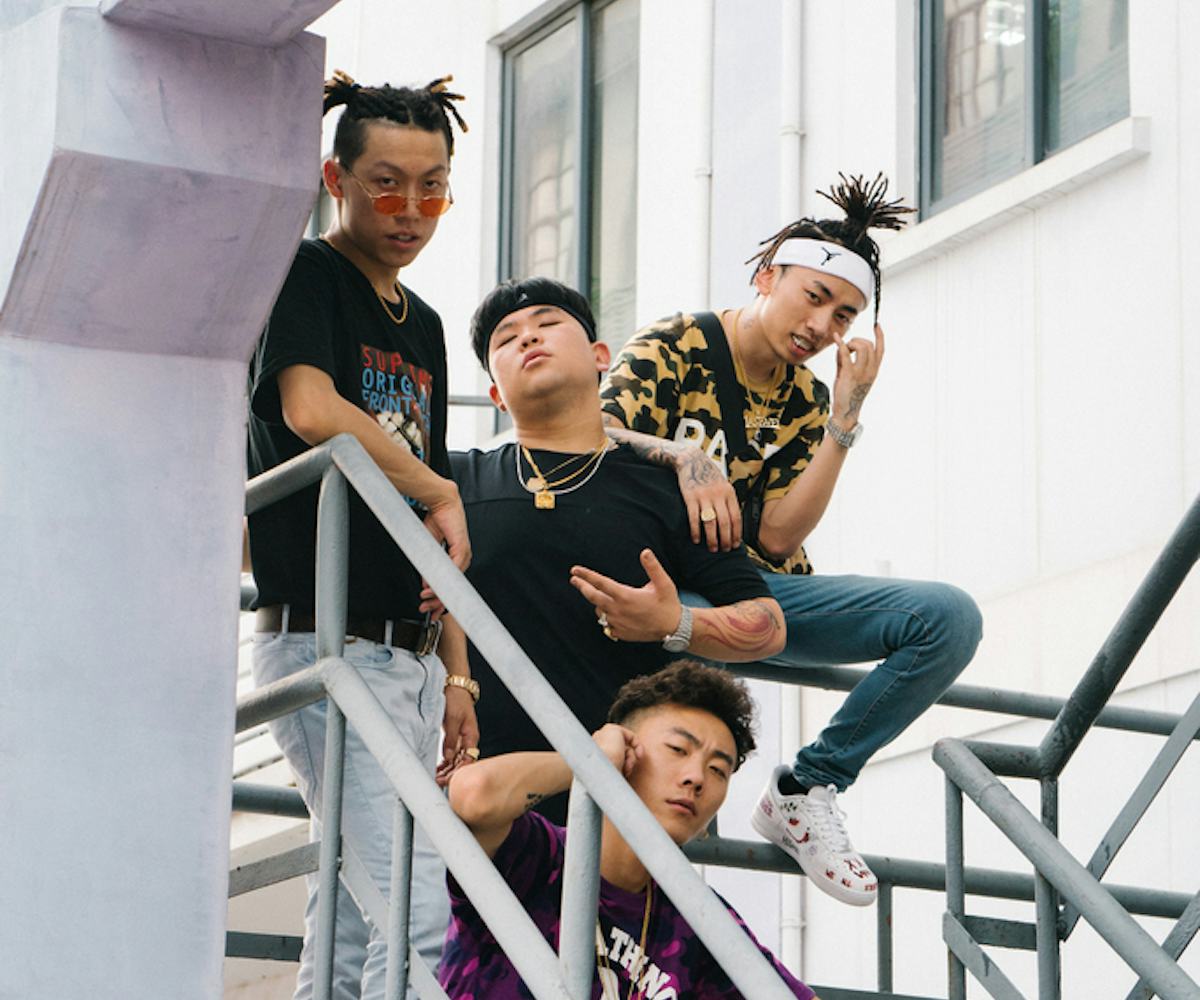 Photographed by Victor Marvillet
Higher Brothers Are Rapping Their Way To The Top Of The Chinese Music Scene
The following feature appears in the September 2017 issue of NYLON Guys.
On the surface, the origin story of rap foursome Higher Brothers sounds rather typical: friends cut a mix tape, start touring, find success. But remove that narrative from the context of Atlanta, Los Angeles, or New York and transplant it into central China, and suddenly it doesn't feel so familiar. Needless to say, China is not necessarily known as a bastion of free expression, let alone as a hotbed of hip-hop, but Higher Brothers have not let that discourage them. In the past year and a half, the group—made up of Masiwei, DZKnow, Psy.P, and Melo—has released two mixtapes and gone on three countrywide tours. Now they have their sights set globally.
"We wanna go to America, let the world know us," says Masiwei, in English, via WeChat, China's all-encompassing social medium. He's flanked by his bandmates and Lana Larkin, a master's candidate from U.C. Berkeley who is their translator and longtime friend, as well as an anthropologist. Does your crew roll with an anthropologist? Didn't think so.
The music of Higher Brothers pulls from a variety of influences: Masiwei cites artists such as 50 Cent, A$AP Rocky, and Migos. Much of the attention they've already attracted focuses on their "Chinese trap" style. But there's definitely a nod to the mid-'90s and early 2000s in their songs like "7-11"—about the convenience store—and "Without You," both of which feature melodic crooning over loungey loops that are themselves a throwback to '70s-style R&B and soul.
This pastiche may be a reflection of how each of the guys came to hip-hop in the first place. These days in China, using a VPN to access the outside world via the internet is commonplace, but it wasn't always easy for them to consume foreign culture. Both DZKnow and Melo, separately, remember that their first time hearing rap music was on CCTV-5, which is China's national sports television channel. (It'd be akin to having your mind blown by new music on ESPN.) "It was over for me," recalls Melo of the experience.
You'd be forgiven for being wary of a gimmick. The guys themselves nod to this in one of their latest cuts, "Made in China." Over the opening pentatonic hook, a female voice asks incredulously in English, "Rap music? China?! What are they even saying? … Sounds like they're just saying 'ching, chang, chong.'" (That voice, by the way, is Larkin's.)
But young China seems to think it's the real deal. And increasingly, Western outlets are taking notice. "They're very well-received," says rapper Bohan Phoenix, a Chinese-born, U.S.-raised friend of the band. "They're definitely the first native-born, mainland group to break through to the West, and it makes a lot of young Chinese people proud."
People who've worked with Higher Brothers also give them props. Andre Alxndr, a British musician currently working in China, says, "I think that when they make it to the States and people meet them—just other hip-hop guys—they'll be like, 'Well, this is actually genuine!'" Alxndr, who produces and performs under the name HARIKIRI, relocated to Higher Brothers' hometown of Chengdu himself.
The capital city of Sichuan Province, Chengdu is smack in the center of China and, over the past half-decade, has been incubating a surprisingly vital hip-hop scene. Beijing and Shanghai, the country's capital and cultural center respectively, are traditionally where artists go to pursue careers. But many agree that there's something about Chengdu that is just more conducive to hip-hop.
Its distance from China's other megacities may be part of that charm. "Chengdu has had a unique opportunity to find its own flavor, its underground culture cooking up without interruption from authorities or Western influences," explains Phoenix. The center of the Chengdu scene is the rap crew CDC (also known as the Chengdu Rap House), a collective of the best in local hip-hop talent. This is where the four Higher Brothers met. DZKnow says that he moved from his hometown of Nanjing, on China's east coast, just to join. "At the time I was a fan of CDC, so I thought Chengdu was a better place for aspiring rappers," he recalls.
"It's more of an island mentality," adds Alxndr, whose family has Jamaican roots. "I feel like the hip-hop that comes out of this city, if it ends up in the hoods, people will fuck with it as well. For sure." Part of the feeling of authenticity that may resonate with audiences, even if they don't know it, is the fact that many Chengdu artists—Higher Brothers included—rap in a local dialect which isn't easily understood even by other Chinese people. Masiwei explains that they were inspired to embrace their local tongue after watching rappers from the Southern U.S. in the Vice documentary "Noisey Atlanta." "We realized that [using Sichuanese] is an advantage. It's actually really cool to do it," he says.
As Masiwei notes, there are a lot of words in Sichuanese that have a sound and flavor that just don't exist in Mandarin. The tones and the cadence are specific to the area, and they have a certain amount of hometown pride in being able to share that with the world. "Local language is the biggest influence [of Chinese culture on our music]," Melo says.
Each of the individual members of Higher Brothers has been rapping for years. Masiwei says that in high school his mom bought a computer and he would just play around making songs. Similarly, DZKnow started out while holed up at home, recording his own voice over other artists' beats.
Then there were the public rap battles, which in Chengdu were friendly but competitive. "Only the strong survive," says Melo, who believes the experience motivated him to hone his skills.
But for Higher Brothers as a unit, things have happened fast.
Less than two years ago, Masiwei, Psy.P, and DZKnow rented an apartment together, and brought in their friend Melo. Masiwei says, "We thought, 'OK, we could make some songs together, make a mixtape, sell the mixtape, then we'll be able to live off this money.'" Lo and behold, the plan panned out, and they've been selling out clubs all over China ever since. It's gotten to the point where they can now all devote themselves full-time to Higher Brothers, no shitty day jobs required.
But this doesn't necessarily mean mega-riches. "The living cost in Chengdu is super low compared to other bigger cities in China," says Phoenix. "Artists can live here purely off making music and performing, and not have to worry about getting a second job."
Masiwei and Psy.P have never had other jobs. DZKnow sold insurance for a short while. "I like it, but it's so boring!" he says in English with a chuckle. And Melo worked at a zoo until this May. "It was fun, but it cost me time to do what I wanted to do, rap, so I quit the job," he says. He's reluctant to discuss that job further, but Larkin is more forthcoming: "He wrote a song called 'Ode to Uber,'" she says, alluding to an incident which saw Melo take some heat from the government for provocative lyrics. "Melo's dad is actually a government official, so he kind of, like, gave Melo that job."
This is the reality of being any kind of artist in China. Rock and popular forms of music only found a foothold in China in the late 1980s, and even today, the government regards public expression as dangerous and something to be monitored. "[Making music] is still not what the authorities want people to be doing," says Jonathan Campbell, author of Red Rock: The Long, Strange March of Chinese Rock & Roll. "This is not contributing to the economy in the way they conceive [of] contributing to the economy and society." It's common even for big festivals to be canceled at the last minute by the authorities, and all artists performing live must submit their lyrics for approval to government officials. Masiwei says that they have to change some of their lyrics when they play out in Chinese clubs.
"Mafan," Masiwei says, when asked how the group feels about censoring themselves, using a common Chinese phrase that means "bothersome," but also has the connotation of something "annoying but inevitable."
Generally, however, life for the Higher Brothers seems pretty normal. The group is praised for their hard work and devotion to their music. They practice, they record, they battle, and they tour. And when there's some downtime, they hang out.
Melo and Masiwei live with their longtime girlfriends, while DZKnow and Psy.P still live in the group's recording studio/living space. The tiny bedroom, with two sets of bunk beds, looks more like a large closet by American standards, although this sleeping arrangement would be familiar to anyone who's lived in a Chinese dorm. "Then we have a cat," Masiwei says fondly, gesturing to the litter box. The main room is dominated by a giant TV with two PlayStation 4 consoles side by side.
"We don't really go out to party in Chengdu," Psy.P says. "We just kind of stay at the studio and play games and stuff." On the road, they can be a little more wild. But just a little. Outside of China's first-tier cities, it can be hard to find something that to Westerners would be recognizable as "nightlife." "I've been going on tour with them, too," Larkin says, "and [sometimes] you show up at the bar and there's nobody there on, like, a Friday or Saturday night. So you stay 10 minutes and you have one drink and you leave."
Instead, a "crazy night" on tour might be something elemental, such as at a July show in Changsha, where three people ended up fainting from the heat. Or you have instances of petty theft, like in Shanghai, when a fan stole Masiwei's headband as he was crowd surfing. "The tour manager got super pissed," Larkin says, "[and] was yelling at the audience." Alas, the headband was never returned.
For those who are wondering, Higher Brothers is absolutely not a weed reference. "No!" says Masiwei immediately when asked. When pressed, Larkin adds, "In China, that's like…not OK." Instead, it's a play on the national Chinese electronics brand Haier, whose success the guys wish to emulate. It was a happy coincidence that Haier is a homophone for "higher," which they've taken to mean improving and succeeding. "Go higher and higher," says Melo when asked about his plans for the future. "Which means getting closer to my goals. I think my perfect song is always the next song."