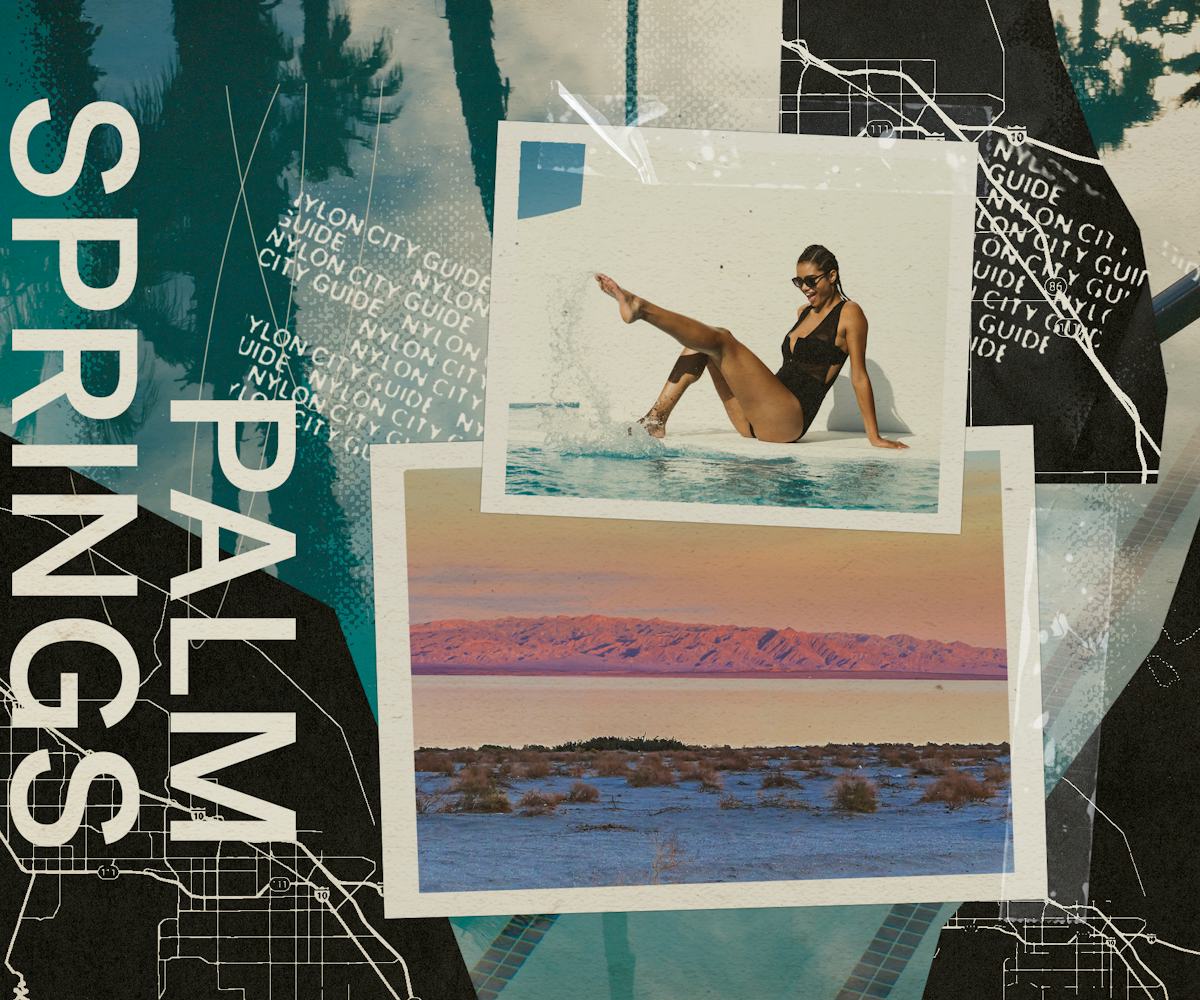 Nylon/Getty
NYLON's Guide To Palm Springs
How to have the best Palm Springs vacation, courtesy of NYLON.
Welcome to NYLON's City Guides, your one-stop shop for the ideal vacation. Here, you'll find the ultimate recommendations when it comes to where to stay, eat, drink, shop, and more for the world's hottest cities — all tried and tested by NYLON editors. Read on for your ideal, NYLON-approved itinerary.
It's easy to see why Southern Californians have long flocked to Palm Springs for a breezy getaway. The desert city is mystical and retro; midcentury-modern architecture sits adjacent to stunning mountain vistas; quirky restaurants and shops co-exist with slinky hotels. Whether you make your way to the Sonoran Desert to unwind, search for the finest vintage, or take in nature, let Palm Springs be the one-stop destination to make it all happen. Below, find NYLON's comprehensive guide to getting the most out of Palm Springs, including its best accommodations, local flavors, and outdoor experiences.
Where To Stay
The Rowan Palm Springs
When looking for a Palm Springs hotel, it's best to think of Las Vegas Strip: Staying on the Strip gives you access, staying off the strip gives you privacy. Luckily, when it comes to The Rowan Palm Springs, its location offers the best of both worlds. The hotel is walking distance to more bars, restaurants, and shops than you'll know what to do with (the best of which are included in this very article). Peep some of Palm Spring's scattering of public art from the hotel room windows, and then get distracted by the sweeping views of the surrounding desert and the impossibly close San Jacinto mountain. The Rowan's rooms are sleek and tasteful, and once you spot the Frette hotel robes, private terraces, and elegant soaking tubs, it's clear that it's a new level of luxuriating in the desert. The rooftop pool is also an oasis in and of itself; bask away in the sun on its lounge chairs, rent a cabana, and stay sustained courtesy of the High Bar, the poolside restaurant and bar. The rooftop has a secret perk for the curious at heart — unobstructed views of hawks swooping through the sky in a breathtaking dance — but only if you're there at the right place, and looking up at the right time.
100 W Tahquitz Canyon Way, Palm Springs, CA 92262
Where To Shop
Mitchells Palm Spings
Mitchells, one of the premiere vintage stores in Palm Springs, exists in something of a wormhole. You could walk in on a whim and the next thing you know it's been hours and you're leaving with the one of the most immaculate Yohji Yamamoto coats you've ever seen (I'm speaking from experience.) Mitchell's has something for every time of vintage shopper, from one-of-a-kind designer pieces, to classic leather jackets, to pristine avant-garde finds. The titular proprietor Mitchell runs his shop like a seasoned host at a party; he'll regale you with tales about his days of running the show at Bloomingdale's in the '80s and '90s (when he saw much of his collection come to the market "the first time," he notes) and zip around until he finds exactly what you didn't even know you were missing.
106 S. Indian Canyon Dr, Palm Springs, CA 92262
M Designer Vintage & More
If Mitchells is a rager, M Designer Vintage & More is a soirée — and one of the most tastefully curated vintage stores I've ever entered. The store's vintage collection is at once elegant and exciting: Tom Ford-era Gucci loafers, delicate slip dresses that are nothing short of ethereal, cheeky beaded party dresses, John Galliano Dior statement shirts, and more. I appreciated how forthright the proprietor Monika is with her customers; she's not going to lie and say a garment fits you just to make a sale. And that's one of many reasons while I'll be back whenever I'm in town.
185 S. Indian Canyon Drive, Palm Springs , CA, 92262
Monika's collection at M Designer Vintage & More.Layla Halabian
Where To Eat
Farm
Nestled betwixt and between a stunning bottlebrush tree and hot pink bougainvillea sits Farm, one of the crown jewels of Palm Spring dining. The name tells you what you need to know: This is a farm-to-table Provençal establishment that takes freshness and flavor seriously. Farm's dinner is a three-course, pre-fixe menu is less than $70 per person and changes every two weeks. Expect seasonable offerings, like a rack of lamb to Bouillabaisse to bright salads. The cocktails alone are worth a visit; the restaurant's libations are equally as thorough as their menu, all full-bodied with beautiful presentation. In fact, multiple Farm cocktails (as well as those from its delightful sister restaurant Front Porch) are winners of the Palm Springs craft cocktail competition — so now you have two sources telling you to make a reservation.
6 La Plaza, Palm Springs, CA 92262
4 Saints
Atop the Rowan Hotel roof sits 4 Saints, a fine dining establishment that reimagines exactly what a hotel restaurant should be. The ambiance is not to be glossed over; the views of the San Jacinto mountain silhouetted against the shock of the night sky are nothing short of majestic. Then, there's the food and cocktails, which are of equal excellence; expect traditional yet seasonal small plates and cocktails, like succulent cuts of steak, artful salads, and an espresso martini that'll rev up even the sleepiest of patrons. 4 Saints, with its views and generous hospitality, has an innate elegance to it — after all, what could be more beautiful than watching the desert sun set over a medium rare steak served with Béarnaise sauce?
100 W Tahquitz Canyon Way, Palm Springs, CA 92262
Lambchops at The Farm.Layla Halabian
The Farm's bottlebrush tree.Layla Halabian
Dusk at 4 SaintsLayla Halabian
Dinner at 4 Saints.Layla Halabian
Cocktail options at 4 Saints.The Rowan Palm Springs
The Tropicale
Neon pink, palm trees, boozy drinks, and plenty of shade — The Tropicale feels like the quintessentially kistchy Palm Springs establishment. Stop by for their generous happy hour and stay through the evening if the mood strikes you. It's great for bigger groups and even better for people watching.
330 E Amado Rd, Palm Springs, CA 92262
Where To Explore
South Lykken Trail
In the event that you're the type of person who "loves nature" and wants to spend their precious relaxation time trudging through the desert, Palm Springs can make that happen. The South Lykken Trail offers spectacular views and switchbacks; flora enthusiasts (or anyone who wants to take a good photo) will be satiated with the trail's wildflowers and cacti. Bighorn sheep may even make an appearance along the ridgeline, and if not, know that after climbing 756 feet there's a flat sandy area with tables perfect for a dreamy picnic spot.
South Lykken, Palm Springs, CA 92262
The start of the South Lykken Trail in Palm Springs.Visit Palm Springs
Mountain views from around town.Layla Halabian
Agua Caliente Casino Palm Springs
If you're itching to burn money at the speed of light, head over the Agua Caliente Casino. Even if you can't smoke inside anymore, the packed casino's icy AC will be a much-appreciated reprieve from the desert heat. And hey, you might even win big.
401 E Amado Rd, Palm Springs, CA 92262