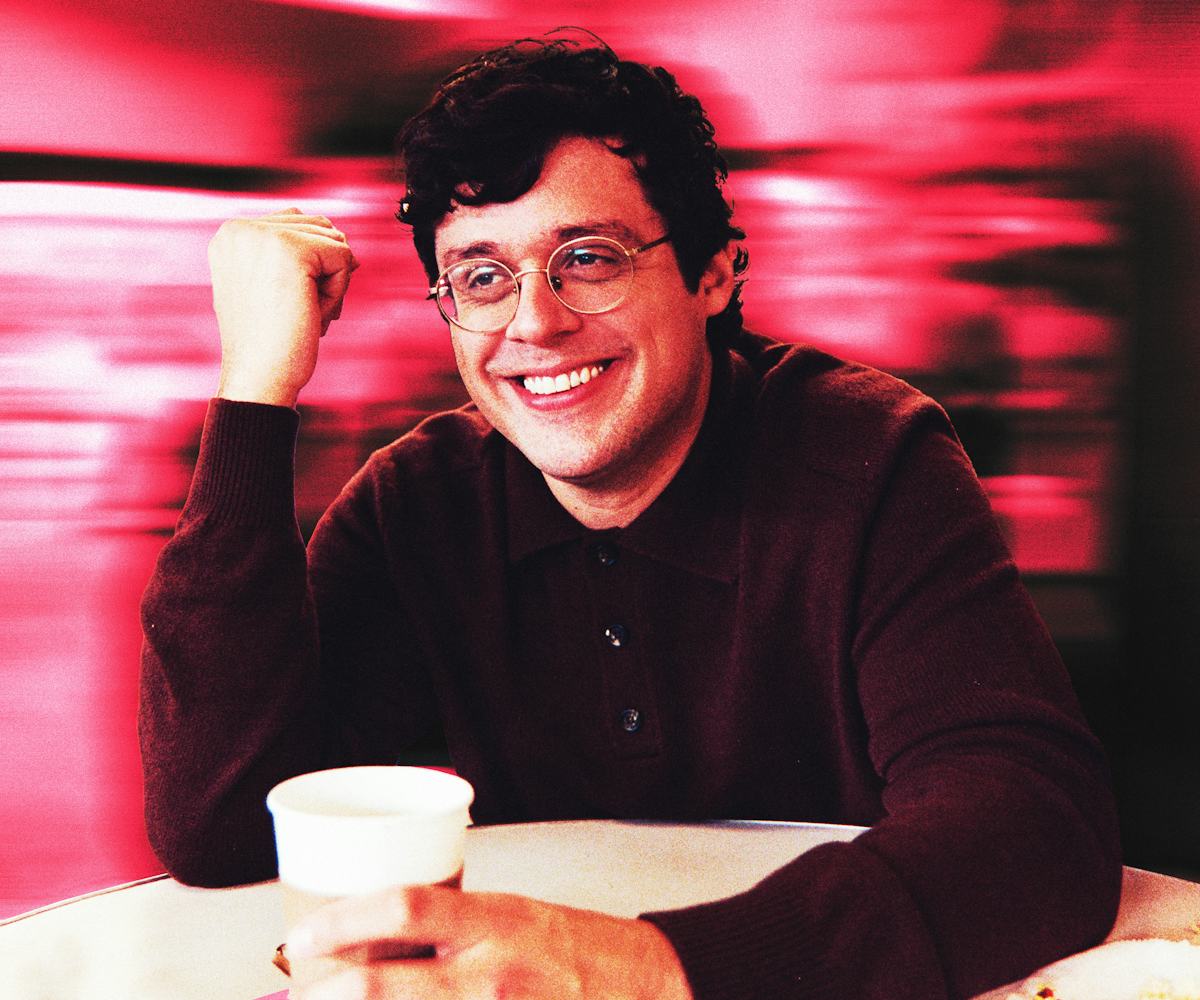 Nylon/Sela Shiloni
Paul Briganti & Please Don't Destroy Made The Silliest Film Of 2023
The Saturday Night Live alum talks directing the laugh-out-loud comedy Please Don't Destroy: The Treasure of Foggy Mountain.
Paul Briganti is approaching the promotion of his first feature film in a tried and true manner: by making fun at himself. On Instagram, he shares a mock cover from Your Friend Got A Publicist Magazine, where he sits as its beaming cover star surrounded by investigative reporting like "Why Is Your Friend In A Bunch Of Articles And Sh*t All Of A Sudden?" and pressing cultural criticism like "50 Questions With Emily Ratakjowski." It's not a totally unexpected move from Briganti, a seasoned comedy director who's worked on revered shows like At Home With Amy Sedaris, Crazy Ex-Girlfriend, and Saturday Night Live — and now, Please Don't Destroy's official jump from television to film, Please Don't Destroy: The Treasure of Foggy Mountain.
Briganti grew up in Connecticut, in the "one town that's not nice." He's not like other Connecticut boys; in fact, it wasn't until his days at SNL that he experienced the state's famed upper crust. "An SNL producer had a party in Connecticut a couple summers ago and I was just like, oh my God, what is this place? I had never seen anything like that when I was growing up," he says. "It was just a bunch of Dunkin' Donuts and gas stations where I grew up."
In this typical American suburbia, Briganti was a self-described lonely kid. And like many textbook quiet kids before him, he eventually found his niche and ambition in high school, where he fulfilled the archetype of becoming the "annoying kid who has a camera and is always making movies." Briganti and his friends would watch films and make their own comedy videos, rinse and repeat; it was the type of creative work ethic he continued during his time at SNL, most especially when three young writers eager to air their own digital shorts joined the staff: Ben Marshall, Martin Herlihy, and John Higgins, aka Please Don't Destroy, the group who resuscitated SNL's moribund corpse with viral, off-the-wall absurdist digital shorts.
Briganti immediately recognized what the trio were about long before they became an asset to SNL's top brass. "They were the younger version of that. I would make long movies and they would make YouTube videos when they were young, and then they would eventually make TikToks," he says. "We had this similar experience, but just delayed by 10 years."
Briganti and the boys overlapped for three months at SNL before he moved to Los Angeles, which was long enough for him to work with them on their first sketch to air — a satire on the saturated hard seltzer market, which included flavors ranging from Belts and Ties to Men's Jackets from JCPenney to a Jiffy Lube variety pack. The collaboration was a success, and opened the alliance to a bigger project; the boys had been working on a feature film, and they wanted Briganti on board as the director.
Briganti was drawn to what became Please Don't Destroy: The Treasure of Foggy Mountain for two reasons: mainly, it was a laugh-out-loud script, but within the inanity — which includes a hidden treasure, a cult in the forest, and a deus ex machina wild hawk — was the grounding bittersweetness of friendships at a crossroads. Ben is trapped in a Succession-like loop of proving himself to his perfectly-cast father, the fellow willowy ginger comic Conan O'Brien; Martin wishes to be chaste enough for his devout girlfriend; and John questions societal milestones while wondering why they can't all continue to live together in the same house for the rest of their lives.
Briganti related to the looming feeling of change that moved the story forward. He'd lived it himself during his twenties, when friends coupling up or excelling in their careers promulgated a mild sense of panic. "It gets weird and this crisis happens, but then you realize that that's okay and it's not a threat," he explains. "I was really interested in that because the guys were sort of going through it in real time. Their lives had been changed. They were on camera at SNL. I was really interested in that aspect of the story and figuring out what that meant, how to merge it with this kind of just silly, over the top fun, big hyperreal comedy."
Ahead, Briganti talks to NYLON about working with Conan O'Brien, the unique physical demands of shooting The Treasure of Foggy Mountain, and a friendly round of "F*ck, Marry, Kill."
This interview has been edited and condensed for clarity.
What was it about the script that spoke to you and made you want to come on board?
[Please Don't Destroy] sent me the first draft of the script and it was really, really funny. There were so many things that made me laugh. I also saw a sweetness in there that you can pull out. Actually, a big thing that I connected to was how it's about this time in your life when you're out of school and you're in your twenties. It's the first time in your life when your friendships have to deal with success and jobs and money and the economy.
When I was in my twenties, I was really trying to do as many things as possible, trying to do as many comedy or directing things as possible. I had a friend group and we were really tight, then one of us got hired at Fallon. Everyone's kind of like, Ah! It gets weird and this crisis happens, but then you realize that that's okay and it's not a threat.
These first hurdles of adulthood can either be opportunities to grow together or close the chapter on a friendship.
There are friends that I had at that age where we're not close anymore. Then there's also friends that I fell out with and now we're best even better friends. It's a real, interesting struggle. John's character who asks, "Why are we f*cking doing this sh*t? Why are we trying to get jobs that we don't like? Why are people rushing into things?" That's a big thing. I think people think just because we're getting older, we have to compromise who we are. That was something that was interesting to me about John's character, but also it's kind of immature and sort of annoying at the same time to be like that.
Along with the Please Don't Destroy boys, the cast also stars Meg Stalter, Bowen Yang, and most crucially, Conan O'Brien. I'd love to hear more about working with him.
It was so surreal at first. Working at SNL, you're kind of thrown into a lot of situations with a lot of intimidating people. I was used to that, but this was so different. This was when it's someone you revere and respect. Not even just respecting their work, but their life choices, everything. When he left The Tonight Show, I was like, Holy sh*t, this is a real artist. He was so good and so giving and so funny. He comes alive when there's people around. He can talk to them and make fun of them, and he makes fun of himself. When you're at SNL, you see the best and worst of famous people and what they want to do and what they will do. He was the best by far of anyone that I've ever worked with who's big and famous.
I read that Conan was giving out a lot of advice on set. Did he tell you anything in particular? Did you glean anything important to change your life?
My wife and I were pregnant with our baby at the time of shooting, which was nuts. Everyone was asking about comedy stuff and I was just asking about being a dad. He was just like, "The most important thing is to make sure you stay true to yourself and know that they're always absorbing lessons even if you're not giving them to them." That was really special.
He also talked about how when he had his kids, he was on Late Night and there was more of an expectation to be at work when you had kids, and now there's not. He very much appreciates that now and was annoyed that it wasn't like that back then. For especially men, it was a weird, f*cked up, badge of honor back in the day if they went to work the next day, which is insane.
ANNE MARIE FOX/PEACOCK/UNIVERSAL STUDIOS
Foggy Mountain is surprisingly action-packed. Was shooting as physical as it seems? There was a lot of climbing, running, and even more flying around.
It was pretty hilariously difficult. They're very strong boys. They obviously have very strong physiques, so it was nothing for them, but it was nuts. There's that scene where Ben is flying like a kite. He was actually suspended 30 feet in the air and there was a wind blasting. It was probably 105 degrees. Judd Apatow would tell us, "This is why I love making movies with people who've never done it before. You're too dumb to know what sucks."
It's true: You're too naive to know, so you kind of just go for it and push yourself to this insane degree, but those guys do that anyway. It would also thunderstorm all the time. There were ticks and snakes. Luckily, no one got injured or anything. We had a really good stunt coordinator, Monique, and it was very carefully done, but it was difficult. It was not an easy shoot, but it was really fun.
I'm imagining a whiteboard that says "Zero days without contracting lyme disease."
I would not recommend what we did at all. There was one week deep in August when we were shooting the scene before the throat punch scene. They're just standing off with Meg and X Mayo, and we had to shoot that over three days. It was such a simple scene, but it kept raining in the middle of when we were shooting. It was so annoying that we had to keep going back to get this very quick moment in between two other scenes.
Was there a north star in terms of films that guided you while you directed Foggy Mountain?
I really pride myself in being a fan of filmmakers. I've always really loved Steven Soderberg. I think he's a really unique filmmaker, a lot of things he does are really funny. I also was a huge fan of Nora Efron and James L. Brooks movies when I was a kid, which was funny to be obsessed with adult-themed, complicated relationship movies.
I also grew up really loving Wet Hot American Summer. That was one of my favorite high school movies. That's something that I really hope this becomes: just watching something with your friends. I know things are so different now with phones and everything, and there's not that type of culture as much where you go over a friend's house and they're like, you've got to watch this movie. Wet Hot American Summer was a really amazing movie to watch. It's so goofy, but it has a very satisfying arc for the characters.
I know you're working on a new film. What can you tell me about it?
It's like Back to the Future meets a Nancy Myers movie meets Tootsie. It's New York in the seventies, a big colorful romance and time travel comedy. It's kind of nuts, but it's a big movie that would be really fun to do. I'm directing and co-writing it with my friend Cassie Miller, who's a really great, hilarious writer.
Finally, I have an extremely stupid, but fun question. Between Ben, John, and Martin, who would you f*ck, marry, kill?
Oh sh*t. That's a great question. Oh man, I don't want to kill anyone. They're going to be so bummed when I kill one.
You can just injure one.
I'm actually thinking about it. I would probably f*ck Martin because he's unpredictable. I would probably marry Ben because he's domestic and sweet. I would kill John because I think the other two guys would feel more upset if I said I'd kill them. I would kill him by default, even though I wouldn't want to kill him.
Thankfully, in this reality, no one's actually dying.
I'm taking it way too seriously. I actually think it's real. I actually think I'm going to have to kill one of them.
'Please Don't Destroy: The Treasure of Foggy Mountain' is streaming now on Peacock.