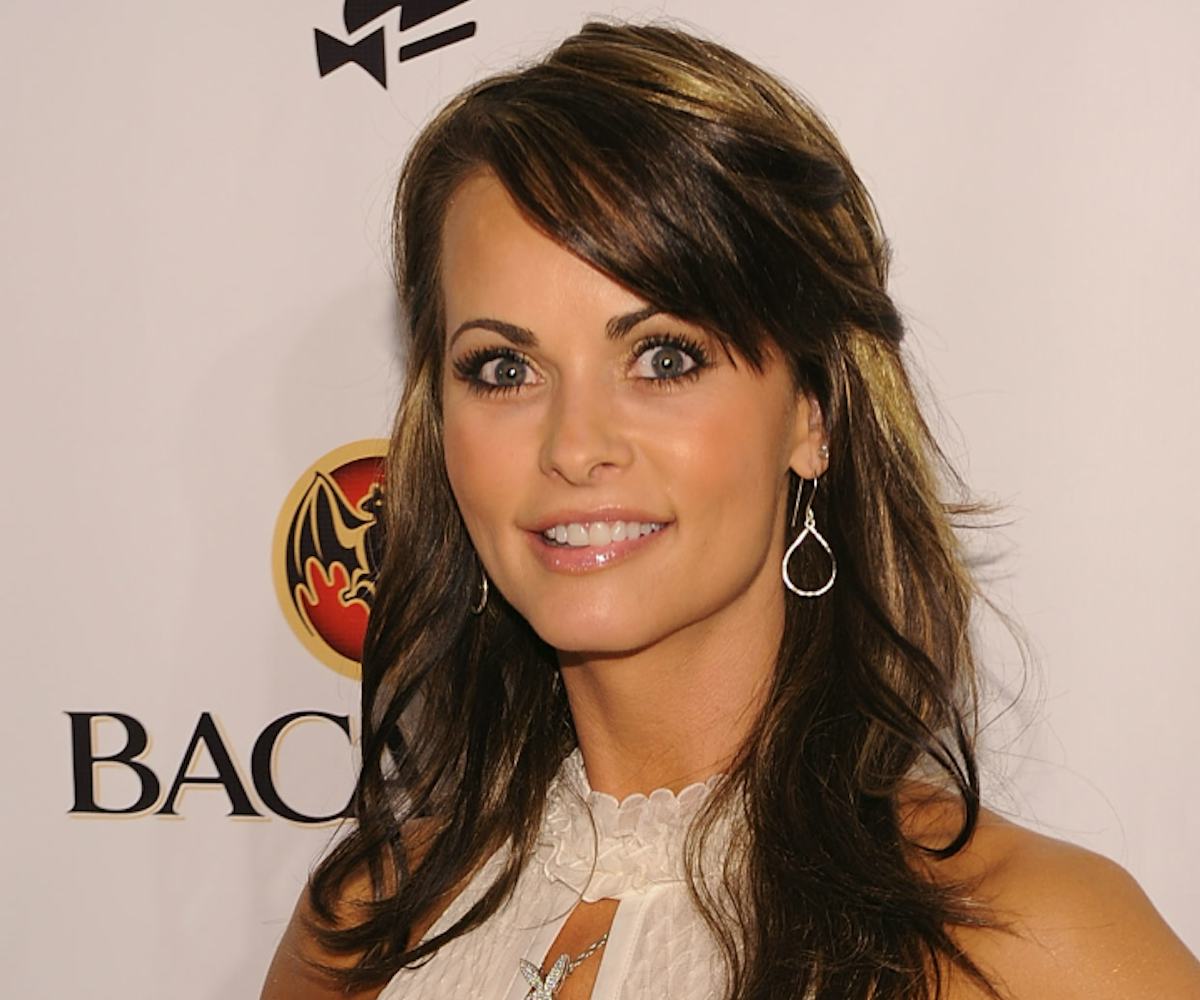 Photo by Dimitrios Kambouris/Getty Images for Playboy
Former Playboy Model Karen McDougal Alleges She Had An Affair With Trump
And reveals how it was covered up
In a new report for The New Yorker, Ronan Farrow—who broke the story on the sexual assault allegations against Harvey Weinstein—speaks with former Playboy model Karen McDougal about an alleged affair with Donald Trump and how it was subsequently covered up.
Trump met McDougal while filming an episode of The Apprentice at the Playboy Mansion in 2006 and the two began an affair, which she detailed in an eight-page document provided to The New Yorker. At the time of their relationship, Trump had been married to his wife Melania for less than two years and their son, Barron, was a few months old. 
In order to get away with this, McDougal explained, Trump and his allies used payoffs and complex legal agreements to keep everything out of the press. Sometimes there would be multiple relationships carried out simultaneously. 
Part of the cover-up included Trump's "personal friend" David Pecker, the CEO of American Media Inc., which publishes The National Enquirer, buying the exclusive rights to McDougal's story in 2016 and then never running it—what's referred to as a "catch and kill" in the tabloid world. While AMI promised McDougal an aging and fitness column in the agreement, among other things, it never came to fruition. 
Now, the former model regrets signing the contract. "It took my rights away," she said. "At this point I feel I can't talk about anything without getting into trouble, because I don't know what I'm allowed to talk about. I'm afraid to even mention his name."
Trump has denied McDougal's claims via a White House spokesperson. "This is an old story that is just more fake news," they said in a statement. "The President says he never had a relationship with McDougal." 
And AMI told The New Yorker that it never ran McDougal's story because it didn't find it credible, and that an amendment to her contract allowed her to "respond to legitimate press inquiries" concerning the alleged affair with Trump. 
"Even though they're just tabloids, just rags, it's still a cause of concern," Maxine Page, who worked at AMI on and off from 2002 to 2012, told The New Yorker. "In theory, you would think that Trump has all the power in that relationship, but in fact Pecker has the power—he has the power to run these stories. He knows where the bodies are buried."
What's more, a lot of details from McDougal's story match up with other women who've alleged they've had relationships with Trump or that he sexually abused them. McDougal and Trump spent time in the same private bungalow at the Beverly Hills Hotel where he allegedly assaulted former Apprentice contestant Summer Zervos. It's also the same bungalow where he and former porn star Stephanie Clifford, aka Stormy Daniels, allegedly ate dinner and watched "Shark Week." Trump has denied these claims. 
Trump also compared both McDougal and Clifford to his oldest daughter Ivanka, according to their stories, and he liked to look at magazines with himself on the cover. 
McDougal eventually ended her relationship with Trump after nine months, because "she couldn't look at herself in the mirror anymore," her friend, John Crawford, told The New Yorker. 
There were also moments where Trump, being himself, deeply offended her. For instance, he remarked that one of her friends "liked the big black dick," and referred to her mother as "an old hag." (Her mother and Trump were around the same age.)
Once the news broke of Trump's alleged affair with Clifford, AMI was interested in McDougal again, and offered to extend her contract. Crawford believes it's because "they got worried that she was going to start talking again, and they came running to her."
McDougal admits she finds the company's relationship with Trump troubling. "Someone in a high position that controls our country, if they can influence him," she said, "it's a big deal." 
While she fears retaliation from the media company for speaking out, McDougal said the #MeToo movement prompted her to come forward. "Every girl who speaks," she said, "is paving the way for another."