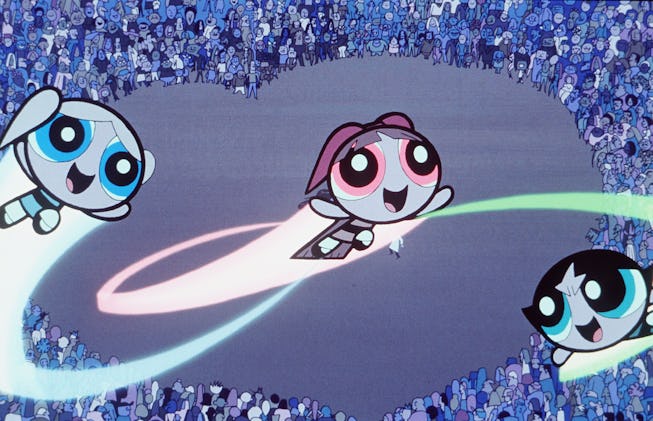 Cartoon Network/Warner Bros/Kobal/Shutterstock
Powerpuff Girls Is Getting An Animated Reboot
Blossom, Bubbles and Buttercup return!
Nearly 20 years after the Powerpuff Girls saved the city of Townsville for the last time, the story of everyone's favorite crime-fighting kindergarteners is being resurrected again — this time, by its original creator.
This isn't the first, or even the second time Powerpuff Girls has been dusted off. Cartoon Network rebooted the series in 2016, airing 119 episodes over three seasons, to less than rave reviews. But unlike other reboots, this one is helmed by Powerpuff Girls and Foster's Home for Imaginary Friends creator Craig McCracken, a Cartoon Network auteur who helped define many a childhood. Both series are currently in development by Hanna-Barbera Studios Europe.
According to the Hollywood Reporter, the Powerpuff Girls reboot will follow revisit and expand on the original premise, while Foster's Home for Imaginary Friends will feature a new cast of lovable monsters. Fingers crossed the girls don't try to stop any crimes relating to contemporary issues like a rapidly heating Townsville...that town can't afford to be under siege by Mojo Jojo and global warming. But McCracken's Powerpuff Girls was high brow for an animated series in 1998, and I don't doubt he'll be able to bring that same satire and wit into the 2022 version of the story of three, lovable, unlikely superheroes created in a lab.
"The Hanna-Barbera homecoming of Craig was an opportunity we could not pass up," said Sam Register, president of Cartoon Network Studios, Warner Bros. Animation and Hanna-Barbera Studios Europe in a statement. "Along with his unparalleled sense of fun and imagination, he's bringing two of his greatest works in the Powerpuff Girls and Foster's Home for Imaginary Friends, and we are so excited for these characters to be a part of the new legacy taking shape at the studio."
Hanna-Barbera is, famously, an animation studio, responsible for such gems as The Flintstones and Yogi Bear. Plus, there's already an ill-fated live-action "high-concept" reboot of the Powerpuff Girls, where Blossom, Bubbles and Buttercup are disillusioned 20-somethings who resent losing their childhoods to fighting crime. It's a concept as intriguing as it is off-putting, but nevertheless Juno and Jennifer's Body director Diabo Cody wrote the pilot and it was, in fact, shot. However, the show was overhauled and reshot last year after the pilot was thought to be "too campy" by CW execs, a network famed for being exactly that.
It's unclear what stage the project is in now. In a February 2022 interview with ComicBook, Dove Cameron, one of the show's stars, was vague about its status.