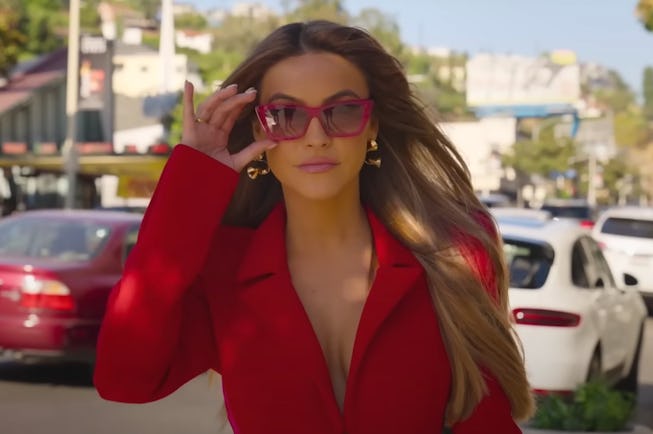 Netflix / Screenshot
Selling Sunset Season 6 Trailer: LA Real Estate May Have A New Villain
"I know people think I'm having a midlife crisis, but I'm having an awakening."
It's been nearly a full year since Netflix hit series Selling Sunset's dramatic Season 5 end, when we had to say goodbye to Christine Quinn and hello to the possibility of a show about stiletto-wearing real estate agents where the most exciting drama is who gets to sell a multimillion dollar house to Taye Diggs. Quinn was the show; the lightning rod from which all the drama stemmed. And while the prospect of the series without her is a sad one, the show must go on — and now, Netflix gave us the official trailer and a look at a Christine Quinn-less season.
The trailer teases a whole new slew of rivalries and friction-filled plot points, including a possible promotion for Mary, Chrishell cashing big listings checks and lip locking with G Flip, new agents including Brei Tesei and Nicole Young, and Chelsea's Christian faith intending with the cattiness.
In the teaser trailer, we saw Chrishell Stause in the middle of a metamorphosis — one that began with the very public divorce from Justin Hartley in Season 3 after he allegedly broke up with her over text message. Stause ended last season in a tearful breakup with Jason Oppenheim, before entering a public relationship with the musician G Flip, one that included Stause being the hot music video girlfriend for the Australian rapper's "GET ME OUTTA HERE."
"I know people think I'm having a midlife crisis, but I'm having an awakening," Stause says in the trailer. Amen sister.
In the teaser and the official trailer, we were also introduced to the Oppenheim Group's two new agents: Nicole Young and Bre Tiesi, whose #GirlBoss attitudes seem to fit right in with their coworkers — perhaps paving the way for some competition. "I have $100 million in sales and counting. If someone were to get in the way of that, there's going to be an issue," Young says in the teaser.
Tiesi, on the other hand, just had a baby with Nick Cannon, and explains that she's "kind of a mirror." (I feel that.) "Whatever you give me is what you're going to get. I mean business; I'm here to f*ck this up," she says.
Along with Quinn, Vanessa Villela, who appeared in Seasons 4 and 5, also exited Season 6. But otherwise we'll be seeing the return of all our favorites: Heather Rae El Moussa, Mary Fitzgerand, Amanza Smith, Chelsea Lazkani, and Emma Hernan will all be returning, in addition to Stause.
It's not totally clear how the vibes are going to be in the wake of Quinn's exit. In the teaser, Mary says she doesn't think she will really miss her longtime friend. "It's probably for the best that she's gone," Fitzgerald says. It's also unclear how Stause and Oppenheim's exit from their relationship will affect the show. Breakups are awkward for everyone — especially if you share a Sunset Boulevard office, and if that office is also on TV.
"I thought that things would get easier for me in season six and seven," Oppenheim told PEOPLE. "I would argue that it's been the opposite. I feel more pressure to handle some pretty difficult situations. It's been a very taxing few months."
Season 6 of Selling Sunset premieres Friday, May 19 on Netflix. You can watch the official trailer below:
This article was originally published on