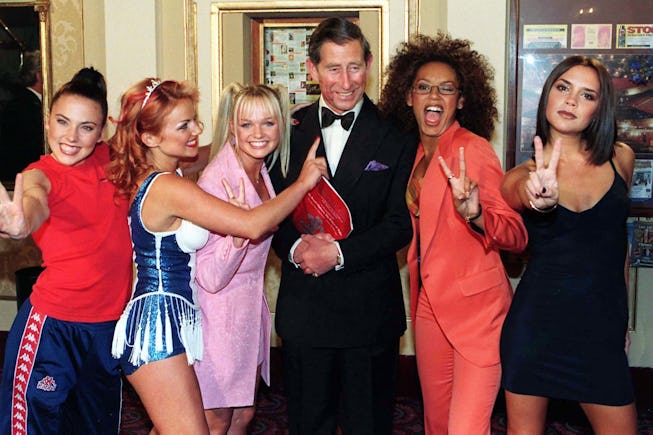 Tim Graham/Corbis Historical/Getty Images
Spice Girls May Reunite For King Charles' Coronation
It's only fitting that girl group royalty perform for a royal audience.
There are few cultural events seismic enough to resurrect a legendary, long-retired musical group; one of these events is the Queen of England herself dying, and the new leader of Britain being sworn in. It's been rumored that pop icons the Spice Girls — including Victoria Beckham — will perform as a five-piece as part of a royal concert amid a three-day celebration for the coronation of King Charles III between May 5 and 8. (Finally, a rumor from the royals that's not centered around Prince Harry's memoir, Spare.)
"Royal organizers are super keen to secure Britain's biggest girl band and the Spice Girls are seriously pondering a return to the stage as a five piece for such a historical event," a source told The Sun. "There is a general sense that a reunion could happen for something this significant. Mel B and Mel C are the ring leaders in the group, trying to make it happen."
It would mark the first time all five Spice Girls — Sporty, Ginger, Scary, Baby, and Posh — have performed together since the 2012 London Olympics closing ceremony. "Certainly the reality is that the Coronation is as special as The Olympics — a one-off celebration and unique performance," sources told The Sun.
It won't be the only reunion occurring: The Spice Girls have met Charles III on many an occasion throughout the group's career. The group made such an enormous impact on the Royal Family that Prince Harry even talked about them in his memoir. He describes his father "nodding to the beat and tapping his foot" at a Spice Girls concert, which was also his first public outing since his mother's funeral. Stars: They're just like us!
Mel B teased a Spice Girls announcement on Sherri Shepherd's talk show last week, telling Shepherd: "Now we're talking about doing something together, and fingers crossed it will be announced very soon...very, very soon!"
But in October, Victoria Beckham told Andy Cohen she "couldn't commit" to a tour, but would consider a hologram being created in her likeness. We'd take a hologram tour at this point — but if a new king isn't enough clout to bring all five Spice Girls together, it's hard to believe anything is, so fingers crossed for a confirmation soon.