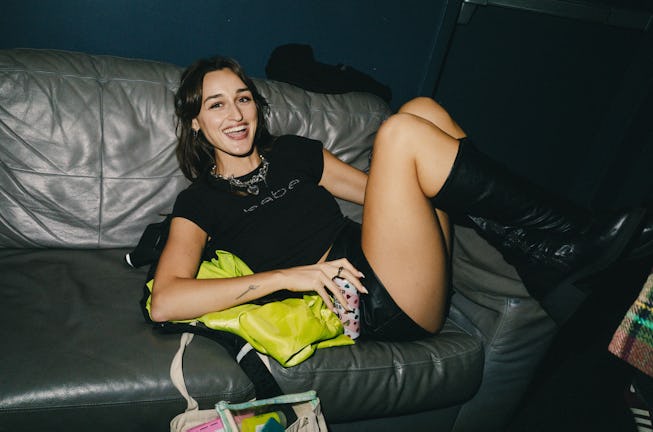 Comedian Stef Dag Manifested This Article
Introducing the New York-based rising star comedian and star of Hot And Single.
Stef Dag is a girl about town. You might have seen her interviewing single people for Hot & Single, the weekly Instagram series from Overheard NY of which she is the hot, fearless, and (formerly) single host. Or you may have seen her doing standup at the NY Comedy Festival, Edinburgh Fringe Festival, or watched one of her viral flowcharts about the art of nude-sending or for her viral TikTok videos, where she interviews men about female anatomy. (It goes as poorly as you think it does.) If the comedian's rise to fame is as swift as it's been in the last year, you'll soon see her in a lot more places. (Like a Nathan For You-style show she's working on. Or if you're single, perhaps asking you vaguely invasive questions on a park bench in Brooklyn.)
But for now, Dag and I are at The Lot in Greenpoint, where over plastic cups of rose, we talk about everything from what color she should dye her hair to how a year ago she added a NYLON article to her manifestation list (there's photographic evidence). Dag has a kind of chaotic neutral older sister energy — the kind who will tell you to absolutely not hook up with your ex, but will understand if you want to do it anyway.
"Being a girl is absolutely absurd. It's demented," she says. "You'll never run out of things to talk about. But that is also another thing of being a woman in comedy is you're like, I hope I don't get pigeonholed also as the girl comedian. A struggle I have is like, am I a comedian for girls or am I just a comedian? I think my Instagram breakdown is like 51% women. I'm like, alright I got some boys. They may want to kill me, but I have boys in the mix. No hot guys though."
Dag may be inspired by the accessories of girlhood: pre-party rituals and manifestations, or the lure of Botox (which she explores with her sketch comedy group Text Me Back, with the comedians Gabby Bryan and Savannah Deso). But her standup comedy flirts more with dark humor. She has a theater kid-like shamelessness that serves her well in crowd work and her jokes run the gamut of everything from Anthony Jeselnik-style "I can't believe she just said that!" jokes about baby showers to open, long distance relationships.
"I want to make comedy that's funny because it's f*cking funny and it resonates with people," Dag says. "I'm a girl, so my experiences that I cherry pick are gender involved, but I literally just want to be f*cking hilarious. I want to be Nathan For You, Borat, the people that I've always thought were so funny and ridiculous and are unapologetically almost not making a point."
It's working.
A little over a year ago, Dag was working at Condé Nast, where she was directing video shoots for celebrities — but she always wanted to be in front of the camera, not behind it. She pitched an idea to Overheard NY to produce and host a roast of New York City, which would be a comedy show with 20 to 30 comedians. Instead, they asked if she wanted to come work for them, where she helped develop and host Hot & Single, which premiered in February and already has more than 95,000 followers on Instagram, and 260,000 on TikTok
"Being a girl is absolutely absurd. It's demented."
And though she's been working in the entertainment industry for the last eight years, Dag's audience has only recently exploded — going from about 4,000 followers to 60,000 followers in the last year. Now, it's not uncommon for people to recognize her on the street a half dozen times a day.
"Last year I remember feeling like things were about to happen. As a creative, you always feel like nothing happens and you get numb to it. But my life is completely different now than it was a year ago in a way that it feels embarrassing to say it," Dag says. "What I've become to be known as is the Hot & Single girl and that show is so airy and flirty and whatever, which is a part of me. But I think if you look at anything else I do, there's such a dark sort of existential freaking out about everything. I hope that's what propels me in the next chapter."