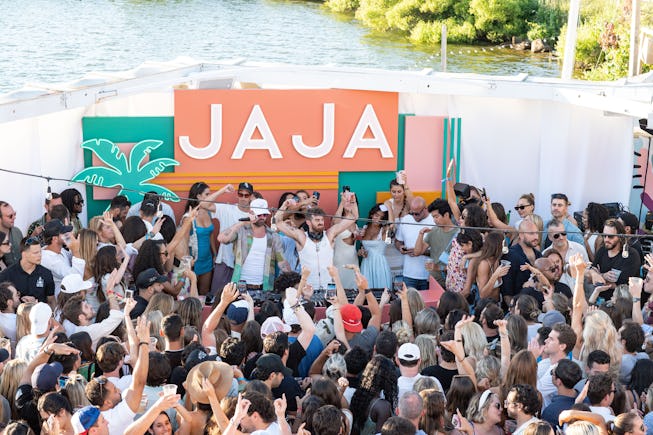 Courtesy of The Surf Lodge
The Surf Lodge's Summer 2023 Concert Series Has A Stacked Lineup
The Montauk destination venue celebrates its 15th anniversary this year.
Tucked into eastern Long Island in Montauk, the Surf Lodge is the "if you know you know" of summer concert series.
In the last decade and a half since the hotel and small beach venue opened its doors, everyone from Solange Knowles to Courtney Love have performed. This summer promises to another slew of performers that will make the Hampton Jitney ride worth it.
Aloe Blacc, Busta Rhymes, ARIZONA, DJ Cassidy, Blondish, Lauv, DJ Pee Wee of Anderson Paak, Fisher, Lauv, and more are confirmed for this year's Surf Lodge lineup, the venue announced on May 24. The concert series runs as long as the unofficial Hamptons season, from Memorial Day to Labor Day, or May 26 through September 4.
"We are thrilled to bring such a wonderful and talented group of musicians to The Surf Lodge and Montauk community this summer," Says Jayma Cardoso, Founder and Creative Director of The Surf Lodge Brands. "Music is deeply rooted in our DNA, and I am excited to welcome back many of our favorite returning acts along with several new ones while we celebrate our 15th Anniversary."
Below is the complete line-up for the summer music festival. You can purchase tickets here.
Friday, May 26 — Fisher
Saturday, May 27 — Hayden James
Sunday, May 28 — Purple Disco Machine
Friday, June 2 — SG Lewis
Saturday, June 3 — Coco & Breezy
Sunday, June 4 — Corinne Bailey Rae
Friday, June 9 — Le Youth
Saturday, June 10 — LP Giobbi
Sunday, June 11 — Lauv
Friday, June 16 —Disco Lines
Saturday, June 17 — Busta Rhymes
Sunday, June 18 — Jake Wesley Rogers
Sunday, June 25 — Ry X
Sunday, July 2 — DJ Cassidy's Pass The Mic ft. Special Guests
Friday, July 7 — Moojoo
Saturday, July 8 — St Lucia
Monday, July 10 — John Craigie
Saturday, July 15 — Thomas Jack
Sunday, July 16 — Anna of the North
Friday, July 21 — Aloe Blacc
Saturday, July 22 — Bob Moses
Friday, Aug 4 — Monolink
Saturday, Aug 5 — DJ Pee Wee of Anderson Paak
Sunday, Aug 6 — Donavon Frankenreiter & Devon Allman
Saturday, Aug 12 — Night Tales
Sunday, Aug 13 — Emotional Oranges
Friday, Aug 18 — Snakeships
Saturday, Aug 19 — Cassian
Saturday, Aug 26 — Elderbrook
Sunday, Aug 27 — ARIZONA
Saturday, Sept 2 — Blondish
Monday, Sept 4 — Quinn XCII