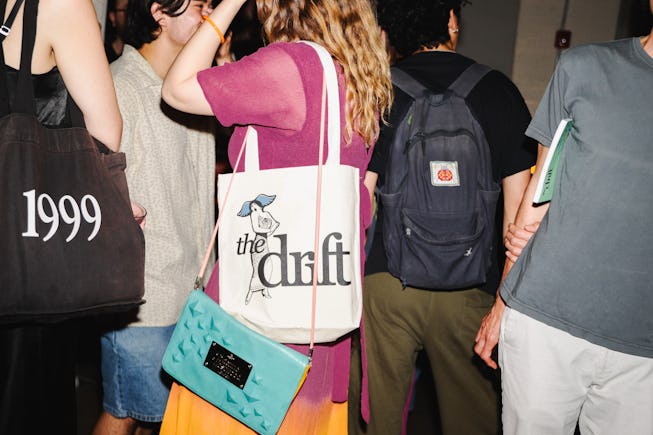 Bre Johnson/BFA.com
The Drift, The Big-Brained Magazine That Really Cares
The Drift founders Kiara Barrow and Rebecca Panovka on three years and 10 issues of the magazine.
In the three years and 10 issues since The Drift, the New York City-based culture, politics, and literature magazine, was founded, there have been myriad profiles highlighting the work of Kiara Barrow and Rebecca Panovka, the NYC-bred, Harvard-educated friends who started what The New York Times called "the lit magazine of the moment" in 2022. These articles have focused on how serious The Drift is (quoting David Remnick, who is a fan) as well as a handful articles highlighting its unseriousness (aka dispatches from their parties, which, despite a Boerum Hill mother dialing 911, are pretty wholesome). But after spending an hour and a half with Barrow and Panovka at Long Island Bar in Cobble Hill the week before the release of their 10th issue, I think what is special about The Drift is that it takes things as seriously as they need to be taken — as refreshing a way to look at ideas as our gin gimlets on the hot July night. The magazine is not so much a new hivemind of young people trying to challenge the status quo for shock, nor does it want to be the next New Yorker, nor is it concerned with making literary events fun. In fact, it didn't start throwing parties until it was explicitly advised to. What The Drift is most interested in expansion: growth of writers, of readers, of thought.
Publishing, in 2023, seems to be largely guided by concision: short articles written by increasingly short staffs. But The Drift is a capital-M magazine that publishes rigorously argued and edited essays of unseen lengths for the modern attention span, largely by emerging writers. The Drift is printed proof that there still is not only an appetite for gutsy, exploding-head arguments that cannot be beholden to 280 characters, but a gnawing hunger for them.
"You can have serious ideas written in a rigorous way without taking yourself incredibly seriously," Panovka tells NYLON. "Magazines don't need to be incredibly esoteric. In fact, a lot of people are actually interested in ideas and want to read them, and you don't need to shut out half your audience. You can also have a sense of humor and not hide behind theoretical language, but present your argument about the world. … Because actually, we are in a moment where a lot of things have changed really quickly. We actually do need to examine a lot of what's happened and talk about it and think through what's changed and what should change."
It's a lot easier to divorce yourself from the harbingers of societal collapse that get louder every day; it's easier to shrug and say "Oh, everything is crazy!" The Drift wants to help ward off the tempting reactions of nihilism and apathy; it wants to make you think; to sculpt ridges in your brain. It's harder and more interesting to critically interrogate dominant ways of thinking, changing your mind is a gift that feels more and more elusive.
"People really do need help thinking through some wild changes over the last few years," Panovka says. "To take nihilism and apathy as a starting point. To say: 'What if we did care?'"
The Drift has certainly drummed up enough hype for people to care. At a party for the release of its eighth issue last fall, a neighbor called the cops. When the police arrived, they couldn't believe the party that had spilled out into the street was for a literary magazine. "Congratulations," the cop said and left. There were lines to get in at the parties for the following two issues I attended in the winter and last week — and though hundreds of people came to Gowanus to drink $17 glasses of wine and sweat, the energy at these parties isn't club kids who like to read; it's readers who like to talk. There's a collective roar echoing while Dean Kissick and Delia Cai chat at the bar; I wave to author Matthew Binder across the crowded bar; a MoMa worker points some hot guys out to me and my friend Sam Leach; I overhear a guy in thick glasses tell a guy, also in thick glasses: "She's a smart person who acts dumb," and I wonder who they're talking about. A particular highlight is when the DJ, Ludwig Hurtado, an editor and producer at The Nation, plays "World Class Sinner/I'm a Freak," the propulsive, sensual accidental earworm song of the summer and the only good thing to come out of HBO's The Idol.
Bre Johnson/BFA.com
Bre Johnson/BFA.com
Bre Johnson/BFA.com
Bre Johnson/BFA.com
Bre Johnson/BFA.com
In the beginning, Barrow and Panovka didn't know what the magazine was going to look like
exactly. But something other than aesthetics was guiding them: a mission. So The Drift began with a well-edited email soliciting pitches, which is still largely still the mission statement: "The Drift aims to introduce new work and new ideas by young writers who haven't yet been absorbed into the media hivemind and don't feel hemmed in by the boundaries of the existing discourse," the site reads.
"We didn't come into it thinking about it as a magazine. We came into it thinking about it like a set of ideas we wanted to put out into the world," says Panovka. "Over the course of a year working on these pieces, we figured out the form those ideas can take."
Those ideas, it turns out, were mostly going to be 3,000- to 4,000-word long-form essays — a shockingly high volume of ink to be spilled in this publishing landscape. It took longer to figure out the magazine's structure: if it would have sections, what they would be, how much fiction and poetry to include, if at all. They knew they didn't want arbitrary sections to fill space. And because much of Issue 1 had been written before the pandemic, they simply made the sections "About the Pandemic" and "Not About the Pandemic," and that "see what sticks" ethos has continued to guide some of the magazine's structure. The table of contents, for example, consists of inside jokes, labels that are made up after the fact. (In Issue 10: "Saving Face" and "Face Value.")
"And sometimes people come up to us and are like, 'I really loved this section,'" Barrow says. "We're like 'Oh! ... It's all a game for us.' What kind of silly categories can we make? It's that sort of work."
But what was always a part of The Drift was its rigorous editing process, helmed by Barrow, Panovka, and a hive of editors, a zoo of animal avatars in Google Docs working overtime to ask tough questions. Everything starts from an idea or pitch and goes through many rounds before the piece is even greenlit, Panovka says, which is followed by many, many drafts.
"We hear this a lot from writers, and writers will just tell us: 'This is the most intensive editorial process I've ever had.' This is what we hope we have to offer people, is that experience and that attention and taking their work seriously," says Barrow. "It's so hard for young writers to get their work taken seriously."
By the final draft, at least four Drift editors will have worked on a piece; everyone will have added input and helped to refine the piece and the argument. It's one of the reasons why the magazine can make such bold arguments — whether it be pushback on the Green New Deal or an examination of the Ted Talk as a product of post-Obama era optimism, or more recently, an examination of Jack Antonoff and what writer Mitch Therieau calls "the Antonoffication" of pop music.
Panovka says when reading pitches, she asks herself: "Is this going to be surprising to me? Is it going to push me to think differently about something I have thought about in the past, or to think about something I've never thought about before?" She remembers being in the shower on Christmas morning and thinking about how nobody had published something against Fauci. So an editor reached out to writer and Know Your Enemy podcast host Sam Adler-Bell, who wrote "Doctor Do-Little​ | The Case Against Anthony Fauci" in January 2021 for the magazine.
"We were sort of thinking, 'OK, well the pandemic response has been so bad, and yet we all rush to make a hero or a celebrity of this guy, but none of it's been any good, so why are we doing that?'" Panovka says. "That was the most controversial piece, for sure."
"My mom's friends are kind of like leftist boomers," Barrow says. "They were like, 'How dare you.'"
Often, Barrow and Panovka say they are talking writers down from being too nervous to publish their piece, but equally as often, when they think they're going to get pushback about something that is slightly against the liberal orthodox, they're surprised by how little criticism they get.
"It turns out if you actually make the argument in a reasoned way, if you lay it out clearly, people actually may agree with you or realize they were wrong," says Panovka. "That's maybe the thing that reading can do that having a conversation or a political debate can't."
Bre Johnson/BFA.com
Bre Johnson/BFA.com
Bre Johnson/BFA.com
There's not a lot of time to think a lot about where the magazine is in terms of where they'd like to go next, because there's the business of editing, hiring, fundraising, and distributing — but The Drift is at a bit of a turning point: It's no longer new; it's trying now, to figure out how to sustain what it's built. In the beginning, Barrow and Panovka did everything from mailing out issues to designing the website to managing customer service, along with a small group of volunteer editors (who are now paid a stipend). Last year, they hired two staff members: Clare Sestanovich, a managing editor, and Jordan Cutler-Tietjen, an assistant editor. They also work with a large team of fact checkers and copy editors, as well as a designer and an art director.
The Drift has legitimacy — which is maybe why all the party coverage feels a little reductive, making it sound like a flash in the pan. But longevity is what it's after. "It is part of the life cycle of magazines that they stabilize and become a little more predictable, and go back to some of the same writers and the same points of view," Barrow says. "I think that's easier to do when you're new and it's harder to sustain, and I think the real trick will be trying to not do that."
People often ask Barrow and Panovka what's next — a podcast? TikTok? — but they're most interested in just continuing to keep the Drift not just afloat, but thriving in terms of subscriptions, rates, and distribution. The majority of funding for The Drift comes from subscriptions, but this year, it also secured a funding partnership from the David Zwirner Gallery in order to be able to raise rates for its writers.
"We are just really focused on how we can keep doing pretty much what we're doing at a higher level," says Barrow. "We want to grow, but in the same direction we're kind of already going and not outward."
They also want to expand their distribution. Right now, The Drift is stocked at Barnes and Noble, and several indie bookstores in the United States, but they would also like to distribute internationally. Mostly, they want to keep The Drift going.
"We really are trying to bring in new writers and to give anybody a chance to make a big ambitious argument about the state of the world, or what people are missing, what people aren't talking about, what people should be talking about, what they're getting wrong," says Panovka. "We're trying to make sure that we're still around, and we are going to need help getting there. Is that corny?"
It's not corny to care. In an industry like publishing, it's necessary. And it's everything about The Drift: the expansive arguments, the parties, the rigorous editing process — are all signifiers of an optimism and an enthusiasm around print magazines, particularly newer magazines helmed by young people, along with magazines like Forever Magazine and Copy.
"I think it's been fun to be a part of that post pandemic wave of things coming back, or new things that can still form for this era of magazines and intellectual life, in person and on the pages," says Barrow. "It's not over."