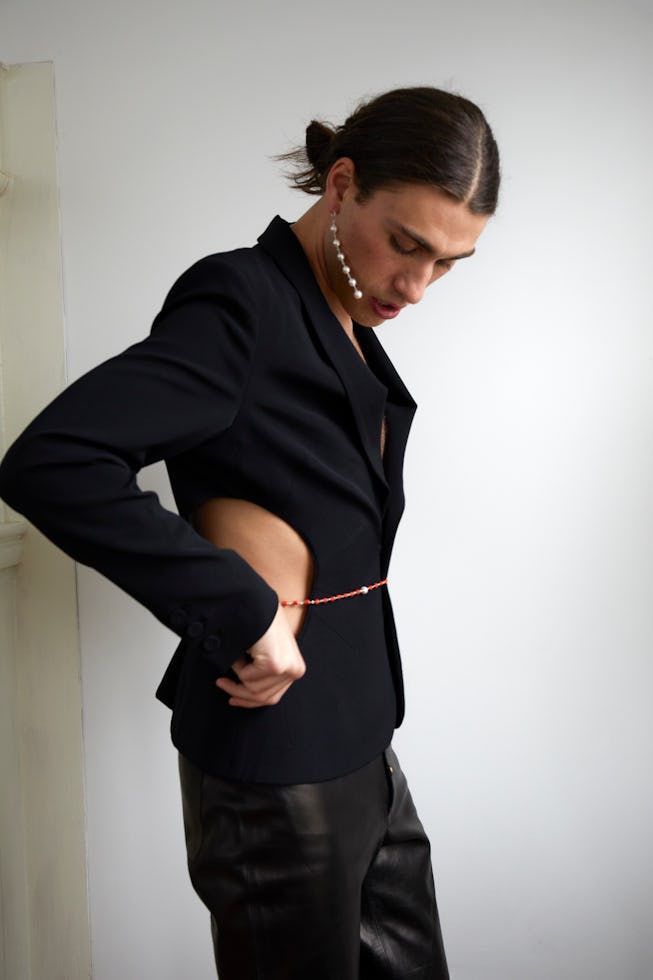 The RealReal
Presley Oldham's Jewelry Collection With The RealReal Finds Beauty In Irregularity
The RealReal x Presley Oldham Upcycled Jewelry Collection is nothing short of a summery triumph.
For Presley Oldham, making jewelry was originally a way to unwind. The designer was working in film, and the tactile experience — the definitive start and stop of designing a piece — was a reprieve from the more demanding and laborious work atmosphere. But during the pandemic, in the midst of a creative desert, something clicked: Oldham began crafting necklaces using pearls repurposed from flea market finds, and his first jewelry collection was born. "There were only two or three of each style," Oldham tells NYLON. "It felt more like a one-off project when I launched, but all very natural at the same time."
Oldham's jewelry still retains the same ethos; elegant and striking, irregular and wholly special, and for everyone. Now, the designer is working with The RealReal, upcyling gems, beads, and stones to create a delectable and bright jewelry collection for the summer. Earrings hang long with a shock of citrus orange; necklaces weave pearls with juicy, acid green gems; and earthy bracelets pop with a subtle iridescence.
The unique nature of TheRealReal's materials brought a sense of trial and error to the design process, a twist that allowed Oldham to flex more intuitive design skills. "The materials will show you if they don't want to be used in a certain ways, as mystical as that might sound," he says, "I try to work in tandem with the gems, and find the way to best highlight each stone."
See more of Oldham's upcycled jewelry collection with The RealReal ahead, and read on as Oldham discusses his relationship to jewelry, his fascination with pearls, and seeing beyond gendered jewelry.
When did you begin designing jewelry? Is this something that's always been with you, or is it a new artistic practice?
My grandma, Linda Oldham, is a large mentor in my life and definitely sparked my love of jewelry making. She is a fine artist, but made jewelry as well when I was a kid. I spent my childhood summers in Santa Fe with her and my grandpa, and every summer felt like an artist retreat. She taught me early on about wire wrapping and different jewelry techniques, among many other things. Beads, wire, and pliers were always around me as a kid, and jewelry making seemed as normal of an after school activity as soccer to me. One of the first pieces I remember making was an emerald pendant necklace for their dog when I was about 8 years old.
I started making jewelry more frequently about four years ago as something to do in the evenings after work. I was working in film at the time, and making jewelry was a great tactile alternative to the more ephemeral, drawn-out art form. It was nice to create objects with my hands, and have a project with a distinct start and finish. I launched my brand two months into the pandemic because I was feeling creatively starved. The first collection was made using pearls I'd collected at flea markets over the last few years, and there were only two or three of each style. It felt more like a one-off project when I launched, but all very natural at the same time.
Why did you gravitate toward the gemstones you used? Do their meanings or symbolism play a part at all?
I've been drawn to pearls since I started my brand. I love how they're naturally unique, and the only gem created by another organism. I love the biology behind them — how the pearl forms inside the mollusk as a defense mechanism from a virus invading its shell (this is a research rabbit hole I constantly go down). On a visual level, they're so striking and come in so many irregular shapes and sizes that I'm endlessly fascinated with what I can find. They're also the first gems to be worn by humans, and I think their symbolic weight throughout history of being protective and powerful gems adds an interesting texture to using them. Further, it's fun to rewrite the script around pearls being a "feminine" jewel. This idea only came about in the last 100 years, prior to that they were worn by everyone and seen as a symbol of status. I'm trying to democratize the pearl, and show them on a wide range of people.
In terms of the other gems that I selected from The RealReal, I tried most of all to create a beautiful, summery color palette. Since there was such a huge range of different shapes, colors, and sizes of gems, I tried to use color and texture to unite the collection. Though I didn't research the meanings behind each stone, I think the fact that they are all formed by our Earth through natural processes is a huge inspiration. Each stone, even if they are from the same set, is very unique, and I tried to enhance that. I'm also not interested in using uniform or mass produced supplies. I think there is something nice about creating objects in limited quantities, and embracing the irregularity of materials.
I know that for your collection with The RealReal, you allowed the materials to dictate the direction. Can you elaborate on that? How do the materials change how you design?
On a purely technical level, there was a lot of trial and error as I dissected all of the pieces that The RealReal sent me — some beads had holes that were too large or small, some stones were chipped, and so on. This forced me to think outside of the box with many pieces because I had to figure out new ways of simply constructing the piece I designed. This challenge was fun though, and I think only pushed me to create more dynamic jewelry pieces.
I always think of my way of working as a collaboration with my materials, so I try to let them run through me and influence the designs. The materials will show you if they don't want to be used in a certain ways, as mystical as that might sound. I try to work in tandem with the gems, and find the way to best highlight each stone.
What are your hopes for your collection in terms of erasing gender bias?
Since starting the brand, my goal has been to create beautiful, timeless jewelry that has universal appeal. Genderlessness is a factor in my design process simply because it places the importance on creating a beautiful object. When I launched, I genuinely didn't think about gender. I shot the first collection on myself, and then I was labeled as making pearls for men. Which is great, don't get me wrong, but I think that kind of headline reinforces the walls around gendered jewelry. I personally don't think it's beneficial to gender jewelry or clothing. If you like it and want to wear it, why shouldn't you? We all have bodies worthy of decoration. Jewelry should be fun, and make you feel more like yourself no matter how you identify.
This interview has been edited and condensed for clarity.